SELECTED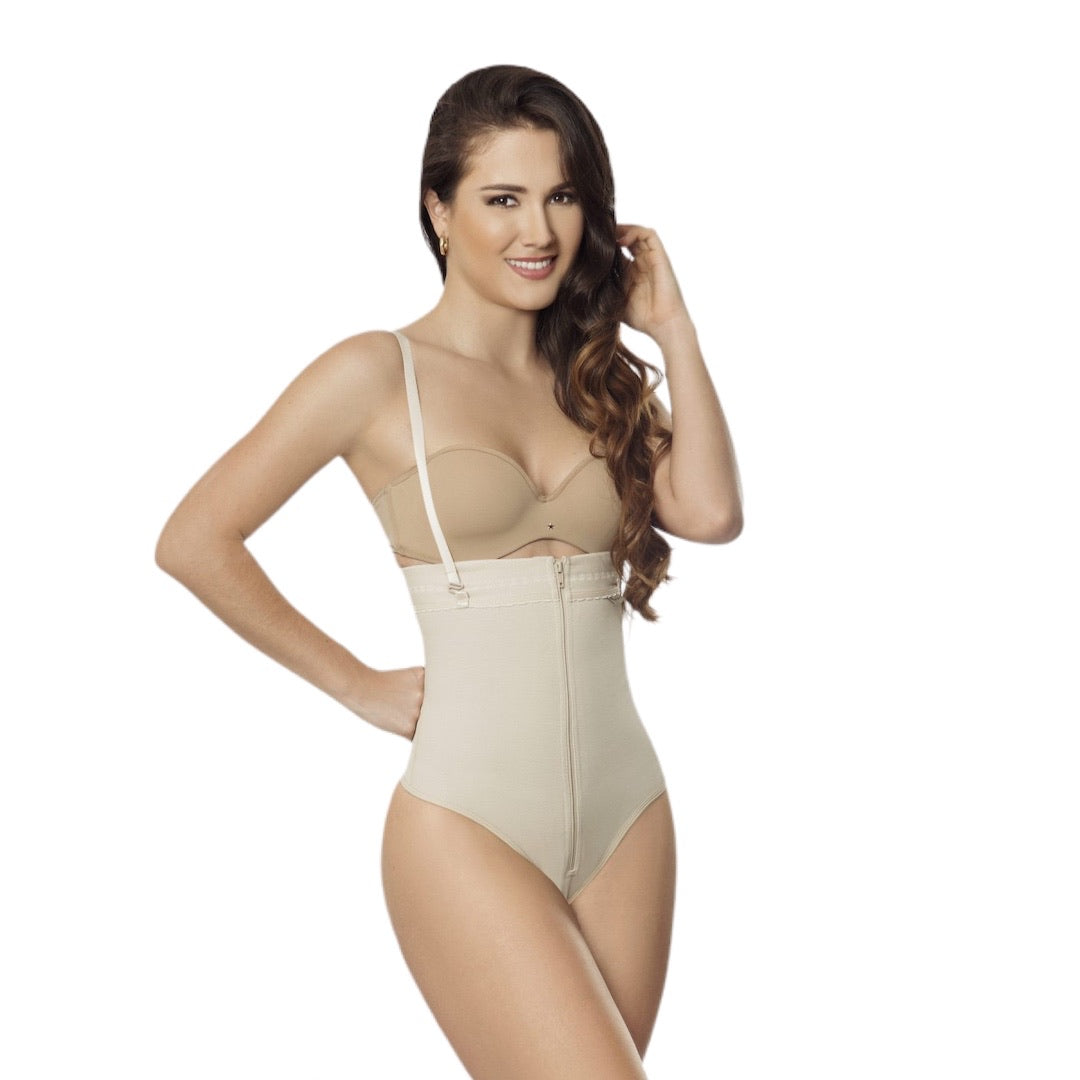 SELECTED
Power Net Thong Body Shaper 12016
The InstaCurve Power Net Thong Body Shaper 12016 serves as a multi-purpose foundation piece for virtually any outfit to slim and smooth your waistline and back. The open bust design allows you to pair it with the bra of your choice for optimal comfort. 

• Comfortable
• Soft
• Flexible
• Lightweight
• Front zipper closure
• Adjustable straps
• Open bust



Anti-Allergenic lining material
Can be used for recovery after pregnancy.


{"id":4818930696254,"title":"Power Net Thong Body Shaper 12016","handle":"power-net-thong-body-shaper","description":"The InstaCurve Power Net Thong Body Shaper 12016 serves as a multi-purpose foundation piece for virtually any outfit to slim and smooth your waistline and back. The open bust design allows you to pair it with the bra of your choice for optimal comfort. \u003cmeta name=\"viewport\" content=\"width=device-width, initial-scale=1\"\u003e\n\u003cstyle\u003e\u003c!--\n.accordion {\nbackground-color: #9bddff;\ncolor: #fff;\ncursor: pointer;\npadding: 18px;\nwidth: 100%;\nborder: none;\ntext-align: left;\noutline: none;\nfont-size: 15px;\ntransition: 0.7s;\n}\n\n.active, .accordion:hover {\nbackground-color: #96ded1;\n}\n\n.accordion:after {\ncontent: '\\002B';\ncolor: #000000;\nfont-weight: bold;\nfloat: right;\nmargin-left: 5px;\n}\n\n.active:after {\ncontent: \"\\2212\";\n}\n\n.panel {\npadding: 0 18px;\nbackground-color: white;\nmax-height: 0;\noverflow: hidden;\ntransition: max-height 0.8s ease-out;\nborder-bottom: 3px solid transparent;\n}\n--\u003e\u003c\/style\u003e\n\u003ch2\u003e\u003c\/h2\u003e\n\u003cbutton class=\"accordion\"\u003eFeatures \u0026amp; Benefits\u003c\/button\u003e\n\u003cdiv class=\"panel\"\u003e\n\u003cp\u003e\u003cbr\u003e • Comfortable\u003cbr\u003e • Soft\u003cbr\u003e • Flexible\u003cbr\u003e • Lightweight\u003cbr\u003e • Front zipper closure\u003cbr\u003e • Adjustable straps\u003cbr\u003e • Open bust \u003cbr\u003e \u003cbr\u003e\u003c\/p\u003e\n\u003cbr\u003e\n\u003c\/div\u003e\n\u003cbutton class=\"accordion\"\u003eProduct Info\u003c\/button\u003e\n\u003cdiv class=\"panel\"\u003e\n\u003cp\u003e\u003cbr\u003e Anti-Allergenic lining material\u003cbr\u003e Can be used for recovery after pregnancy.\u003cbr\u003e\u003cbr\u003e\u003c\/p\u003e\n\u003c\/div\u003e\n\u003cscript\u003e\nvar acc = document.getElementsByClassName(\"accordion\");\nvar i;\n\nfor (i = 0; i \u003c acc.length; i++) {\nacc[i].addEventListener(\"click\", function() {\nthis.classList.toggle(\"active\");\nvar panel = this.nextElementSibling;\nif (panel.style.maxHeight){\npanel.style.maxHeight = null;\n} else {\npanel.style.maxHeight = panel.scrollHeight + \"px\";\n}\n});\n}\n\u003c\/script\u003e \u003cbr\u003e\n\u003cdiv style=\"text-align: center;\"\u003e\u003ca href=\"https:\/\/instacurve.com\/pages\/covid-19\" target=\"_blank\"\u003e Our Covid-19 Response\u003c\/a\u003e\u003c\/div\u003e","published_at":"2021-02-20T20:29:50-05:00","created_at":"2021-02-20T20:28:07-05:00","vendor":"Insta Curve","type":"Shapewear","tags":["shapewear"],"price":7500,"price_min":7500,"price_max":8000,"available":true,"price_varies":true,"compare_at_price":null,"compare_at_price_min":0,"compare_at_price_max":0,"compare_at_price_varies":false,"variants":[{"id":32789192441918,"title":"S \/ Black","option1":"S","option2":"Black","option3":null,"sku":"","requires_shipping":true,"taxable":true,"featured_image":null,"available":true,"name":"Power Net Thong Body Shaper 12016 - S \/ Black","public_title":"S \/ Black","options":["S","Black"],"price":7500,"weight":45,"compare_at_price":null,"inventory_quantity":0,"inventory_management":null,"inventory_policy":"continue","barcode":""},{"id":32789192474686,"title":"S \/ Nude","option1":"S","option2":"Nude","option3":null,"sku":"","requires_shipping":true,"taxable":true,"featured_image":null,"available":true,"name":"Power Net Thong Body Shaper 12016 - S \/ Nude","public_title":"S \/ Nude","options":["S","Nude"],"price":7500,"weight":45,"compare_at_price":null,"inventory_quantity":0,"inventory_management":null,"inventory_policy":"continue","barcode":""},{"id":32789192507454,"title":"M \/ Black","option1":"M","option2":"Black","option3":null,"sku":"","requires_shipping":true,"taxable":true,"featured_image":null,"available":true,"name":"Power Net Thong Body Shaper 12016 - M \/ Black","public_title":"M \/ Black","options":["M","Black"],"price":7500,"weight":45,"compare_at_price":null,"inventory_quantity":-1,"inventory_management":null,"inventory_policy":"continue","barcode":""},{"id":32789192540222,"title":"M \/ Nude","option1":"M","option2":"Nude","option3":null,"sku":"","requires_shipping":true,"taxable":true,"featured_image":null,"available":true,"name":"Power Net Thong Body Shaper 12016 - M \/ Nude","public_title":"M \/ Nude","options":["M","Nude"],"price":7500,"weight":45,"compare_at_price":null,"inventory_quantity":-1,"inventory_management":null,"inventory_policy":"continue","barcode":""},{"id":32789192572990,"title":"L \/ Black","option1":"L","option2":"Black","option3":null,"sku":"","requires_shipping":true,"taxable":true,"featured_image":null,"available":true,"name":"Power Net Thong Body Shaper 12016 - L \/ Black","public_title":"L \/ Black","options":["L","Black"],"price":7500,"weight":45,"compare_at_price":null,"inventory_quantity":-2,"inventory_management":"shopify","inventory_policy":"continue","barcode":""},{"id":32789192605758,"title":"L \/ Nude","option1":"L","option2":"Nude","option3":null,"sku":"","requires_shipping":true,"taxable":true,"featured_image":null,"available":true,"name":"Power Net Thong Body Shaper 12016 - L \/ Nude","public_title":"L \/ Nude","options":["L","Nude"],"price":7500,"weight":45,"compare_at_price":null,"inventory_quantity":0,"inventory_management":null,"inventory_policy":"continue","barcode":""},{"id":32789192638526,"title":"XL \/ Black","option1":"XL","option2":"Black","option3":null,"sku":"","requires_shipping":true,"taxable":true,"featured_image":null,"available":true,"name":"Power Net Thong Body Shaper 12016 - XL \/ Black","public_title":"XL \/ Black","options":["XL","Black"],"price":7500,"weight":45,"compare_at_price":null,"inventory_quantity":-5,"inventory_management":null,"inventory_policy":"continue","barcode":""},{"id":32789192671294,"title":"XL \/ Nude","option1":"XL","option2":"Nude","option3":null,"sku":"","requires_shipping":true,"taxable":true,"featured_image":null,"available":true,"name":"Power Net Thong Body Shaper 12016 - XL \/ Nude","public_title":"XL \/ Nude","options":["XL","Nude"],"price":7500,"weight":45,"compare_at_price":null,"inventory_quantity":0,"inventory_management":null,"inventory_policy":"continue","barcode":""},{"id":32789192704062,"title":"2X \/ Black","option1":"2X","option2":"Black","option3":null,"sku":"","requires_shipping":true,"taxable":true,"featured_image":null,"available":true,"name":"Power Net Thong Body Shaper 12016 - 2X \/ Black","public_title":"2X \/ Black","options":["2X","Black"],"price":8000,"weight":45,"compare_at_price":null,"inventory_quantity":-2,"inventory_management":null,"inventory_policy":"continue","barcode":""},{"id":32789192736830,"title":"2X \/ Nude","option1":"2X","option2":"Nude","option3":null,"sku":"","requires_shipping":true,"taxable":true,"featured_image":null,"available":true,"name":"Power Net Thong Body Shaper 12016 - 2X \/ Nude","public_title":"2X \/ Nude","options":["2X","Nude"],"price":8000,"weight":45,"compare_at_price":null,"inventory_quantity":0,"inventory_management":null,"inventory_policy":"continue","barcode":""},{"id":32789192769598,"title":"3X \/ Black","option1":"3X","option2":"Black","option3":null,"sku":"","requires_shipping":true,"taxable":true,"featured_image":null,"available":true,"name":"Power Net Thong Body Shaper 12016 - 3X \/ Black","public_title":"3X \/ Black","options":["3X","Black"],"price":8000,"weight":45,"compare_at_price":null,"inventory_quantity":0,"inventory_management":null,"inventory_policy":"continue","barcode":""},{"id":32789192802366,"title":"3X \/ Nude","option1":"3X","option2":"Nude","option3":null,"sku":"","requires_shipping":true,"taxable":true,"featured_image":null,"available":true,"name":"Power Net Thong Body Shaper 12016 - 3X \/ Nude","public_title":"3X \/ Nude","options":["3X","Nude"],"price":8000,"weight":45,"compare_at_price":null,"inventory_quantity":0,"inventory_management":null,"inventory_policy":"continue","barcode":""}],"images":["\/\/instacurve.com\/cdn\/shop\/products\/image_e8301c34-ee4a-48e7-a5cc-a85a5bf5f4f1.jpg?v=1613871386","\/\/instacurve.com\/cdn\/shop\/products\/backviewoftheThong.png?v=1614349851"],"featured_image":"\/\/instacurve.com\/cdn\/shop\/products\/image_e8301c34-ee4a-48e7-a5cc-a85a5bf5f4f1.jpg?v=1613871386","options":["Size","Color"],"media":[{"alt":null,"id":9292932251710,"position":1,"preview_image":{"aspect_ratio":1.0,"height":1080,"width":1080,"src":"\/\/instacurve.com\/cdn\/shop\/products\/image_e8301c34-ee4a-48e7-a5cc-a85a5bf5f4f1.jpg?v=1613871386"},"aspect_ratio":1.0,"height":1080,"media_type":"image","src":"\/\/instacurve.com\/cdn\/shop\/products\/image_e8301c34-ee4a-48e7-a5cc-a85a5bf5f4f1.jpg?v=1613871386","width":1080},{"alt":null,"id":20224205520958,"position":2,"preview_image":{"aspect_ratio":0.699,"height":545,"width":381,"src":"\/\/instacurve.com\/cdn\/shop\/products\/backviewoftheThong.png?v=1614349851"},"aspect_ratio":0.699,"height":545,"media_type":"image","src":"\/\/instacurve.com\/cdn\/shop\/products\/backviewoftheThong.png?v=1614349851","width":381}],"content":"The InstaCurve Power Net Thong Body Shaper 12016 serves as a multi-purpose foundation piece for virtually any outfit to slim and smooth your waistline and back. The open bust design allows you to pair it with the bra of your choice for optimal comfort. \u003cmeta name=\"viewport\" content=\"width=device-width, initial-scale=1\"\u003e\n\u003cstyle\u003e\u003c!--\n.accordion {\nbackground-color: #9bddff;\ncolor: #fff;\ncursor: pointer;\npadding: 18px;\nwidth: 100%;\nborder: none;\ntext-align: left;\noutline: none;\nfont-size: 15px;\ntransition: 0.7s;\n}\n\n.active, .accordion:hover {\nbackground-color: #96ded1;\n}\n\n.accordion:after {\ncontent: '\\002B';\ncolor: #000000;\nfont-weight: bold;\nfloat: right;\nmargin-left: 5px;\n}\n\n.active:after {\ncontent: \"\\2212\";\n}\n\n.panel {\npadding: 0 18px;\nbackground-color: white;\nmax-height: 0;\noverflow: hidden;\ntransition: max-height 0.8s ease-out;\nborder-bottom: 3px solid transparent;\n}\n--\u003e\u003c\/style\u003e\n\u003ch2\u003e\u003c\/h2\u003e\n\u003cbutton class=\"accordion\"\u003eFeatures \u0026amp; Benefits\u003c\/button\u003e\n\u003cdiv class=\"panel\"\u003e\n\u003cp\u003e\u003cbr\u003e • Comfortable\u003cbr\u003e • Soft\u003cbr\u003e • Flexible\u003cbr\u003e • Lightweight\u003cbr\u003e • Front zipper closure\u003cbr\u003e • Adjustable straps\u003cbr\u003e • Open bust \u003cbr\u003e \u003cbr\u003e\u003c\/p\u003e\n\u003cbr\u003e\n\u003c\/div\u003e\n\u003cbutton class=\"accordion\"\u003eProduct Info\u003c\/button\u003e\n\u003cdiv class=\"panel\"\u003e\n\u003cp\u003e\u003cbr\u003e Anti-Allergenic lining material\u003cbr\u003e Can be used for recovery after pregnancy.\u003cbr\u003e\u003cbr\u003e\u003c\/p\u003e\n\u003c\/div\u003e\n\u003cscript\u003e\nvar acc = document.getElementsByClassName(\"accordion\");\nvar i;\n\nfor (i = 0; i \u003c acc.length; i++) {\nacc[i].addEventListener(\"click\", function() {\nthis.classList.toggle(\"active\");\nvar panel = this.nextElementSibling;\nif (panel.style.maxHeight){\npanel.style.maxHeight = null;\n} else {\npanel.style.maxHeight = panel.scrollHeight + \"px\";\n}\n});\n}\n\u003c\/script\u003e \u003cbr\u003e\n\u003cdiv style=\"text-align: center;\"\u003e\u003ca href=\"https:\/\/instacurve.com\/pages\/covid-19\" target=\"_blank\"\u003e Our Covid-19 Response\u003c\/a\u003e\u003c\/div\u003e"}