SELECTED
SELECTED
SELECTED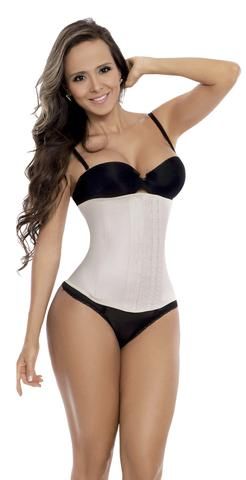 SELECTED
Classic Latex Waist Cincher and Caffeine Cream Combo
Classic Latex Waist Trainer:
The InstaCurve Classic Latex Waist Trainer 3-Row 2023 is the ultimate waist training corset that gives you maximum compression to reduce your waistline and flatten your abdomen while supporting your spine to reduce back pain and correct posture.

Designed to be comfortable and easy to wear.
Run one size small 
Caffeine Cream:
Original Ann Michelle Caffeine Cream, Fat reducer, skin firming, Slimming cream.
16Fl Oz(473ml) Container

• Firm compression
• Flexi boning supports
• Durable
• Breathable
• 100% latex band
• Ultra soft cotton lining
• Dual column hook-and-eye closures
• Strengthens core
• Midsection control
• Reduces waistline up to 3 sizes
• Great coverage
• Reduces back pain
• Corrects posture
• Boosts thermal activity
• Repositions water weight and fat
• The tight fit also restricts your abdomen, reducing your food intake during the day.

Wear this cincher discreetly under your clothes for 6-8 hours per day or more for a month to reduce your waistline up to 3 sizes and accelerate your weight loss up to 4 inches. You will witness a waistline reduction on a weekly basis.

You can also waist train with this waist cincher while you sleep for maximum results.

Panty not included. Comes in Nude and Black.
{"id":6579966115902,"title":"Classic Latex Waist Cincher and Caffeine Cream Combo","handle":"classic-latex-waist-cincher-and-caffeine-cream-combo","description":"\u003cp\u003e\u003cstrong\u003e Classic Latex Waist Trainer:\u003c\/strong\u003e\u003c\/p\u003e\n\u003cp\u003eThe InstaCurve Classic Latex Waist Trainer 3-Row 2023 is the ultimate waist training corset that gives you maximum compression to reduce your waistline and flatten your abdomen while supporting your spine to reduce back pain and correct posture.\u003cbr\u003e\u003c\/p\u003e\n\u003cp\u003e\u003cspan data-mce-fragment=\"1\"\u003e\u003cmeta charset=\"utf-8\"\u003e \u003cmeta charset=\"utf-8\"\u003eDesigned to be comfortable and easy to wear.\u003c\/span\u003e\u003c\/p\u003e\n\u003cp\u003e\u003cstrong\u003e\u003cspan style=\"color: #ff2a00;\" data-mce-fragment=\"1\"\u003eRun one size small \u003c\/span\u003e\u003c\/strong\u003e\u003c\/p\u003e\n\u003cp\u003e\u003cspan style=\"color: #000000;\" data-mce-style=\"color: #000000;\"\u003e\u003cstrong\u003eCaffeine Cream:\u003c\/strong\u003e\u003c\/span\u003e\u003c\/p\u003e\n\u003cp\u003eOriginal Ann Michelle Caffeine Cream, Fat reducer, skin firming, Slimming cream.\u003c\/p\u003e\n\u003cp\u003e16Fl Oz(473ml) Container\u003c\/p\u003e\n\u003cstrong\u003e\u003cspan style=\"color: #ff2a00;\"\u003e \u003cmeta content=\"width=device-width, initial-scale=1\" name=\"viewport\"\u003e \u003c\/span\u003e\u003c\/strong\u003e\n\u003cstyle\u003e\u003c!--\n.accordion {\nbackground-color: #9bddff;\ncolor: #fff;\ncursor: pointer;\npadding: 18px;\nwidth: 100%;\nborder: none;\ntext-align: left;\noutline: none;\nfont-size: 15px;\ntransition: 0.7s;\n}\n\n.active, .accordion:hover {\nbackground-color: #96ded1;\n}\n\n.accordion:after {\ncontent: '\\002B';\ncolor: #000000;\nfont-weight: bold;\nfloat: right;\nmargin-left: 5px;\n}\n\n.active:after {\ncontent: \"\\2212\";\n}\n\n.panel {\npadding: 0 18px;\nbackground-color: white;\nmax-height: 0;\noverflow: hidden;\ntransition: max-height 0.8s ease-out;\nborder-bottom: 3px solid transparent;\n}\n--\u003e\u003c\/style\u003e\n\u003ch2\u003e\u003c\/h2\u003e\n\u003cbutton class=\"accordion\"\u003eFeatures \u0026amp; Benefits\u003c\/button\u003e\n\u003cdiv class=\"panel\"\u003e\n\u003cp\u003e\u003cbr\u003e• Firm compression\u003cbr\u003e • Flexi boning supports\u003cbr\u003e • Durable\u003cbr\u003e • Breathable \u003cbr\u003e • 100% latex band\u003cbr\u003e • Ultra soft cotton lining\u003cbr\u003e • Dual column hook-and-eye closures\u003cbr\u003e • Strengthens core\u003cbr\u003e • Midsection control\u003cbr\u003e • Reduces waistline up to 3 sizes\u003cbr\u003e • Great coverage\u003cbr\u003e • Reduces back pain\u003cbr\u003e • Corrects posture\u003cbr\u003e • Boosts thermal activity\u003cbr\u003e • Repositions water weight and fat\u003cbr\u003e • The tight fit also restricts your abdomen, reducing your food intake during the day.\u003c\/p\u003e\n\u003cbr\u003e\n\u003c\/div\u003e\n\u003cbutton class=\"accordion\"\u003eMaterial \u0026amp; Product Info\u003c\/button\u003e\n\u003cdiv class=\"panel\"\u003e\n\u003cp\u003e\u003cbr\u003eWear this cincher discreetly under your clothes for 6-8 hours per day or more for a month to reduce your waistline up to 3 sizes and accelerate your weight loss up to 4 inches. You will witness a waistline reduction on a weekly basis.\u003cbr\u003e\u003cbr\u003e You can also waist train with this waist cincher while you sleep for maximum results.\u003cbr\u003e\u003cbr\u003e Panty not included. Comes in Nude and Black.\u003c\/p\u003e\n\u003c\/div\u003e\n\u003cscript\u003e\nvar acc = document.getElementsByClassName(\"accordion\");\nvar i;\n\nfor (i = 0; i \u003c acc.length; i++) {\nacc[i].addEventListener(\"click\", function() {\nthis.classList.toggle(\"active\");\nvar panel = this.nextElementSibling;\nif (panel.style.maxHeight){\npanel.style.maxHeight = null;\n} else {\npanel.style.maxHeight = panel.scrollHeight + \"px\";\n}\n});\n}\n\u003c\/script\u003e \u003cbr\u003e\n\u003cdiv style=\"text-align: center;\"\u003e\u003ca href=\"https:\/\/instacurve.com\/pages\/covid-19\" target=\"_blank\"\u003e Our Covid-19 Response\u003c\/a\u003e\u003c\/div\u003e","published_at":"2021-05-05T13:46:58-04:00","created_at":"2021-05-05T13:43:42-04:00","vendor":"Insta Curve","type":"Waist Trainers","tags":["Waist Trainer"],"price":10500,"price_min":10500,"price_max":10500,"available":true,"price_varies":false,"compare_at_price":11500,"compare_at_price_min":11500,"compare_at_price_max":11500,"compare_at_price_varies":false,"variants":[{"id":39417629048894,"title":"XS \/ Black","option1":"XS","option2":"Black","option3":null,"sku":"","requires_shipping":true,"taxable":true,"featured_image":{"id":28233967927358,"product_id":6579966115902,"position":1,"created_at":"2021-05-05T13:45:06-04:00","updated_at":"2021-05-05T13:45:13-04:00","alt":null,"width":1080,"height":1080,"src":"\/\/instacurve.com\/cdn\/shop\/products\/combo2.jpg?v=1620236713","variant_ids":[39417629048894]},"available":true,"name":"Classic Latex Waist Cincher and Caffeine Cream Combo - XS \/ Black","public_title":"XS \/ Black","options":["XS","Black"],"price":10500,"weight":45,"compare_at_price":11500,"inventory_quantity":0,"inventory_management":null,"inventory_policy":"continue","barcode":"","featured_media":{"alt":null,"id":20529008476222,"position":1,"preview_image":{"aspect_ratio":1.0,"height":1080,"width":1080,"src":"\/\/instacurve.com\/cdn\/shop\/products\/combo2.jpg?v=1620236713"}}},{"id":39417629081662,"title":"XS \/ Nude","option1":"XS","option2":"Nude","option3":null,"sku":"","requires_shipping":true,"taxable":true,"featured_image":{"id":28233961635902,"product_id":6579966115902,"position":3,"created_at":"2021-05-05T13:43:46-04:00","updated_at":"2021-05-05T13:45:13-04:00","alt":null,"width":246,"height":480,"src":"\/\/instacurve.com\/cdn\/shop\/products\/unnamed_4303e910-12e7-41c9-9c1e-a33bf5bb76b0.jpg?v=1620236713","variant_ids":[39417629081662,39417629114430,39417629147198,39417629179966,39417629212734,39417629245502,39417629278270,39417629311038,39417629343806,39417629376574,39417629409342,39417629442110,39417629474878,39417629507646,39417629540414,39417629573182,39417629605950]},"available":true,"name":"Classic Latex Waist Cincher and Caffeine Cream Combo - XS \/ Nude","public_title":"XS \/ Nude","options":["XS","Nude"],"price":10500,"weight":45,"compare_at_price":11500,"inventory_quantity":0,"inventory_management":"shopify","inventory_policy":"continue","barcode":"","featured_media":{"alt":null,"id":20529002250302,"position":3,"preview_image":{"aspect_ratio":0.513,"height":480,"width":246,"src":"\/\/instacurve.com\/cdn\/shop\/products\/unnamed_4303e910-12e7-41c9-9c1e-a33bf5bb76b0.jpg?v=1620236713"}}},{"id":39417629114430,"title":"S \/ Black","option1":"S","option2":"Black","option3":null,"sku":"","requires_shipping":true,"taxable":true,"featured_image":{"id":28233961635902,"product_id":6579966115902,"position":3,"created_at":"2021-05-05T13:43:46-04:00","updated_at":"2021-05-05T13:45:13-04:00","alt":null,"width":246,"height":480,"src":"\/\/instacurve.com\/cdn\/shop\/products\/unnamed_4303e910-12e7-41c9-9c1e-a33bf5bb76b0.jpg?v=1620236713","variant_ids":[39417629081662,39417629114430,39417629147198,39417629179966,39417629212734,39417629245502,39417629278270,39417629311038,39417629343806,39417629376574,39417629409342,39417629442110,39417629474878,39417629507646,39417629540414,39417629573182,39417629605950]},"available":true,"name":"Classic Latex Waist Cincher and Caffeine Cream Combo - S \/ Black","public_title":"S \/ Black","options":["S","Black"],"price":10500,"weight":45,"compare_at_price":11500,"inventory_quantity":-1,"inventory_management":null,"inventory_policy":"continue","barcode":"","featured_media":{"alt":null,"id":20529002250302,"position":3,"preview_image":{"aspect_ratio":0.513,"height":480,"width":246,"src":"\/\/instacurve.com\/cdn\/shop\/products\/unnamed_4303e910-12e7-41c9-9c1e-a33bf5bb76b0.jpg?v=1620236713"}}},{"id":39417629147198,"title":"S \/ Nude","option1":"S","option2":"Nude","option3":null,"sku":"","requires_shipping":true,"taxable":true,"featured_image":{"id":28233961635902,"product_id":6579966115902,"position":3,"created_at":"2021-05-05T13:43:46-04:00","updated_at":"2021-05-05T13:45:13-04:00","alt":null,"width":246,"height":480,"src":"\/\/instacurve.com\/cdn\/shop\/products\/unnamed_4303e910-12e7-41c9-9c1e-a33bf5bb76b0.jpg?v=1620236713","variant_ids":[39417629081662,39417629114430,39417629147198,39417629179966,39417629212734,39417629245502,39417629278270,39417629311038,39417629343806,39417629376574,39417629409342,39417629442110,39417629474878,39417629507646,39417629540414,39417629573182,39417629605950]},"available":true,"name":"Classic Latex Waist Cincher and Caffeine Cream Combo - S \/ Nude","public_title":"S \/ Nude","options":["S","Nude"],"price":10500,"weight":45,"compare_at_price":11500,"inventory_quantity":0,"inventory_management":"shopify","inventory_policy":"continue","barcode":"","featured_media":{"alt":null,"id":20529002250302,"position":3,"preview_image":{"aspect_ratio":0.513,"height":480,"width":246,"src":"\/\/instacurve.com\/cdn\/shop\/products\/unnamed_4303e910-12e7-41c9-9c1e-a33bf5bb76b0.jpg?v=1620236713"}}},{"id":39417629179966,"title":"M \/ Black","option1":"M","option2":"Black","option3":null,"sku":"","requires_shipping":true,"taxable":true,"featured_image":{"id":28233961635902,"product_id":6579966115902,"position":3,"created_at":"2021-05-05T13:43:46-04:00","updated_at":"2021-05-05T13:45:13-04:00","alt":null,"width":246,"height":480,"src":"\/\/instacurve.com\/cdn\/shop\/products\/unnamed_4303e910-12e7-41c9-9c1e-a33bf5bb76b0.jpg?v=1620236713","variant_ids":[39417629081662,39417629114430,39417629147198,39417629179966,39417629212734,39417629245502,39417629278270,39417629311038,39417629343806,39417629376574,39417629409342,39417629442110,39417629474878,39417629507646,39417629540414,39417629573182,39417629605950]},"available":true,"name":"Classic Latex Waist Cincher and Caffeine Cream Combo - M \/ Black","public_title":"M \/ Black","options":["M","Black"],"price":10500,"weight":45,"compare_at_price":11500,"inventory_quantity":-1,"inventory_management":null,"inventory_policy":"continue","barcode":"","featured_media":{"alt":null,"id":20529002250302,"position":3,"preview_image":{"aspect_ratio":0.513,"height":480,"width":246,"src":"\/\/instacurve.com\/cdn\/shop\/products\/unnamed_4303e910-12e7-41c9-9c1e-a33bf5bb76b0.jpg?v=1620236713"}}},{"id":39417629212734,"title":"M \/ Nude","option1":"M","option2":"Nude","option3":null,"sku":"","requires_shipping":true,"taxable":true,"featured_image":{"id":28233961635902,"product_id":6579966115902,"position":3,"created_at":"2021-05-05T13:43:46-04:00","updated_at":"2021-05-05T13:45:13-04:00","alt":null,"width":246,"height":480,"src":"\/\/instacurve.com\/cdn\/shop\/products\/unnamed_4303e910-12e7-41c9-9c1e-a33bf5bb76b0.jpg?v=1620236713","variant_ids":[39417629081662,39417629114430,39417629147198,39417629179966,39417629212734,39417629245502,39417629278270,39417629311038,39417629343806,39417629376574,39417629409342,39417629442110,39417629474878,39417629507646,39417629540414,39417629573182,39417629605950]},"available":true,"name":"Classic Latex Waist Cincher and Caffeine Cream Combo - M \/ Nude","public_title":"M \/ Nude","options":["M","Nude"],"price":10500,"weight":45,"compare_at_price":11500,"inventory_quantity":-2,"inventory_management":"shopify","inventory_policy":"continue","barcode":"","featured_media":{"alt":null,"id":20529002250302,"position":3,"preview_image":{"aspect_ratio":0.513,"height":480,"width":246,"src":"\/\/instacurve.com\/cdn\/shop\/products\/unnamed_4303e910-12e7-41c9-9c1e-a33bf5bb76b0.jpg?v=1620236713"}}},{"id":39417629245502,"title":"L \/ Black","option1":"L","option2":"Black","option3":null,"sku":"","requires_shipping":true,"taxable":true,"featured_image":{"id":28233961635902,"product_id":6579966115902,"position":3,"created_at":"2021-05-05T13:43:46-04:00","updated_at":"2021-05-05T13:45:13-04:00","alt":null,"width":246,"height":480,"src":"\/\/instacurve.com\/cdn\/shop\/products\/unnamed_4303e910-12e7-41c9-9c1e-a33bf5bb76b0.jpg?v=1620236713","variant_ids":[39417629081662,39417629114430,39417629147198,39417629179966,39417629212734,39417629245502,39417629278270,39417629311038,39417629343806,39417629376574,39417629409342,39417629442110,39417629474878,39417629507646,39417629540414,39417629573182,39417629605950]},"available":true,"name":"Classic Latex Waist Cincher and Caffeine Cream Combo - L \/ Black","public_title":"L \/ Black","options":["L","Black"],"price":10500,"weight":45,"compare_at_price":11500,"inventory_quantity":-2,"inventory_management":null,"inventory_policy":"continue","barcode":"","featured_media":{"alt":null,"id":20529002250302,"position":3,"preview_image":{"aspect_ratio":0.513,"height":480,"width":246,"src":"\/\/instacurve.com\/cdn\/shop\/products\/unnamed_4303e910-12e7-41c9-9c1e-a33bf5bb76b0.jpg?v=1620236713"}}},{"id":39417629278270,"title":"L \/ Nude","option1":"L","option2":"Nude","option3":null,"sku":"","requires_shipping":true,"taxable":true,"featured_image":{"id":28233961635902,"product_id":6579966115902,"position":3,"created_at":"2021-05-05T13:43:46-04:00","updated_at":"2021-05-05T13:45:13-04:00","alt":null,"width":246,"height":480,"src":"\/\/instacurve.com\/cdn\/shop\/products\/unnamed_4303e910-12e7-41c9-9c1e-a33bf5bb76b0.jpg?v=1620236713","variant_ids":[39417629081662,39417629114430,39417629147198,39417629179966,39417629212734,39417629245502,39417629278270,39417629311038,39417629343806,39417629376574,39417629409342,39417629442110,39417629474878,39417629507646,39417629540414,39417629573182,39417629605950]},"available":true,"name":"Classic Latex Waist Cincher and Caffeine Cream Combo - L \/ Nude","public_title":"L \/ Nude","options":["L","Nude"],"price":10500,"weight":45,"compare_at_price":11500,"inventory_quantity":-1,"inventory_management":"shopify","inventory_policy":"continue","barcode":"","featured_media":{"alt":null,"id":20529002250302,"position":3,"preview_image":{"aspect_ratio":0.513,"height":480,"width":246,"src":"\/\/instacurve.com\/cdn\/shop\/products\/unnamed_4303e910-12e7-41c9-9c1e-a33bf5bb76b0.jpg?v=1620236713"}}},{"id":39417629311038,"title":"XL \/ Black","option1":"XL","option2":"Black","option3":null,"sku":"","requires_shipping":true,"taxable":true,"featured_image":{"id":28233961635902,"product_id":6579966115902,"position":3,"created_at":"2021-05-05T13:43:46-04:00","updated_at":"2021-05-05T13:45:13-04:00","alt":null,"width":246,"height":480,"src":"\/\/instacurve.com\/cdn\/shop\/products\/unnamed_4303e910-12e7-41c9-9c1e-a33bf5bb76b0.jpg?v=1620236713","variant_ids":[39417629081662,39417629114430,39417629147198,39417629179966,39417629212734,39417629245502,39417629278270,39417629311038,39417629343806,39417629376574,39417629409342,39417629442110,39417629474878,39417629507646,39417629540414,39417629573182,39417629605950]},"available":true,"name":"Classic Latex Waist Cincher and Caffeine Cream Combo - XL \/ Black","public_title":"XL \/ Black","options":["XL","Black"],"price":10500,"weight":45,"compare_at_price":11500,"inventory_quantity":0,"inventory_management":null,"inventory_policy":"continue","barcode":"","featured_media":{"alt":null,"id":20529002250302,"position":3,"preview_image":{"aspect_ratio":0.513,"height":480,"width":246,"src":"\/\/instacurve.com\/cdn\/shop\/products\/unnamed_4303e910-12e7-41c9-9c1e-a33bf5bb76b0.jpg?v=1620236713"}}},{"id":39417629343806,"title":"XL \/ Nude","option1":"XL","option2":"Nude","option3":null,"sku":"","requires_shipping":true,"taxable":true,"featured_image":{"id":28233961635902,"product_id":6579966115902,"position":3,"created_at":"2021-05-05T13:43:46-04:00","updated_at":"2021-05-05T13:45:13-04:00","alt":null,"width":246,"height":480,"src":"\/\/instacurve.com\/cdn\/shop\/products\/unnamed_4303e910-12e7-41c9-9c1e-a33bf5bb76b0.jpg?v=1620236713","variant_ids":[39417629081662,39417629114430,39417629147198,39417629179966,39417629212734,39417629245502,39417629278270,39417629311038,39417629343806,39417629376574,39417629409342,39417629442110,39417629474878,39417629507646,39417629540414,39417629573182,39417629605950]},"available":true,"name":"Classic Latex Waist Cincher and Caffeine Cream Combo - XL \/ Nude","public_title":"XL \/ Nude","options":["XL","Nude"],"price":10500,"weight":45,"compare_at_price":11500,"inventory_quantity":0,"inventory_management":"shopify","inventory_policy":"continue","barcode":"","featured_media":{"alt":null,"id":20529002250302,"position":3,"preview_image":{"aspect_ratio":0.513,"height":480,"width":246,"src":"\/\/instacurve.com\/cdn\/shop\/products\/unnamed_4303e910-12e7-41c9-9c1e-a33bf5bb76b0.jpg?v=1620236713"}}},{"id":39417629376574,"title":"2X \/ Black","option1":"2X","option2":"Black","option3":null,"sku":"","requires_shipping":true,"taxable":true,"featured_image":{"id":28233961635902,"product_id":6579966115902,"position":3,"created_at":"2021-05-05T13:43:46-04:00","updated_at":"2021-05-05T13:45:13-04:00","alt":null,"width":246,"height":480,"src":"\/\/instacurve.com\/cdn\/shop\/products\/unnamed_4303e910-12e7-41c9-9c1e-a33bf5bb76b0.jpg?v=1620236713","variant_ids":[39417629081662,39417629114430,39417629147198,39417629179966,39417629212734,39417629245502,39417629278270,39417629311038,39417629343806,39417629376574,39417629409342,39417629442110,39417629474878,39417629507646,39417629540414,39417629573182,39417629605950]},"available":true,"name":"Classic Latex Waist Cincher and Caffeine Cream Combo - 2X \/ Black","public_title":"2X \/ Black","options":["2X","Black"],"price":10500,"weight":45,"compare_at_price":11500,"inventory_quantity":-1,"inventory_management":null,"inventory_policy":"continue","barcode":"","featured_media":{"alt":null,"id":20529002250302,"position":3,"preview_image":{"aspect_ratio":0.513,"height":480,"width":246,"src":"\/\/instacurve.com\/cdn\/shop\/products\/unnamed_4303e910-12e7-41c9-9c1e-a33bf5bb76b0.jpg?v=1620236713"}}},{"id":39417629409342,"title":"2X \/ Nude","option1":"2X","option2":"Nude","option3":null,"sku":"","requires_shipping":true,"taxable":true,"featured_image":{"id":28233961635902,"product_id":6579966115902,"position":3,"created_at":"2021-05-05T13:43:46-04:00","updated_at":"2021-05-05T13:45:13-04:00","alt":null,"width":246,"height":480,"src":"\/\/instacurve.com\/cdn\/shop\/products\/unnamed_4303e910-12e7-41c9-9c1e-a33bf5bb76b0.jpg?v=1620236713","variant_ids":[39417629081662,39417629114430,39417629147198,39417629179966,39417629212734,39417629245502,39417629278270,39417629311038,39417629343806,39417629376574,39417629409342,39417629442110,39417629474878,39417629507646,39417629540414,39417629573182,39417629605950]},"available":true,"name":"Classic Latex Waist Cincher and Caffeine Cream Combo - 2X \/ Nude","public_title":"2X \/ Nude","options":["2X","Nude"],"price":10500,"weight":45,"compare_at_price":11500,"inventory_quantity":0,"inventory_management":"shopify","inventory_policy":"continue","barcode":"","featured_media":{"alt":null,"id":20529002250302,"position":3,"preview_image":{"aspect_ratio":0.513,"height":480,"width":246,"src":"\/\/instacurve.com\/cdn\/shop\/products\/unnamed_4303e910-12e7-41c9-9c1e-a33bf5bb76b0.jpg?v=1620236713"}}},{"id":39417629442110,"title":"3X \/ Black","option1":"3X","option2":"Black","option3":null,"sku":"","requires_shipping":true,"taxable":true,"featured_image":{"id":28233961635902,"product_id":6579966115902,"position":3,"created_at":"2021-05-05T13:43:46-04:00","updated_at":"2021-05-05T13:45:13-04:00","alt":null,"width":246,"height":480,"src":"\/\/instacurve.com\/cdn\/shop\/products\/unnamed_4303e910-12e7-41c9-9c1e-a33bf5bb76b0.jpg?v=1620236713","variant_ids":[39417629081662,39417629114430,39417629147198,39417629179966,39417629212734,39417629245502,39417629278270,39417629311038,39417629343806,39417629376574,39417629409342,39417629442110,39417629474878,39417629507646,39417629540414,39417629573182,39417629605950]},"available":true,"name":"Classic Latex Waist Cincher and Caffeine Cream Combo - 3X \/ Black","public_title":"3X \/ Black","options":["3X","Black"],"price":10500,"weight":45,"compare_at_price":11500,"inventory_quantity":-1,"inventory_management":null,"inventory_policy":"continue","barcode":"","featured_media":{"alt":null,"id":20529002250302,"position":3,"preview_image":{"aspect_ratio":0.513,"height":480,"width":246,"src":"\/\/instacurve.com\/cdn\/shop\/products\/unnamed_4303e910-12e7-41c9-9c1e-a33bf5bb76b0.jpg?v=1620236713"}}},{"id":39417629474878,"title":"3X \/ Nude","option1":"3X","option2":"Nude","option3":null,"sku":"","requires_shipping":true,"taxable":true,"featured_image":{"id":28233961635902,"product_id":6579966115902,"position":3,"created_at":"2021-05-05T13:43:46-04:00","updated_at":"2021-05-05T13:45:13-04:00","alt":null,"width":246,"height":480,"src":"\/\/instacurve.com\/cdn\/shop\/products\/unnamed_4303e910-12e7-41c9-9c1e-a33bf5bb76b0.jpg?v=1620236713","variant_ids":[39417629081662,39417629114430,39417629147198,39417629179966,39417629212734,39417629245502,39417629278270,39417629311038,39417629343806,39417629376574,39417629409342,39417629442110,39417629474878,39417629507646,39417629540414,39417629573182,39417629605950]},"available":true,"name":"Classic Latex Waist Cincher and Caffeine Cream Combo - 3X \/ Nude","public_title":"3X \/ Nude","options":["3X","Nude"],"price":10500,"weight":45,"compare_at_price":11500,"inventory_quantity":0,"inventory_management":"shopify","inventory_policy":"continue","barcode":"","featured_media":{"alt":null,"id":20529002250302,"position":3,"preview_image":{"aspect_ratio":0.513,"height":480,"width":246,"src":"\/\/instacurve.com\/cdn\/shop\/products\/unnamed_4303e910-12e7-41c9-9c1e-a33bf5bb76b0.jpg?v=1620236713"}}},{"id":39417629507646,"title":"4X \/ Black","option1":"4X","option2":"Black","option3":null,"sku":"","requires_shipping":true,"taxable":true,"featured_image":{"id":28233961635902,"product_id":6579966115902,"position":3,"created_at":"2021-05-05T13:43:46-04:00","updated_at":"2021-05-05T13:45:13-04:00","alt":null,"width":246,"height":480,"src":"\/\/instacurve.com\/cdn\/shop\/products\/unnamed_4303e910-12e7-41c9-9c1e-a33bf5bb76b0.jpg?v=1620236713","variant_ids":[39417629081662,39417629114430,39417629147198,39417629179966,39417629212734,39417629245502,39417629278270,39417629311038,39417629343806,39417629376574,39417629409342,39417629442110,39417629474878,39417629507646,39417629540414,39417629573182,39417629605950]},"available":true,"name":"Classic Latex Waist Cincher and Caffeine Cream Combo - 4X \/ Black","public_title":"4X \/ Black","options":["4X","Black"],"price":10500,"weight":45,"compare_at_price":11500,"inventory_quantity":0,"inventory_management":null,"inventory_policy":"continue","barcode":"","featured_media":{"alt":null,"id":20529002250302,"position":3,"preview_image":{"aspect_ratio":0.513,"height":480,"width":246,"src":"\/\/instacurve.com\/cdn\/shop\/products\/unnamed_4303e910-12e7-41c9-9c1e-a33bf5bb76b0.jpg?v=1620236713"}}},{"id":39417629540414,"title":"4X \/ Nude","option1":"4X","option2":"Nude","option3":null,"sku":"","requires_shipping":true,"taxable":true,"featured_image":{"id":28233961635902,"product_id":6579966115902,"position":3,"created_at":"2021-05-05T13:43:46-04:00","updated_at":"2021-05-05T13:45:13-04:00","alt":null,"width":246,"height":480,"src":"\/\/instacurve.com\/cdn\/shop\/products\/unnamed_4303e910-12e7-41c9-9c1e-a33bf5bb76b0.jpg?v=1620236713","variant_ids":[39417629081662,39417629114430,39417629147198,39417629179966,39417629212734,39417629245502,39417629278270,39417629311038,39417629343806,39417629376574,39417629409342,39417629442110,39417629474878,39417629507646,39417629540414,39417629573182,39417629605950]},"available":true,"name":"Classic Latex Waist Cincher and Caffeine Cream Combo - 4X \/ Nude","public_title":"4X \/ Nude","options":["4X","Nude"],"price":10500,"weight":45,"compare_at_price":11500,"inventory_quantity":0,"inventory_management":"shopify","inventory_policy":"continue","barcode":"","featured_media":{"alt":null,"id":20529002250302,"position":3,"preview_image":{"aspect_ratio":0.513,"height":480,"width":246,"src":"\/\/instacurve.com\/cdn\/shop\/products\/unnamed_4303e910-12e7-41c9-9c1e-a33bf5bb76b0.jpg?v=1620236713"}}},{"id":39417629573182,"title":"5X \/ Black","option1":"5X","option2":"Black","option3":null,"sku":"","requires_shipping":true,"taxable":true,"featured_image":{"id":28233961635902,"product_id":6579966115902,"position":3,"created_at":"2021-05-05T13:43:46-04:00","updated_at":"2021-05-05T13:45:13-04:00","alt":null,"width":246,"height":480,"src":"\/\/instacurve.com\/cdn\/shop\/products\/unnamed_4303e910-12e7-41c9-9c1e-a33bf5bb76b0.jpg?v=1620236713","variant_ids":[39417629081662,39417629114430,39417629147198,39417629179966,39417629212734,39417629245502,39417629278270,39417629311038,39417629343806,39417629376574,39417629409342,39417629442110,39417629474878,39417629507646,39417629540414,39417629573182,39417629605950]},"available":true,"name":"Classic Latex Waist Cincher and Caffeine Cream Combo - 5X \/ Black","public_title":"5X \/ Black","options":["5X","Black"],"price":10500,"weight":45,"compare_at_price":11500,"inventory_quantity":0,"inventory_management":null,"inventory_policy":"continue","barcode":"","featured_media":{"alt":null,"id":20529002250302,"position":3,"preview_image":{"aspect_ratio":0.513,"height":480,"width":246,"src":"\/\/instacurve.com\/cdn\/shop\/products\/unnamed_4303e910-12e7-41c9-9c1e-a33bf5bb76b0.jpg?v=1620236713"}}},{"id":39417629605950,"title":"5X \/ Nude","option1":"5X","option2":"Nude","option3":null,"sku":"","requires_shipping":true,"taxable":true,"featured_image":{"id":28233961635902,"product_id":6579966115902,"position":3,"created_at":"2021-05-05T13:43:46-04:00","updated_at":"2021-05-05T13:45:13-04:00","alt":null,"width":246,"height":480,"src":"\/\/instacurve.com\/cdn\/shop\/products\/unnamed_4303e910-12e7-41c9-9c1e-a33bf5bb76b0.jpg?v=1620236713","variant_ids":[39417629081662,39417629114430,39417629147198,39417629179966,39417629212734,39417629245502,39417629278270,39417629311038,39417629343806,39417629376574,39417629409342,39417629442110,39417629474878,39417629507646,39417629540414,39417629573182,39417629605950]},"available":true,"name":"Classic Latex Waist Cincher and Caffeine Cream Combo - 5X \/ Nude","public_title":"5X \/ Nude","options":["5X","Nude"],"price":10500,"weight":45,"compare_at_price":11500,"inventory_quantity":0,"inventory_management":"shopify","inventory_policy":"continue","barcode":"","featured_media":{"alt":null,"id":20529002250302,"position":3,"preview_image":{"aspect_ratio":0.513,"height":480,"width":246,"src":"\/\/instacurve.com\/cdn\/shop\/products\/unnamed_4303e910-12e7-41c9-9c1e-a33bf5bb76b0.jpg?v=1620236713"}}}],"images":["\/\/instacurve.com\/cdn\/shop\/products\/combo2.jpg?v=1620236713","\/\/instacurve.com\/cdn\/shop\/products\/41sgphf5d1l._sl1500_769d2c45-ee75-4226-bcd2-08b947fbf6f2.jpg?v=1620236713","\/\/instacurve.com\/cdn\/shop\/products\/unnamed_4303e910-12e7-41c9-9c1e-a33bf5bb76b0.jpg?v=1620236713","\/\/instacurve.com\/cdn\/shop\/products\/image_ae921b57-f0e5-48b8-a809-5ceb950a4f42.jpg?v=1620236713"],"featured_image":"\/\/instacurve.com\/cdn\/shop\/products\/combo2.jpg?v=1620236713","options":["Size","Color"],"media":[{"alt":null,"id":20529008476222,"position":1,"preview_image":{"aspect_ratio":1.0,"height":1080,"width":1080,"src":"\/\/instacurve.com\/cdn\/shop\/products\/combo2.jpg?v=1620236713"},"aspect_ratio":1.0,"height":1080,"media_type":"image","src":"\/\/instacurve.com\/cdn\/shop\/products\/combo2.jpg?v=1620236713","width":1080},{"alt":null,"id":20529008705598,"position":2,"preview_image":{"aspect_ratio":0.808,"height":500,"width":404,"src":"\/\/instacurve.com\/cdn\/shop\/products\/41sgphf5d1l._sl1500_769d2c45-ee75-4226-bcd2-08b947fbf6f2.jpg?v=1620236713"},"aspect_ratio":0.808,"height":500,"media_type":"image","src":"\/\/instacurve.com\/cdn\/shop\/products\/41sgphf5d1l._sl1500_769d2c45-ee75-4226-bcd2-08b947fbf6f2.jpg?v=1620236713","width":404},{"alt":null,"id":20529002250302,"position":3,"preview_image":{"aspect_ratio":0.513,"height":480,"width":246,"src":"\/\/instacurve.com\/cdn\/shop\/products\/unnamed_4303e910-12e7-41c9-9c1e-a33bf5bb76b0.jpg?v=1620236713"},"aspect_ratio":0.513,"height":480,"media_type":"image","src":"\/\/instacurve.com\/cdn\/shop\/products\/unnamed_4303e910-12e7-41c9-9c1e-a33bf5bb76b0.jpg?v=1620236713","width":246},{"alt":null,"id":20529002283070,"position":4,"preview_image":{"aspect_ratio":1.0,"height":1080,"width":1080,"src":"\/\/instacurve.com\/cdn\/shop\/products\/image_ae921b57-f0e5-48b8-a809-5ceb950a4f42.jpg?v=1620236713"},"aspect_ratio":1.0,"height":1080,"media_type":"image","src":"\/\/instacurve.com\/cdn\/shop\/products\/image_ae921b57-f0e5-48b8-a809-5ceb950a4f42.jpg?v=1620236713","width":1080}],"content":"\u003cp\u003e\u003cstrong\u003e Classic Latex Waist Trainer:\u003c\/strong\u003e\u003c\/p\u003e\n\u003cp\u003eThe InstaCurve Classic Latex Waist Trainer 3-Row 2023 is the ultimate waist training corset that gives you maximum compression to reduce your waistline and flatten your abdomen while supporting your spine to reduce back pain and correct posture.\u003cbr\u003e\u003c\/p\u003e\n\u003cp\u003e\u003cspan data-mce-fragment=\"1\"\u003e\u003cmeta charset=\"utf-8\"\u003e \u003cmeta charset=\"utf-8\"\u003eDesigned to be comfortable and easy to wear.\u003c\/span\u003e\u003c\/p\u003e\n\u003cp\u003e\u003cstrong\u003e\u003cspan style=\"color: #ff2a00;\" data-mce-fragment=\"1\"\u003eRun one size small \u003c\/span\u003e\u003c\/strong\u003e\u003c\/p\u003e\n\u003cp\u003e\u003cspan style=\"color: #000000;\" data-mce-style=\"color: #000000;\"\u003e\u003cstrong\u003eCaffeine Cream:\u003c\/strong\u003e\u003c\/span\u003e\u003c\/p\u003e\n\u003cp\u003eOriginal Ann Michelle Caffeine Cream, Fat reducer, skin firming, Slimming cream.\u003c\/p\u003e\n\u003cp\u003e16Fl Oz(473ml) Container\u003c\/p\u003e\n\u003cstrong\u003e\u003cspan style=\"color: #ff2a00;\"\u003e \u003cmeta content=\"width=device-width, initial-scale=1\" name=\"viewport\"\u003e \u003c\/span\u003e\u003c\/strong\u003e\n\u003cstyle\u003e\u003c!--\n.accordion {\nbackground-color: #9bddff;\ncolor: #fff;\ncursor: pointer;\npadding: 18px;\nwidth: 100%;\nborder: none;\ntext-align: left;\noutline: none;\nfont-size: 15px;\ntransition: 0.7s;\n}\n\n.active, .accordion:hover {\nbackground-color: #96ded1;\n}\n\n.accordion:after {\ncontent: '\\002B';\ncolor: #000000;\nfont-weight: bold;\nfloat: right;\nmargin-left: 5px;\n}\n\n.active:after {\ncontent: \"\\2212\";\n}\n\n.panel {\npadding: 0 18px;\nbackground-color: white;\nmax-height: 0;\noverflow: hidden;\ntransition: max-height 0.8s ease-out;\nborder-bottom: 3px solid transparent;\n}\n--\u003e\u003c\/style\u003e\n\u003ch2\u003e\u003c\/h2\u003e\n\u003cbutton class=\"accordion\"\u003eFeatures \u0026amp; Benefits\u003c\/button\u003e\n\u003cdiv class=\"panel\"\u003e\n\u003cp\u003e\u003cbr\u003e• Firm compression\u003cbr\u003e • Flexi boning supports\u003cbr\u003e • Durable\u003cbr\u003e • Breathable \u003cbr\u003e • 100% latex band\u003cbr\u003e • Ultra soft cotton lining\u003cbr\u003e • Dual column hook-and-eye closures\u003cbr\u003e • Strengthens core\u003cbr\u003e • Midsection control\u003cbr\u003e • Reduces waistline up to 3 sizes\u003cbr\u003e • Great coverage\u003cbr\u003e • Reduces back pain\u003cbr\u003e • Corrects posture\u003cbr\u003e • Boosts thermal activity\u003cbr\u003e • Repositions water weight and fat\u003cbr\u003e • The tight fit also restricts your abdomen, reducing your food intake during the day.\u003c\/p\u003e\n\u003cbr\u003e\n\u003c\/div\u003e\n\u003cbutton class=\"accordion\"\u003eMaterial \u0026amp; Product Info\u003c\/button\u003e\n\u003cdiv class=\"panel\"\u003e\n\u003cp\u003e\u003cbr\u003eWear this cincher discreetly under your clothes for 6-8 hours per day or more for a month to reduce your waistline up to 3 sizes and accelerate your weight loss up to 4 inches. You will witness a waistline reduction on a weekly basis.\u003cbr\u003e\u003cbr\u003e You can also waist train with this waist cincher while you sleep for maximum results.\u003cbr\u003e\u003cbr\u003e Panty not included. Comes in Nude and Black.\u003c\/p\u003e\n\u003c\/div\u003e\n\u003cscript\u003e\nvar acc = document.getElementsByClassName(\"accordion\");\nvar i;\n\nfor (i = 0; i \u003c acc.length; i++) {\nacc[i].addEventListener(\"click\", function() {\nthis.classList.toggle(\"active\");\nvar panel = this.nextElementSibling;\nif (panel.style.maxHeight){\npanel.style.maxHeight = null;\n} else {\npanel.style.maxHeight = panel.scrollHeight + \"px\";\n}\n});\n}\n\u003c\/script\u003e \u003cbr\u003e\n\u003cdiv style=\"text-align: center;\"\u003e\u003ca href=\"https:\/\/instacurve.com\/pages\/covid-19\" target=\"_blank\"\u003e Our Covid-19 Response\u003c\/a\u003e\u003c\/div\u003e"}