SELECTED
SELECTED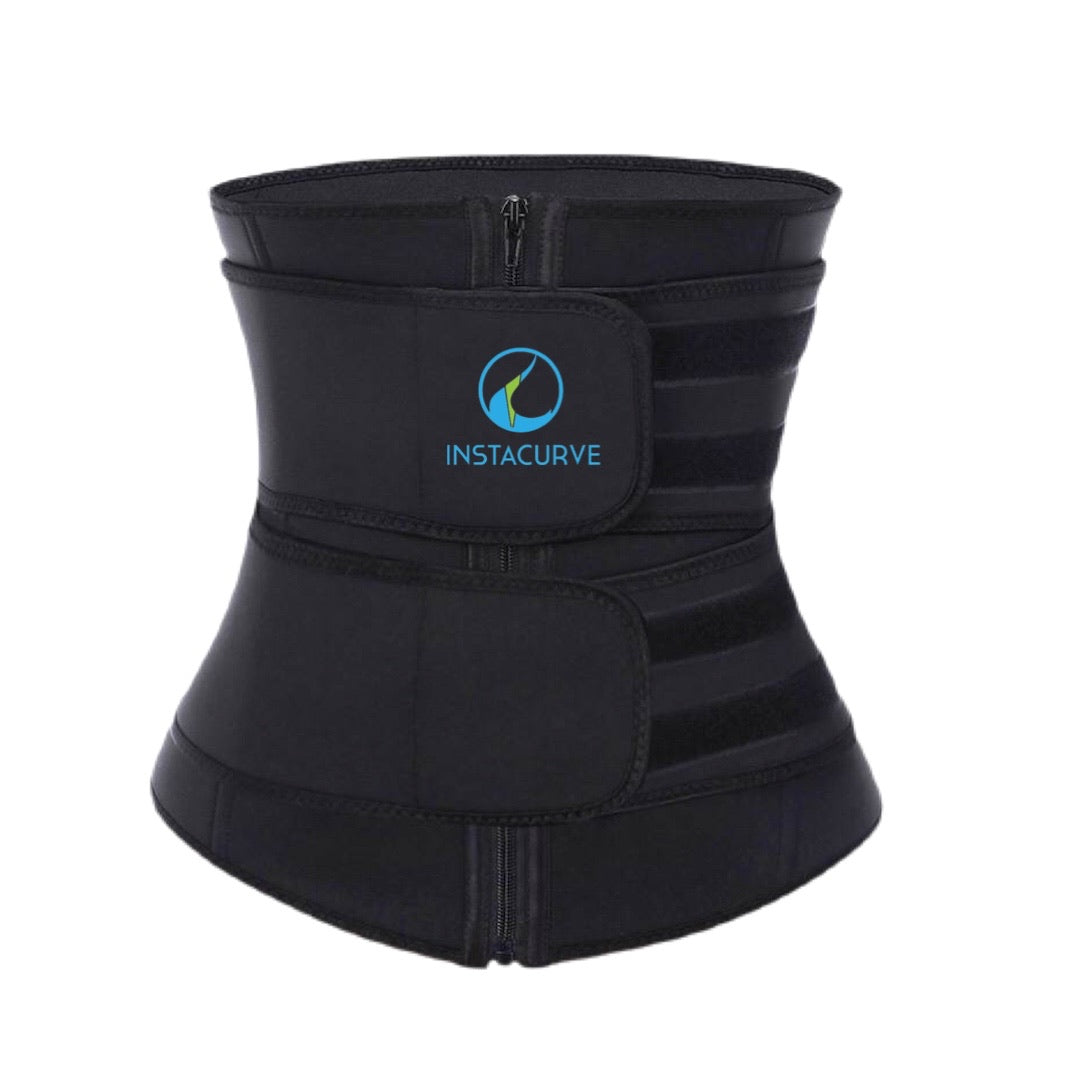 SELECTED
SELECTED
SELECTED
Waist Slimmer Belt 1018, Glute Bands, Detox Tea Bundle Deal
This bundle deal features our Waist Slimmer Belt 1018, Glute Bands and 14-Day Coarse Detox Tea. These three must-have products are a great way to kick-off your fitness and health journey. 
The InstaCurve Waist Slimmer Belt #1018 will assist in posture correction, provide support for your spine and aid with the compression of your abdominal muscles during a workout.  
Designed to be comfortable and easy to wear.
Please make sure to select a size and review our size chart for the Waist Slimmer Belt 1018.

Our Instacurve Fitness Ombre Band Set adds an extra level of intensity to all of your glute and leg exercises. Shown are the set of woven loop glute bands featuring unique grips on the interior side of the band to prevent slipping and rolling. This set is a premium product perfect for travel, and any kind of home or gym workout!

These bands are layered; and are very durable and powerful. For being durable, they can be used for years and pose no risk of snapping.



The InstaCurve 14-Day Coarse Detox Tea will improve your metabolism, assist in weight loss and increase your energy levels. This tea includes all natural ingredients and is Caffeine free.
{"id":4819669844030,"title":"Waist Slimmer Belt 1018, Glute Bands, Detox Tea Bundle Deal","handle":"waist-slimmer-belt-1018-glute-bands-detox-tea-bundle","description":"\u003cmeta charset=\"utf-8\"\u003e\u003cmeta charset=\"utf-8\"\u003e\n\u003cp data-mce-fragment=\"1\"\u003e\u003cspan data-mce-fragment=\"1\"\u003eThis bundle deal features our Waist Slimmer Belt 1018, Glute Bands and 14-Day Coarse Detox Tea. These three must-have products are a great way to kick-off your fitness and health journey. \u003c\/span\u003e\u003c\/p\u003e\n\u003cp data-mce-fragment=\"1\"\u003e\u003cspan data-mce-fragment=\"1\"\u003eThe InstaCurve \u003c\/span\u003e\u003cspan data-mce-fragment=\"1\"\u003eWaist Slimmer Belt #1018 will assist in posture correction, provide support for your spine and aid with the compression of your abdominal muscles during a workout.  \u003c\/span\u003e\u003c\/p\u003e\n\u003cp\u003e\u003cspan data-mce-fragment=\"1\"\u003e\u003cmeta charset=\"utf-8\"\u003e \u003cmeta charset=\"utf-8\"\u003eDesigned to be comfortable and easy to wear. \u003c\/span\u003e\u003c\/p\u003e\n\u003cp\u003e\u003cspan data-mce-fragment=\"1\"\u003e\u003cstrong\u003ePlease make sure to select a size and review our size chart for the Waist Slimmer Belt 1018.\u003c\/strong\u003e\u003c\/span\u003e\u003c\/p\u003e\n\u003cmeta content=\"width=device-width, initial-scale=1\" name=\"viewport\"\u003e\n\u003cstyle\u003e\u003c!--\n.accordion {\nbackground-color: #9bddff;\ncolor: #fff;\ncursor: pointer;\npadding: 18px;\nwidth: 100%;\nborder: none;\ntext-align: left;\noutline: none;\nfont-size: 15px;\ntransition: 0.7s;\n}\n\n.active, .accordion:hover {\nbackground-color: #96ded1;\n}\n\n.accordion:after {\ncontent: '\\002B';\ncolor: #000000;\nfont-weight: bold;\nfloat: right;\nmargin-left: 5px;\n}\n\n.active:after {\ncontent: \"\\2212\";\n}\n\n.panel {\npadding: 0 18px;\nbackground-color: white;\nmax-height: 0;\noverflow: hidden;\ntransition: max-height 0.8s ease-out;\nborder-bottom: 3px solid transparent;\n}\n--\u003e\u003c\/style\u003e\n\u003ch2\u003e\u003c\/h2\u003e\n\u003cbutton class=\"accordion\"\u003eGlute Bands\u003c\/button\u003e\n\u003cdiv class=\"panel\"\u003e\n\u003cp\u003e\u003cbr\u003eOur Instacurve Fitness Ombre Band Set adds an extra level of intensity to all of your glute and leg exercises. Shown are the set of woven loop glute bands featuring unique grips on the interior side of the band to prevent slipping and rolling. This set is a premium product perfect for travel, and any kind of home or gym workout! \u003cbr\u003e\u003cbr\u003e These bands are layered; and are very durable and powerful. For being durable, they can be used for years and pose no risk of snapping.\u003cbr\u003e\u003cbr\u003e\u003c\/p\u003e\n\u003cbr\u003e\n\u003c\/div\u003e\n\u003cbutton class=\"accordion\"\u003e14-Day Coarse Detox Tea\u003c\/button\u003e\n\u003cdiv class=\"panel\"\u003e\n\u003cp\u003e\u003cbr\u003eThe InstaCurve 14-Day Coarse Detox Tea will improve your metabolism, assist in weight loss and increase your energy levels. This tea includes all natural ingredients and is Caffeine free.\u003c\/p\u003e\n\u003c\/div\u003e\n\u003cscript\u003e\nvar acc = document.getElementsByClassName(\"accordion\");\nvar i;\n\nfor (i = 0; i \u003c acc.length; i++) {\nacc[i].addEventListener(\"click\", function() {\nthis.classList.toggle(\"active\");\nvar panel = this.nextElementSibling;\nif (panel.style.maxHeight){\npanel.style.maxHeight = null;\n} else {\npanel.style.maxHeight = panel.scrollHeight + \"px\";\n}\n});\n}\n\u003c\/script\u003e \u003cbr\u003e\n\u003cdiv style=\"text-align: center;\"\u003e\u003ca href=\"https:\/\/instacurve.com\/pages\/covid-19\" target=\"_blank\"\u003e Our Covid-19 Response\u003c\/a\u003e\u003c\/div\u003e","published_at":"2021-02-22T13:16:36-05:00","created_at":"2021-02-22T13:05:11-05:00","vendor":"Insta Curve","type":"Waist Trainer","tags":["Glute Bands","Waist Trainer"],"price":14000,"price_min":14000,"price_max":15500,"available":true,"price_varies":true,"compare_at_price":16399,"compare_at_price_min":16399,"compare_at_price_max":16399,"compare_at_price_varies":false,"variants":[{"id":32790219030590,"title":"S","option1":"S","option2":null,"option3":null,"sku":"","requires_shipping":true,"taxable":true,"featured_image":{"id":17063042515006,"product_id":4819669844030,"position":1,"created_at":"2021-02-22T13:12:42-05:00","updated_at":"2021-02-22T13:12:50-05:00","alt":null,"width":1080,"height":1080,"src":"\/\/instacurve.com\/cdn\/shop\/products\/image_6b8328a7-19c1-44d0-be5e-9878fbc42748.jpg?v=1614017570","variant_ids":[32790219030590,32790219063358,32790219096126,32790219128894,32790219161662,32790219194430,32790219227198,32790219259966]},"available":true,"name":"Waist Slimmer Belt 1018, Glute Bands, Detox Tea Bundle Deal - S","public_title":"S","options":["S"],"price":15000,"weight":45,"compare_at_price":16399,"inventory_quantity":-2,"inventory_management":null,"inventory_policy":"continue","barcode":"","featured_media":{"alt":null,"id":9297769463870,"position":1,"preview_image":{"aspect_ratio":1.0,"height":1080,"width":1080,"src":"\/\/instacurve.com\/cdn\/shop\/products\/image_6b8328a7-19c1-44d0-be5e-9878fbc42748.jpg?v=1614017570"}}},{"id":32790219063358,"title":"M","option1":"M","option2":null,"option3":null,"sku":"","requires_shipping":true,"taxable":true,"featured_image":{"id":17063042515006,"product_id":4819669844030,"position":1,"created_at":"2021-02-22T13:12:42-05:00","updated_at":"2021-02-22T13:12:50-05:00","alt":null,"width":1080,"height":1080,"src":"\/\/instacurve.com\/cdn\/shop\/products\/image_6b8328a7-19c1-44d0-be5e-9878fbc42748.jpg?v=1614017570","variant_ids":[32790219030590,32790219063358,32790219096126,32790219128894,32790219161662,32790219194430,32790219227198,32790219259966]},"available":true,"name":"Waist Slimmer Belt 1018, Glute Bands, Detox Tea Bundle Deal - M","public_title":"M","options":["M"],"price":14000,"weight":45,"compare_at_price":16399,"inventory_quantity":-4,"inventory_management":null,"inventory_policy":"continue","barcode":"","featured_media":{"alt":null,"id":9297769463870,"position":1,"preview_image":{"aspect_ratio":1.0,"height":1080,"width":1080,"src":"\/\/instacurve.com\/cdn\/shop\/products\/image_6b8328a7-19c1-44d0-be5e-9878fbc42748.jpg?v=1614017570"}}},{"id":32790219096126,"title":"L","option1":"L","option2":null,"option3":null,"sku":"","requires_shipping":true,"taxable":true,"featured_image":{"id":17063042515006,"product_id":4819669844030,"position":1,"created_at":"2021-02-22T13:12:42-05:00","updated_at":"2021-02-22T13:12:50-05:00","alt":null,"width":1080,"height":1080,"src":"\/\/instacurve.com\/cdn\/shop\/products\/image_6b8328a7-19c1-44d0-be5e-9878fbc42748.jpg?v=1614017570","variant_ids":[32790219030590,32790219063358,32790219096126,32790219128894,32790219161662,32790219194430,32790219227198,32790219259966]},"available":true,"name":"Waist Slimmer Belt 1018, Glute Bands, Detox Tea Bundle Deal - L","public_title":"L","options":["L"],"price":15000,"weight":45,"compare_at_price":16399,"inventory_quantity":-2,"inventory_management":null,"inventory_policy":"continue","barcode":"","featured_media":{"alt":null,"id":9297769463870,"position":1,"preview_image":{"aspect_ratio":1.0,"height":1080,"width":1080,"src":"\/\/instacurve.com\/cdn\/shop\/products\/image_6b8328a7-19c1-44d0-be5e-9878fbc42748.jpg?v=1614017570"}}},{"id":32790219128894,"title":"XL","option1":"XL","option2":null,"option3":null,"sku":"","requires_shipping":true,"taxable":true,"featured_image":{"id":17063042515006,"product_id":4819669844030,"position":1,"created_at":"2021-02-22T13:12:42-05:00","updated_at":"2021-02-22T13:12:50-05:00","alt":null,"width":1080,"height":1080,"src":"\/\/instacurve.com\/cdn\/shop\/products\/image_6b8328a7-19c1-44d0-be5e-9878fbc42748.jpg?v=1614017570","variant_ids":[32790219030590,32790219063358,32790219096126,32790219128894,32790219161662,32790219194430,32790219227198,32790219259966]},"available":true,"name":"Waist Slimmer Belt 1018, Glute Bands, Detox Tea Bundle Deal - XL","public_title":"XL","options":["XL"],"price":15000,"weight":45,"compare_at_price":16399,"inventory_quantity":-1,"inventory_management":null,"inventory_policy":"continue","barcode":"","featured_media":{"alt":null,"id":9297769463870,"position":1,"preview_image":{"aspect_ratio":1.0,"height":1080,"width":1080,"src":"\/\/instacurve.com\/cdn\/shop\/products\/image_6b8328a7-19c1-44d0-be5e-9878fbc42748.jpg?v=1614017570"}}},{"id":32790219161662,"title":"2X","option1":"2X","option2":null,"option3":null,"sku":"","requires_shipping":true,"taxable":true,"featured_image":{"id":17063042515006,"product_id":4819669844030,"position":1,"created_at":"2021-02-22T13:12:42-05:00","updated_at":"2021-02-22T13:12:50-05:00","alt":null,"width":1080,"height":1080,"src":"\/\/instacurve.com\/cdn\/shop\/products\/image_6b8328a7-19c1-44d0-be5e-9878fbc42748.jpg?v=1614017570","variant_ids":[32790219030590,32790219063358,32790219096126,32790219128894,32790219161662,32790219194430,32790219227198,32790219259966]},"available":true,"name":"Waist Slimmer Belt 1018, Glute Bands, Detox Tea Bundle Deal - 2X","public_title":"2X","options":["2X"],"price":15500,"weight":45,"compare_at_price":null,"inventory_quantity":-1,"inventory_management":null,"inventory_policy":"continue","barcode":"","featured_media":{"alt":null,"id":9297769463870,"position":1,"preview_image":{"aspect_ratio":1.0,"height":1080,"width":1080,"src":"\/\/instacurve.com\/cdn\/shop\/products\/image_6b8328a7-19c1-44d0-be5e-9878fbc42748.jpg?v=1614017570"}}},{"id":32790219194430,"title":"3X","option1":"3X","option2":null,"option3":null,"sku":"","requires_shipping":true,"taxable":true,"featured_image":{"id":17063042515006,"product_id":4819669844030,"position":1,"created_at":"2021-02-22T13:12:42-05:00","updated_at":"2021-02-22T13:12:50-05:00","alt":null,"width":1080,"height":1080,"src":"\/\/instacurve.com\/cdn\/shop\/products\/image_6b8328a7-19c1-44d0-be5e-9878fbc42748.jpg?v=1614017570","variant_ids":[32790219030590,32790219063358,32790219096126,32790219128894,32790219161662,32790219194430,32790219227198,32790219259966]},"available":true,"name":"Waist Slimmer Belt 1018, Glute Bands, Detox Tea Bundle Deal - 3X","public_title":"3X","options":["3X"],"price":15500,"weight":45,"compare_at_price":null,"inventory_quantity":0,"inventory_management":null,"inventory_policy":"continue","barcode":"","featured_media":{"alt":null,"id":9297769463870,"position":1,"preview_image":{"aspect_ratio":1.0,"height":1080,"width":1080,"src":"\/\/instacurve.com\/cdn\/shop\/products\/image_6b8328a7-19c1-44d0-be5e-9878fbc42748.jpg?v=1614017570"}}},{"id":32790219227198,"title":"4X","option1":"4X","option2":null,"option3":null,"sku":"","requires_shipping":true,"taxable":true,"featured_image":{"id":17063042515006,"product_id":4819669844030,"position":1,"created_at":"2021-02-22T13:12:42-05:00","updated_at":"2021-02-22T13:12:50-05:00","alt":null,"width":1080,"height":1080,"src":"\/\/instacurve.com\/cdn\/shop\/products\/image_6b8328a7-19c1-44d0-be5e-9878fbc42748.jpg?v=1614017570","variant_ids":[32790219030590,32790219063358,32790219096126,32790219128894,32790219161662,32790219194430,32790219227198,32790219259966]},"available":true,"name":"Waist Slimmer Belt 1018, Glute Bands, Detox Tea Bundle Deal - 4X","public_title":"4X","options":["4X"],"price":15500,"weight":45,"compare_at_price":null,"inventory_quantity":-1,"inventory_management":null,"inventory_policy":"continue","barcode":"","featured_media":{"alt":null,"id":9297769463870,"position":1,"preview_image":{"aspect_ratio":1.0,"height":1080,"width":1080,"src":"\/\/instacurve.com\/cdn\/shop\/products\/image_6b8328a7-19c1-44d0-be5e-9878fbc42748.jpg?v=1614017570"}}},{"id":32790219259966,"title":"5X","option1":"5X","option2":null,"option3":null,"sku":"","requires_shipping":true,"taxable":true,"featured_image":{"id":17063042515006,"product_id":4819669844030,"position":1,"created_at":"2021-02-22T13:12:42-05:00","updated_at":"2021-02-22T13:12:50-05:00","alt":null,"width":1080,"height":1080,"src":"\/\/instacurve.com\/cdn\/shop\/products\/image_6b8328a7-19c1-44d0-be5e-9878fbc42748.jpg?v=1614017570","variant_ids":[32790219030590,32790219063358,32790219096126,32790219128894,32790219161662,32790219194430,32790219227198,32790219259966]},"available":true,"name":"Waist Slimmer Belt 1018, Glute Bands, Detox Tea Bundle Deal - 5X","public_title":"5X","options":["5X"],"price":15500,"weight":45,"compare_at_price":null,"inventory_quantity":0,"inventory_management":null,"inventory_policy":"continue","barcode":"","featured_media":{"alt":null,"id":9297769463870,"position":1,"preview_image":{"aspect_ratio":1.0,"height":1080,"width":1080,"src":"\/\/instacurve.com\/cdn\/shop\/products\/image_6b8328a7-19c1-44d0-be5e-9878fbc42748.jpg?v=1614017570"}}}],"images":["\/\/instacurve.com\/cdn\/shop\/products\/image_6b8328a7-19c1-44d0-be5e-9878fbc42748.jpg?v=1614017570","\/\/instacurve.com\/cdn\/shop\/products\/image_20eb7bba-fd7e-4cfb-8143-24af9a7a781c.jpg?v=1614017570","\/\/instacurve.com\/cdn\/shop\/products\/2021-01-27_grande_570e66ee-e576-49b6-bf91-3279ffd930f9.gif?v=1614017570","\/\/instacurve.com\/cdn\/shop\/products\/image_848a0161-73cb-4007-a262-23e61ae285d7.jpg?v=1614017570","\/\/instacurve.com\/cdn\/shop\/products\/118693734_646649706254113_734987797099845446_n_0d969449-2382-4a7d-8ece-ff7624ee58c3.jpg?v=1614017570"],"featured_image":"\/\/instacurve.com\/cdn\/shop\/products\/image_6b8328a7-19c1-44d0-be5e-9878fbc42748.jpg?v=1614017570","options":["Size"],"media":[{"alt":null,"id":9297769463870,"position":1,"preview_image":{"aspect_ratio":1.0,"height":1080,"width":1080,"src":"\/\/instacurve.com\/cdn\/shop\/products\/image_6b8328a7-19c1-44d0-be5e-9878fbc42748.jpg?v=1614017570"},"aspect_ratio":1.0,"height":1080,"media_type":"image","src":"\/\/instacurve.com\/cdn\/shop\/products\/image_6b8328a7-19c1-44d0-be5e-9878fbc42748.jpg?v=1614017570","width":1080},{"alt":null,"id":9297760124990,"position":2,"preview_image":{"aspect_ratio":1.0,"height":1080,"width":1080,"src":"\/\/instacurve.com\/cdn\/shop\/products\/image_20eb7bba-fd7e-4cfb-8143-24af9a7a781c.jpg?v=1614017570"},"aspect_ratio":1.0,"height":1080,"media_type":"image","src":"\/\/instacurve.com\/cdn\/shop\/products\/image_20eb7bba-fd7e-4cfb-8143-24af9a7a781c.jpg?v=1614017570","width":1080},{"alt":null,"id":9297760157758,"position":3,"preview_image":{"aspect_ratio":1.0,"height":600,"width":600,"src":"\/\/instacurve.com\/cdn\/shop\/products\/2021-01-27_grande_570e66ee-e576-49b6-bf91-3279ffd930f9.gif?v=1614017570"},"aspect_ratio":1.0,"height":600,"media_type":"image","src":"\/\/instacurve.com\/cdn\/shop\/products\/2021-01-27_grande_570e66ee-e576-49b6-bf91-3279ffd930f9.gif?v=1614017570","width":600},{"alt":null,"id":9297760190526,"position":4,"preview_image":{"aspect_ratio":0.783,"height":762,"width":597,"src":"\/\/instacurve.com\/cdn\/shop\/products\/image_848a0161-73cb-4007-a262-23e61ae285d7.jpg?v=1614017570"},"aspect_ratio":0.783,"height":762,"media_type":"image","src":"\/\/instacurve.com\/cdn\/shop\/products\/image_848a0161-73cb-4007-a262-23e61ae285d7.jpg?v=1614017570","width":597},{"alt":null,"id":9297760223294,"position":5,"preview_image":{"aspect_ratio":0.799,"height":1351,"width":1080,"src":"\/\/instacurve.com\/cdn\/shop\/products\/118693734_646649706254113_734987797099845446_n_0d969449-2382-4a7d-8ece-ff7624ee58c3.jpg?v=1614017570"},"aspect_ratio":0.799,"height":1351,"media_type":"image","src":"\/\/instacurve.com\/cdn\/shop\/products\/118693734_646649706254113_734987797099845446_n_0d969449-2382-4a7d-8ece-ff7624ee58c3.jpg?v=1614017570","width":1080}],"content":"\u003cmeta charset=\"utf-8\"\u003e\u003cmeta charset=\"utf-8\"\u003e\n\u003cp data-mce-fragment=\"1\"\u003e\u003cspan data-mce-fragment=\"1\"\u003eThis bundle deal features our Waist Slimmer Belt 1018, Glute Bands and 14-Day Coarse Detox Tea. These three must-have products are a great way to kick-off your fitness and health journey. \u003c\/span\u003e\u003c\/p\u003e\n\u003cp data-mce-fragment=\"1\"\u003e\u003cspan data-mce-fragment=\"1\"\u003eThe InstaCurve \u003c\/span\u003e\u003cspan data-mce-fragment=\"1\"\u003eWaist Slimmer Belt #1018 will assist in posture correction, provide support for your spine and aid with the compression of your abdominal muscles during a workout.  \u003c\/span\u003e\u003c\/p\u003e\n\u003cp\u003e\u003cspan data-mce-fragment=\"1\"\u003e\u003cmeta charset=\"utf-8\"\u003e \u003cmeta charset=\"utf-8\"\u003eDesigned to be comfortable and easy to wear. \u003c\/span\u003e\u003c\/p\u003e\n\u003cp\u003e\u003cspan data-mce-fragment=\"1\"\u003e\u003cstrong\u003ePlease make sure to select a size and review our size chart for the Waist Slimmer Belt 1018.\u003c\/strong\u003e\u003c\/span\u003e\u003c\/p\u003e\n\u003cmeta content=\"width=device-width, initial-scale=1\" name=\"viewport\"\u003e\n\u003cstyle\u003e\u003c!--\n.accordion {\nbackground-color: #9bddff;\ncolor: #fff;\ncursor: pointer;\npadding: 18px;\nwidth: 100%;\nborder: none;\ntext-align: left;\noutline: none;\nfont-size: 15px;\ntransition: 0.7s;\n}\n\n.active, .accordion:hover {\nbackground-color: #96ded1;\n}\n\n.accordion:after {\ncontent: '\\002B';\ncolor: #000000;\nfont-weight: bold;\nfloat: right;\nmargin-left: 5px;\n}\n\n.active:after {\ncontent: \"\\2212\";\n}\n\n.panel {\npadding: 0 18px;\nbackground-color: white;\nmax-height: 0;\noverflow: hidden;\ntransition: max-height 0.8s ease-out;\nborder-bottom: 3px solid transparent;\n}\n--\u003e\u003c\/style\u003e\n\u003ch2\u003e\u003c\/h2\u003e\n\u003cbutton class=\"accordion\"\u003eGlute Bands\u003c\/button\u003e\n\u003cdiv class=\"panel\"\u003e\n\u003cp\u003e\u003cbr\u003eOur Instacurve Fitness Ombre Band Set adds an extra level of intensity to all of your glute and leg exercises. Shown are the set of woven loop glute bands featuring unique grips on the interior side of the band to prevent slipping and rolling. This set is a premium product perfect for travel, and any kind of home or gym workout! \u003cbr\u003e\u003cbr\u003e These bands are layered; and are very durable and powerful. For being durable, they can be used for years and pose no risk of snapping.\u003cbr\u003e\u003cbr\u003e\u003c\/p\u003e\n\u003cbr\u003e\n\u003c\/div\u003e\n\u003cbutton class=\"accordion\"\u003e14-Day Coarse Detox Tea\u003c\/button\u003e\n\u003cdiv class=\"panel\"\u003e\n\u003cp\u003e\u003cbr\u003eThe InstaCurve 14-Day Coarse Detox Tea will improve your metabolism, assist in weight loss and increase your energy levels. This tea includes all natural ingredients and is Caffeine free.\u003c\/p\u003e\n\u003c\/div\u003e\n\u003cscript\u003e\nvar acc = document.getElementsByClassName(\"accordion\");\nvar i;\n\nfor (i = 0; i \u003c acc.length; i++) {\nacc[i].addEventListener(\"click\", function() {\nthis.classList.toggle(\"active\");\nvar panel = this.nextElementSibling;\nif (panel.style.maxHeight){\npanel.style.maxHeight = null;\n} else {\npanel.style.maxHeight = panel.scrollHeight + \"px\";\n}\n});\n}\n\u003c\/script\u003e \u003cbr\u003e\n\u003cdiv style=\"text-align: center;\"\u003e\u003ca href=\"https:\/\/instacurve.com\/pages\/covid-19\" target=\"_blank\"\u003e Our Covid-19 Response\u003c\/a\u003e\u003c\/div\u003e"}