SELECTED
SELECTED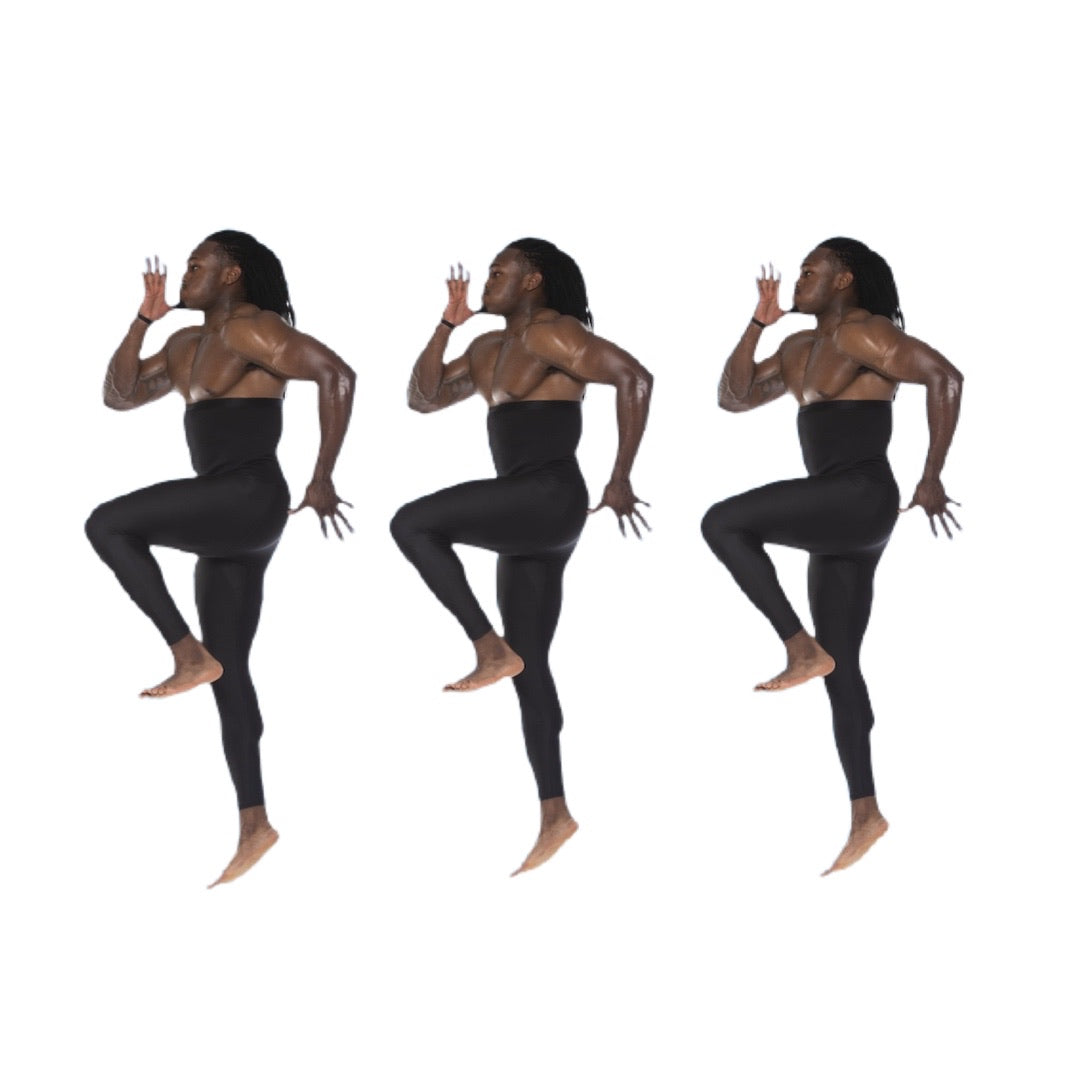 SELECTED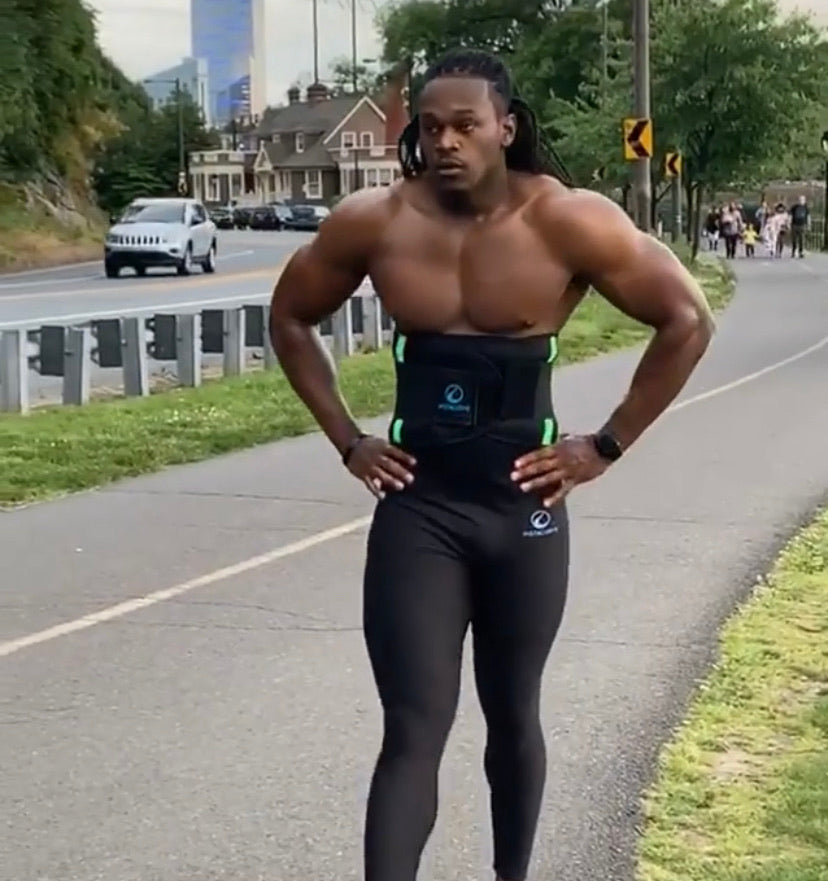 SELECTED
High Waist Sauna Leggings 503 (MEN)
The capri style InstaCurve High Waist Sauna & Spandex Leggings 503 are for men and women. They feature heat-generating technology to help your body burn fat while working out or during regular daily
Designed to be comfortable and easy to wear.

• Stretchy
• Comfortable
• Soft
• Flexible
• Generates heat to help burn fat
• Targets lower body including midsection, buttocks and thighs
• Creates shape
• Combats cellulite
• Sportswear for daily use


• Neoprene
• Spandex
The InstaCurve High Waist Sauna Leggings #503 run one size smaller depending on body size. We recommend going one size up.
{"id":4818918047806,"title":"High Waist Sauna Leggings 503 (MEN)","handle":"high-waist-sauna-leggings-503-men","description":"\u003cmeta charset=\"utf-8\"\u003eThe capri style InstaCurve High Waist Sauna \u0026amp; Spandex Leggings 503 are for men and women. They feature heat-generating technology to help your body burn fat while working out or during regular daily\u003cbr\u003e\u003cbr\u003e\n\u003cp\u003e\u003cspan data-mce-fragment=\"1\"\u003e\u003cmeta charset=\"utf-8\"\u003e \u003cmeta charset=\"utf-8\"\u003eDesigned to be comfortable and easy to wear.\u003c\/span\u003e\u003c\/p\u003e\n\u003cmeta name=\"viewport\" content=\"width=device-width, initial-scale=1\"\u003e\n\u003cstyle\u003e\u003c!--\n.accordion {\nbackground-color: #9bddff;\ncolor: #fff;\ncursor: pointer;\npadding: 18px;\nwidth: 100%;\nborder: none;\ntext-align: left;\noutline: none;\nfont-size: 15px;\ntransition: 0.7s;\n}\n\n.active, .accordion:hover {\nbackground-color: #96ded1;\n}\n\n.accordion:after {\ncontent: '\\002B';\ncolor: #000000;\nfont-weight: bold;\nfloat: right;\nmargin-left: 5px;\n}\n\n.active:after {\ncontent: \"\\2212\";\n}\n\n.panel {\npadding: 0 18px;\nbackground-color: white;\nmax-height: 0;\noverflow: hidden;\ntransition: max-height 0.8s ease-out;\nborder-bottom: 3px solid transparent;\n}\n--\u003e\u003c\/style\u003e\n\u003ch2\u003e\u003c\/h2\u003e\n\u003cbutton class=\"accordion\"\u003eFeatures \u0026amp; Benefits\u003c\/button\u003e\n\u003cdiv class=\"panel\"\u003e\n\u003cp\u003e\u003cbr\u003e• Stretchy\u003cbr\u003e • Comfortable\u003cbr\u003e • Soft\u003cbr\u003e • Flexible\u003cbr\u003e • Generates heat to help burn fat\u003cbr\u003e • Targets lower body including midsection, buttocks and thighs\u003cbr\u003e • Creates shape\u003cbr\u003e • Combats cellulite\u003cbr\u003e • Sportswear for daily use\u003cbr\u003e\u003c\/p\u003e\n\u003cbr\u003e\n\u003c\/div\u003e\n\u003cbutton class=\"accordion\"\u003eMaterial \u0026amp; Product Info\u003c\/button\u003e\n\u003cdiv class=\"panel\"\u003e\n\u003cp\u003e\u003cbr\u003e• Neoprene\u003cbr\u003e• Spandex \u003cbr\u003eThe InstaCurve High Waist Sauna Leggings #503 run one size smaller depending on body size. We recommend going one size up.\u003c\/p\u003e\n\u003c\/div\u003e\n\u003cscript\u003e\nvar acc = document.getElementsByClassName(\"accordion\");\nvar i;\n\nfor (i = 0; i \u003c acc.length; i++) {\nacc[i].addEventListener(\"click\", function() {\nthis.classList.toggle(\"active\");\nvar panel = this.nextElementSibling;\nif (panel.style.maxHeight){\npanel.style.maxHeight = null;\n} else {\npanel.style.maxHeight = panel.scrollHeight + \"px\";\n}\n});\n}\n\u003c\/script\u003e\n\u003cbr\u003e\n\u003cdiv style=\"text-align: center;\"\u003e\u003ca href=\"https:\/\/instacurve.com\/pages\/covid-19\" target=\"_blank\" rel=\"noopener noreferrer\"\u003e Our Covid-19 Response\u003c\/a\u003e\u003c\/div\u003e","published_at":"2021-02-20T18:21:41-05:00","created_at":"2021-02-20T18:16:33-05:00","vendor":"Insta Curve","type":"Leggings","tags":["Men","Sauna Fitness Collection"],"price":5495,"price_min":5495,"price_max":6499,"available":true,"price_varies":true,"compare_at_price":null,"compare_at_price_min":0,"compare_at_price_max":0,"compare_at_price_varies":false,"variants":[{"id":32786791006270,"title":"S \/ Black","option1":"S","option2":"Black","option3":null,"sku":"","requires_shipping":true,"taxable":true,"featured_image":{"id":17058239774782,"product_id":4818918047806,"position":1,"created_at":"2021-02-20T19:53:35-05:00","updated_at":"2021-02-20T19:53:35-05:00","alt":null,"width":1080,"height":1080,"src":"\/\/instacurve.com\/cdn\/shop\/products\/image_8da9b4d7-a3da-4565-8027-09e51afff2ff.jpg?v=1613868815","variant_ids":[32786791006270,32786791039038,32786791071806,32786791104574,32787782074430,32787782303806]},"available":false,"name":"High Waist Sauna Leggings 503 (MEN) - S \/ Black","public_title":"S \/ Black","options":["S","Black"],"price":5495,"weight":45,"compare_at_price":null,"inventory_quantity":-1,"inventory_management":"shopify","inventory_policy":"deny","barcode":"","featured_media":{"alt":null,"id":9292904300606,"position":1,"preview_image":{"aspect_ratio":1.0,"height":1080,"width":1080,"src":"\/\/instacurve.com\/cdn\/shop\/products\/image_8da9b4d7-a3da-4565-8027-09e51afff2ff.jpg?v=1613868815"}}},{"id":32786791039038,"title":"M \/ Black","option1":"M","option2":"Black","option3":null,"sku":"","requires_shipping":true,"taxable":true,"featured_image":{"id":17058239774782,"product_id":4818918047806,"position":1,"created_at":"2021-02-20T19:53:35-05:00","updated_at":"2021-02-20T19:53:35-05:00","alt":null,"width":1080,"height":1080,"src":"\/\/instacurve.com\/cdn\/shop\/products\/image_8da9b4d7-a3da-4565-8027-09e51afff2ff.jpg?v=1613868815","variant_ids":[32786791006270,32786791039038,32786791071806,32786791104574,32787782074430,32787782303806]},"available":false,"name":"High Waist Sauna Leggings 503 (MEN) - M \/ Black","public_title":"M \/ Black","options":["M","Black"],"price":5495,"weight":45,"compare_at_price":null,"inventory_quantity":-1,"inventory_management":"shopify","inventory_policy":"deny","barcode":"","featured_media":{"alt":null,"id":9292904300606,"position":1,"preview_image":{"aspect_ratio":1.0,"height":1080,"width":1080,"src":"\/\/instacurve.com\/cdn\/shop\/products\/image_8da9b4d7-a3da-4565-8027-09e51afff2ff.jpg?v=1613868815"}}},{"id":32786791071806,"title":"L \/ Black","option1":"L","option2":"Black","option3":null,"sku":"","requires_shipping":true,"taxable":true,"featured_image":{"id":17058239774782,"product_id":4818918047806,"position":1,"created_at":"2021-02-20T19:53:35-05:00","updated_at":"2021-02-20T19:53:35-05:00","alt":null,"width":1080,"height":1080,"src":"\/\/instacurve.com\/cdn\/shop\/products\/image_8da9b4d7-a3da-4565-8027-09e51afff2ff.jpg?v=1613868815","variant_ids":[32786791006270,32786791039038,32786791071806,32786791104574,32787782074430,32787782303806]},"available":false,"name":"High Waist Sauna Leggings 503 (MEN) - L \/ Black","public_title":"L \/ Black","options":["L","Black"],"price":5495,"weight":45,"compare_at_price":null,"inventory_quantity":-1,"inventory_management":"shopify","inventory_policy":"deny","barcode":"","featured_media":{"alt":null,"id":9292904300606,"position":1,"preview_image":{"aspect_ratio":1.0,"height":1080,"width":1080,"src":"\/\/instacurve.com\/cdn\/shop\/products\/image_8da9b4d7-a3da-4565-8027-09e51afff2ff.jpg?v=1613868815"}}},{"id":32786791104574,"title":"XL \/ Black","option1":"XL","option2":"Black","option3":null,"sku":"","requires_shipping":true,"taxable":true,"featured_image":{"id":17058239774782,"product_id":4818918047806,"position":1,"created_at":"2021-02-20T19:53:35-05:00","updated_at":"2021-02-20T19:53:35-05:00","alt":null,"width":1080,"height":1080,"src":"\/\/instacurve.com\/cdn\/shop\/products\/image_8da9b4d7-a3da-4565-8027-09e51afff2ff.jpg?v=1613868815","variant_ids":[32786791006270,32786791039038,32786791071806,32786791104574,32787782074430,32787782303806]},"available":false,"name":"High Waist Sauna Leggings 503 (MEN) - XL \/ Black","public_title":"XL \/ Black","options":["XL","Black"],"price":5495,"weight":45,"compare_at_price":null,"inventory_quantity":-1,"inventory_management":"shopify","inventory_policy":"deny","barcode":"","featured_media":{"alt":null,"id":9292904300606,"position":1,"preview_image":{"aspect_ratio":1.0,"height":1080,"width":1080,"src":"\/\/instacurve.com\/cdn\/shop\/products\/image_8da9b4d7-a3da-4565-8027-09e51afff2ff.jpg?v=1613868815"}}},{"id":32787782074430,"title":"2X \/ Black","option1":"2X","option2":"Black","option3":null,"sku":"","requires_shipping":true,"taxable":true,"featured_image":{"id":17058239774782,"product_id":4818918047806,"position":1,"created_at":"2021-02-20T19:53:35-05:00","updated_at":"2021-02-20T19:53:35-05:00","alt":null,"width":1080,"height":1080,"src":"\/\/instacurve.com\/cdn\/shop\/products\/image_8da9b4d7-a3da-4565-8027-09e51afff2ff.jpg?v=1613868815","variant_ids":[32786791006270,32786791039038,32786791071806,32786791104574,32787782074430,32787782303806]},"available":false,"name":"High Waist Sauna Leggings 503 (MEN) - 2X \/ Black","public_title":"2X \/ Black","options":["2X","Black"],"price":6499,"weight":45,"compare_at_price":null,"inventory_quantity":0,"inventory_management":"shopify","inventory_policy":"deny","barcode":"","featured_media":{"alt":null,"id":9292904300606,"position":1,"preview_image":{"aspect_ratio":1.0,"height":1080,"width":1080,"src":"\/\/instacurve.com\/cdn\/shop\/products\/image_8da9b4d7-a3da-4565-8027-09e51afff2ff.jpg?v=1613868815"}}},{"id":32787782303806,"title":"3X \/ Black","option1":"3X","option2":"Black","option3":null,"sku":"","requires_shipping":true,"taxable":true,"featured_image":{"id":17058239774782,"product_id":4818918047806,"position":1,"created_at":"2021-02-20T19:53:35-05:00","updated_at":"2021-02-20T19:53:35-05:00","alt":null,"width":1080,"height":1080,"src":"\/\/instacurve.com\/cdn\/shop\/products\/image_8da9b4d7-a3da-4565-8027-09e51afff2ff.jpg?v=1613868815","variant_ids":[32786791006270,32786791039038,32786791071806,32786791104574,32787782074430,32787782303806]},"available":true,"name":"High Waist Sauna Leggings 503 (MEN) - 3X \/ Black","public_title":"3X \/ Black","options":["3X","Black"],"price":6495,"weight":45,"compare_at_price":null,"inventory_quantity":1,"inventory_management":"shopify","inventory_policy":"deny","barcode":"","featured_media":{"alt":null,"id":9292904300606,"position":1,"preview_image":{"aspect_ratio":1.0,"height":1080,"width":1080,"src":"\/\/instacurve.com\/cdn\/shop\/products\/image_8da9b4d7-a3da-4565-8027-09e51afff2ff.jpg?v=1613868815"}}}],"images":["\/\/instacurve.com\/cdn\/shop\/products\/image_8da9b4d7-a3da-4565-8027-09e51afff2ff.jpg?v=1613868815","\/\/instacurve.com\/cdn\/shop\/products\/image_9fd5595f-f195-459c-825d-c1dcdabac4a7.jpg?v=1613868869","\/\/instacurve.com\/cdn\/shop\/products\/image_47927462-65d5-4e9f-b591-245c4bb4f83a.jpg?v=1613868872","\/\/instacurve.com\/cdn\/shop\/products\/image_64abad36-75b0-4200-87e7-8405ef2e31e5.jpg?v=1613868875"],"featured_image":"\/\/instacurve.com\/cdn\/shop\/products\/image_8da9b4d7-a3da-4565-8027-09e51afff2ff.jpg?v=1613868815","options":["Size","Color"],"media":[{"alt":null,"id":9292904300606,"position":1,"preview_image":{"aspect_ratio":1.0,"height":1080,"width":1080,"src":"\/\/instacurve.com\/cdn\/shop\/products\/image_8da9b4d7-a3da-4565-8027-09e51afff2ff.jpg?v=1613868815"},"aspect_ratio":1.0,"height":1080,"media_type":"image","src":"\/\/instacurve.com\/cdn\/shop\/products\/image_8da9b4d7-a3da-4565-8027-09e51afff2ff.jpg?v=1613868815","width":1080},{"alt":null,"id":9292904988734,"position":2,"preview_image":{"aspect_ratio":1.0,"height":1080,"width":1080,"src":"\/\/instacurve.com\/cdn\/shop\/products\/image_9fd5595f-f195-459c-825d-c1dcdabac4a7.jpg?v=1613868869"},"aspect_ratio":1.0,"height":1080,"media_type":"image","src":"\/\/instacurve.com\/cdn\/shop\/products\/image_9fd5595f-f195-459c-825d-c1dcdabac4a7.jpg?v=1613868869","width":1080},{"alt":null,"id":9292905021502,"position":3,"preview_image":{"aspect_ratio":0.94,"height":881,"width":828,"src":"\/\/instacurve.com\/cdn\/shop\/products\/image_47927462-65d5-4e9f-b591-245c4bb4f83a.jpg?v=1613868872"},"aspect_ratio":0.94,"height":881,"media_type":"image","src":"\/\/instacurve.com\/cdn\/shop\/products\/image_47927462-65d5-4e9f-b591-245c4bb4f83a.jpg?v=1613868872","width":828},{"alt":null,"id":9292905054270,"position":4,"preview_image":{"aspect_ratio":0.819,"height":1011,"width":828,"src":"\/\/instacurve.com\/cdn\/shop\/products\/image_64abad36-75b0-4200-87e7-8405ef2e31e5.jpg?v=1613868875"},"aspect_ratio":0.819,"height":1011,"media_type":"image","src":"\/\/instacurve.com\/cdn\/shop\/products\/image_64abad36-75b0-4200-87e7-8405ef2e31e5.jpg?v=1613868875","width":828}],"content":"\u003cmeta charset=\"utf-8\"\u003eThe capri style InstaCurve High Waist Sauna \u0026amp; Spandex Leggings 503 are for men and women. They feature heat-generating technology to help your body burn fat while working out or during regular daily\u003cbr\u003e\u003cbr\u003e\n\u003cp\u003e\u003cspan data-mce-fragment=\"1\"\u003e\u003cmeta charset=\"utf-8\"\u003e \u003cmeta charset=\"utf-8\"\u003eDesigned to be comfortable and easy to wear.\u003c\/span\u003e\u003c\/p\u003e\n\u003cmeta name=\"viewport\" content=\"width=device-width, initial-scale=1\"\u003e\n\u003cstyle\u003e\u003c!--\n.accordion {\nbackground-color: #9bddff;\ncolor: #fff;\ncursor: pointer;\npadding: 18px;\nwidth: 100%;\nborder: none;\ntext-align: left;\noutline: none;\nfont-size: 15px;\ntransition: 0.7s;\n}\n\n.active, .accordion:hover {\nbackground-color: #96ded1;\n}\n\n.accordion:after {\ncontent: '\\002B';\ncolor: #000000;\nfont-weight: bold;\nfloat: right;\nmargin-left: 5px;\n}\n\n.active:after {\ncontent: \"\\2212\";\n}\n\n.panel {\npadding: 0 18px;\nbackground-color: white;\nmax-height: 0;\noverflow: hidden;\ntransition: max-height 0.8s ease-out;\nborder-bottom: 3px solid transparent;\n}\n--\u003e\u003c\/style\u003e\n\u003ch2\u003e\u003c\/h2\u003e\n\u003cbutton class=\"accordion\"\u003eFeatures \u0026amp; Benefits\u003c\/button\u003e\n\u003cdiv class=\"panel\"\u003e\n\u003cp\u003e\u003cbr\u003e• Stretchy\u003cbr\u003e • Comfortable\u003cbr\u003e • Soft\u003cbr\u003e • Flexible\u003cbr\u003e • Generates heat to help burn fat\u003cbr\u003e • Targets lower body including midsection, buttocks and thighs\u003cbr\u003e • Creates shape\u003cbr\u003e • Combats cellulite\u003cbr\u003e • Sportswear for daily use\u003cbr\u003e\u003c\/p\u003e\n\u003cbr\u003e\n\u003c\/div\u003e\n\u003cbutton class=\"accordion\"\u003eMaterial \u0026amp; Product Info\u003c\/button\u003e\n\u003cdiv class=\"panel\"\u003e\n\u003cp\u003e\u003cbr\u003e• Neoprene\u003cbr\u003e• Spandex \u003cbr\u003eThe InstaCurve High Waist Sauna Leggings #503 run one size smaller depending on body size. We recommend going one size up.\u003c\/p\u003e\n\u003c\/div\u003e\n\u003cscript\u003e\nvar acc = document.getElementsByClassName(\"accordion\");\nvar i;\n\nfor (i = 0; i \u003c acc.length; i++) {\nacc[i].addEventListener(\"click\", function() {\nthis.classList.toggle(\"active\");\nvar panel = this.nextElementSibling;\nif (panel.style.maxHeight){\npanel.style.maxHeight = null;\n} else {\npanel.style.maxHeight = panel.scrollHeight + \"px\";\n}\n});\n}\n\u003c\/script\u003e\n\u003cbr\u003e\n\u003cdiv style=\"text-align: center;\"\u003e\u003ca href=\"https:\/\/instacurve.com\/pages\/covid-19\" target=\"_blank\" rel=\"noopener noreferrer\"\u003e Our Covid-19 Response\u003c\/a\u003e\u003c\/div\u003e"}