SELECTED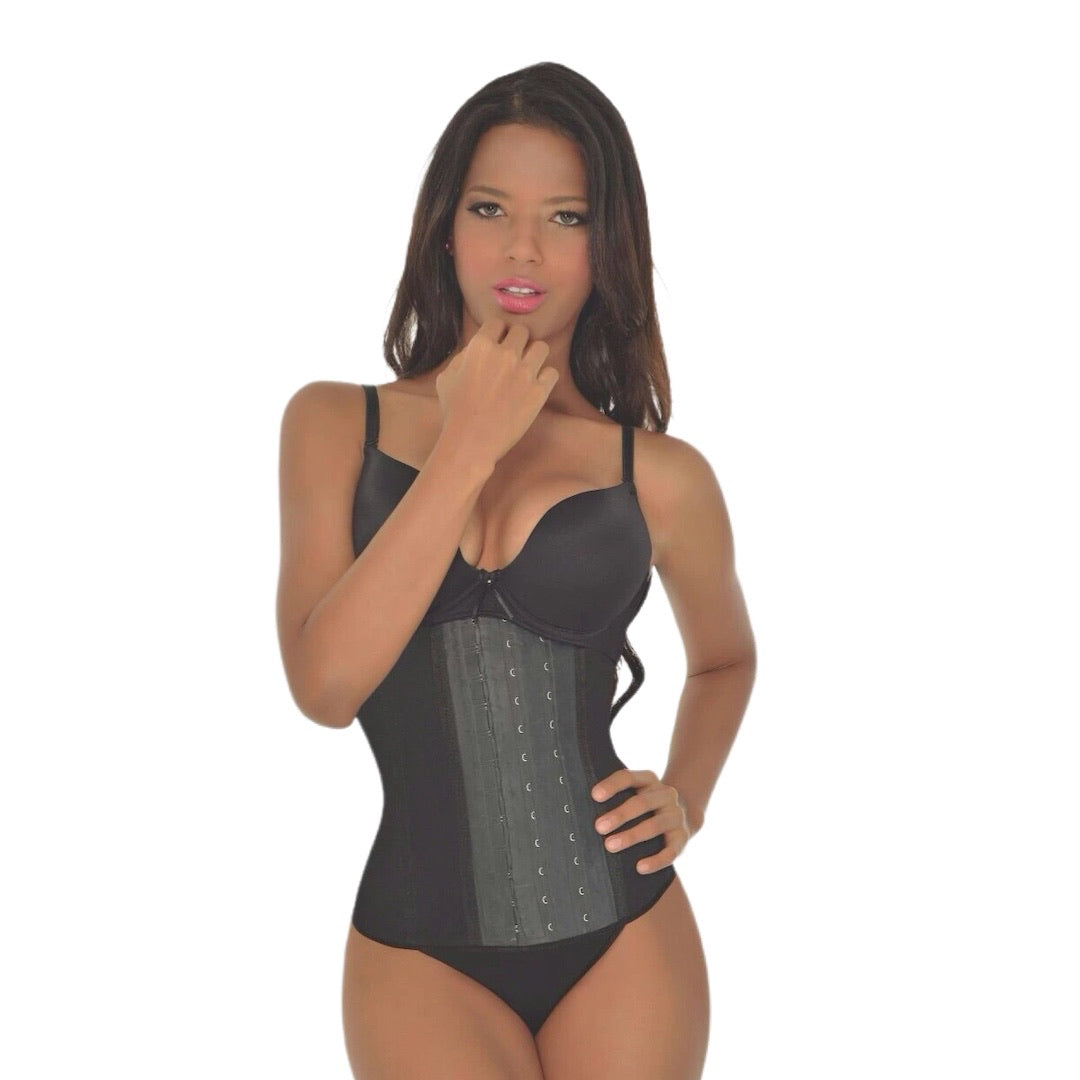 SELECTED
InstaCurve Workband Waist Cincher 2024 [Tall]
The InstaCurve Workband Waist Cincher consists of 3 rows of hooks that have a longer fit with the most aggressive compression that will help you burn more calories, lose more body fat and reshape your midsection faster.

We made our hottest waist trainer even sportier! It's got the same compression you crave, but with a curvy hourglass design that makes your figure look even slimmer. Drop up to 3 inches from your waistline as soon as you put it on. It instantly sculpts your figure, dramatically slims your midsection and enhances your natural curves.

Brightly-colored panels are arranged in an hourglass design, creating a sporty look that makes you look even slimmer. The core is made from high-compression latex, lined with soft cotton-spandex. Nine columns of flexible steel boning keep your hourglass shape in check, while also resulting in a straighter, more confident posture.
You can wear this waist trainer under your everyday clothes, or keep it exposed at the gym. It will maximize your workouts by increasing your body's natural heat. That means you'll sweat more with less effort during walks, runs, exercise and other physical activity. Want serious results? The more you use your waist trainer, the more you'll know your exercise is working. And the best part is, it's made by the same experts you trust for all your waist training needs: Hourglass Angel.
Designed to be comfortable and easy to wear.
Run one size small

Results:
• Stimulates thermal activity in your core • Sculpts 1-3 inches from your waistline • Flattens tummy and creates an hourglass shape • Supports back for a corrected, more confident posture

Features:
• Sporty Curve design makes your midsection look smaller • 3 rows of large hook-and-eye closures • Cotton-spandex lining absorbs moisture and feels soft against your skin


• Cotton interior lining
• Latex

Here's how it works. You wrap the band around your midsection. This action creates compression in your core, stimulating thermal activity and ramping up perspiration. This process allows toxins and impurities to exit the skin while mobilizing fat cells. Put simply, the band helps ensure that your workout is working for you. The band itself is constructed from a latex core with a soft cotton exterior and interior lining. It sits at your waist, extending to the upper abdominals. Two columns of hook-and-eye closures allow you to size the garment down with you.
Runs one size smaller. We recommend ordering one size larger depending on body size.
Featured 
• Comfortable compression
• Midsection compression
• Firm
• Flexible boning
• Back support
• Creates shape
• Sportswear for daily use
• Maximizes your workout
• Corrects posture
• Stimulates fat loss
• Increased thermal activity
• Core resistance
Material & Product Info
Cotton 96%, Spandex 4%, 100% latex core, flexible steel boning (9)

Size Chart: Compare your measurements (by current height and weight) on the size chart below to find the best size for you.
{"id":4818921750590,"title":"InstaCurve Workband Waist Cincher 2024 [Tall]","handle":"instacurve-workband-waist-cincher","description":"\u003cmeta charset=\"utf-8\"\u003e\n\u003cp data-mce-fragment=\"1\"\u003eThe InstaCurve Workband Waist Cincher consists of 3 rows of hooks that have a longer fit with the most aggressive compression that will help you burn more calories, lose more body fat and reshape your midsection faster.\u003cbr data-mce-fragment=\"1\"\u003e\u003c\/p\u003e\n\u003cp data-mce-fragment=\"1\"\u003eWe made our hottest waist trainer even sportier! It's got the same compression you crave, but with a curvy hourglass design that makes your figure look even slimmer. Drop up to 3 inches from your waistline as soon as you put it on. It instantly sculpts your figure, dramatically slims your midsection and enhances your natural curves.\u003cbr\u003e\u003c\/p\u003e\n\u003cp data-mce-fragment=\"1\"\u003eBrightly-colored panels are arranged in an hourglass design, creating a sporty look that makes you look even slimmer. The core is made from high-compression latex, lined with soft cotton-spandex. Nine columns of flexible steel boning keep your hourglass shape in check, while also resulting in a straighter, more confident posture.\u003c\/p\u003e\n\u003cp class=\"p1\" data-mce-fragment=\"1\"\u003eYou can wear this waist trainer under your everyday clothes, or keep it exposed at the gym. It will maximize your workouts by increasing your body's natural heat. That means you'll sweat more with less effort during walks, runs, exercise and other physical activity. Want serious results? The more you use your waist trainer, the more you'll know your exercise is working. And the best part is, it's made by the same experts you trust for all your waist training needs: Hourglass Angel.\u003c\/p\u003e\n\u003cp\u003e\u003cspan data-mce-fragment=\"1\"\u003e\u003cmeta charset=\"utf-8\"\u003e \u003cmeta charset=\"utf-8\"\u003eDesigned to be comfortable and easy to wear.\u003c\/span\u003e\u003c\/p\u003e\n\u003cp\u003e\u003cspan data-mce-fragment=\"1\"\u003e\u003cbr\u003e\u003c\/span\u003e\u003c\/p\u003e\n\u003cp\u003e\u003cstrong\u003e\u003cspan data-mce-fragment=\"1\" style=\"color: #ff2a00;\"\u003eRun one size small\u003c\/span\u003e\u003c\/strong\u003e\u003c\/p\u003e\n\u003cstrong\u003e\u003cspan style=\"color: #ff2a00;\"\u003e \u003cmeta content=\"width=device-width, initial-scale=1\" name=\"viewport\"\u003e \u003c\/span\u003e\u003c\/strong\u003e\n\u003cstyle\u003e\u003c!--\n.accordion {\nbackground-color: #9bddff;\ncolor: #fff;\ncursor: pointer;\npadding: 18px;\nwidth: 100%;\nborder: none;\ntext-align: left;\noutline: none;\nfont-size: 15px;\ntransition: 0.7s;\n}\n\n.active, .accordion:hover {\nbackground-color: #96ded1;\n}\n\n.accordion:after {\ncontent: '\\002B';\ncolor: #000000;\nfont-weight: bold;\nfloat: right;\nmargin-left: 5px;\n}\n\n.active:after {\ncontent: \"\\2212\";\n}\n\n.panel {\npadding: 0 18px;\nbackground-color: white;\nmax-height: 0;\noverflow: hidden;\ntransition: max-height 0.8s ease-out;\nborder-bottom: 3px solid transparent;\n}\n--\u003e\u003c\/style\u003e\n\u003ch2\u003e\u003c\/h2\u003e\n\u003cbutton class=\"accordion\"\u003eFeatures \u0026amp; Results\u003c\/button\u003e\n\u003cdiv class=\"panel\"\u003e\n\u003cp\u003e\u003cbr\u003eResults:\u003cbr\u003e • Stimulates thermal activity in your core • Sculpts 1-3 inches from your waistline • Flattens tummy and creates an hourglass shape • Supports back for a corrected, more confident posture\u003cbr\u003e\u003cbr\u003e Features:\u003cbr\u003e • Sporty Curve design makes your midsection look smaller • 3 rows of large hook-and-eye closures • Cotton-spandex lining absorbs moisture and feels soft against your skin\u003cbr\u003e\u003c\/p\u003e\n\u003cbr\u003e\n\u003c\/div\u003e\n\u003cbutton class=\"accordion\"\u003eMaterial \u0026amp; Product Info\u003c\/button\u003e\n\u003cdiv class=\"panel\"\u003e\n\u003cp\u003e\u003cbr\u003e• Cotton interior lining\u003cbr\u003e • Latex\u003cbr\u003e\u003cbr\u003eHere's how it works. You wrap the band around your midsection. This action creates compression in your core, stimulating thermal activity and ramping up perspiration. This process allows toxins and impurities to exit the skin while mobilizing fat cells. Put simply, the band helps ensure that your workout is working for you. The band itself is constructed from a latex core with a soft cotton exterior and interior lining. It sits at your waist, extending to the upper abdominals. Two columns of hook-and-eye closures allow you to size the garment down with you.\u003cbr\u003eRuns one size smaller. We recommend ordering one size larger depending on body size.\u003c\/p\u003e\n\u003c\/div\u003e\n\u003cscript\u003e\nvar acc = document.getElementsByClassName(\"accordion\");\nvar i;\n\nfor (i = 0; i \u003c acc.length; i++) {\nacc[i].addEventListener(\"click\", function() {\nthis.classList.toggle(\"active\");\nvar panel = this.nextElementSibling;\nif (panel.style.maxHeight){\npanel.style.maxHeight = null;\n} else {\npanel.style.maxHeight = panel.scrollHeight + \"px\";\n}\n});\n}\n\u003c\/script\u003e \u003cmeta charset=\"utf-8\"\u003e\n\u003cp\u003e \u003c\/p\u003e\n\u003cdiv class=\"panel\"\u003e\n\u003cp\u003eFeatured \u003cbr\u003e• Comfortable compression\u003cbr\u003e • Midsection compression\u003cbr\u003e • Firm\u003cbr\u003e • Flexible boning\u003cbr\u003e • Back support\u003cbr\u003e • Creates shape\u003cbr\u003e • Sportswear for daily use\u003cbr\u003e • Maximizes your workout\u003cbr\u003e • Corrects posture\u003cbr\u003e • Stimulates fat loss\u003cbr\u003e • Increased thermal activity\u003cbr\u003e • Core resistance\u003c\/p\u003e\n\u003cp\u003e \u003c\/p\u003e\n\u003cp\u003eMaterial \u0026amp; Product Info\u003c\/p\u003e\n\u003cp\u003eCotton 96%, Spandex 4%, 100% latex core, flexible steel boning (9) \u003cbr\u003e\u003cbr\u003e Size Chart: Compare your measurements (by current height and weight) on the size chart below to find the best size for you.\u003c\/p\u003e\n\u003c\/div\u003e\n\u003cscript\u003e\nvar acc = document.getElementsByClassName(\"accordion\");\nvar i;\n\nfor (i = 0; i \u003c acc.length; i++) {\nacc[i].addEventListener(\"click\", function() {\nthis.classList.toggle(\"active\");\nvar panel = this.nextElementSibling;\nif (panel.style.maxHeight){\npanel.style.maxHeight = null;\n} else {\npanel.style.maxHeight = panel.scrollHeight + \"px\";\n}\n});\n}\n\u003c\/script\u003e","published_at":"2021-02-20T19:00:10-05:00","created_at":"2021-02-20T18:56:59-05:00","vendor":"Insta Curve","type":"Waist Trainers","tags":["Waist Trainer"],"price":7999,"price_min":7999,"price_max":8500,"available":true,"price_varies":true,"compare_at_price":null,"compare_at_price_min":0,"compare_at_price_max":0,"compare_at_price_varies":false,"variants":[{"id":32787964624958,"title":"XS-32 \/ Black","option1":"XS-32","option2":"Black","option3":null,"sku":"","requires_shipping":true,"taxable":true,"featured_image":{"id":17058195406910,"product_id":4818921750590,"position":1,"created_at":"2021-02-20T19:23:28-05:00","updated_at":"2021-02-26T09:33:11-05:00","alt":null,"width":1080,"height":1080,"src":"\/\/instacurve.com\/cdn\/shop\/products\/image_83e01c51-fa2c-449c-9203-4187a8b5e943.jpg?v=1614349991","variant_ids":[32787964624958,32787964657726,32787964690494,32787964723262,32787964756030,32787964788798,32787964821566,32787964854334,32787964887102]},"available":true,"name":"InstaCurve Workband Waist Cincher 2024 [Tall] - XS-32 \/ Black","public_title":"XS-32 \/ Black","options":["XS-32","Black"],"price":7999,"weight":45,"compare_at_price":null,"inventory_quantity":-7,"inventory_management":null,"inventory_policy":"continue","barcode":"","featured_media":{"alt":null,"id":9292859670590,"position":1,"preview_image":{"aspect_ratio":1.0,"height":1080,"width":1080,"src":"\/\/instacurve.com\/cdn\/shop\/products\/image_83e01c51-fa2c-449c-9203-4187a8b5e943.jpg?v=1614349991"}}},{"id":32787964657726,"title":"S-34 \/ Black","option1":"S-34","option2":"Black","option3":null,"sku":"","requires_shipping":true,"taxable":true,"featured_image":{"id":17058195406910,"product_id":4818921750590,"position":1,"created_at":"2021-02-20T19:23:28-05:00","updated_at":"2021-02-26T09:33:11-05:00","alt":null,"width":1080,"height":1080,"src":"\/\/instacurve.com\/cdn\/shop\/products\/image_83e01c51-fa2c-449c-9203-4187a8b5e943.jpg?v=1614349991","variant_ids":[32787964624958,32787964657726,32787964690494,32787964723262,32787964756030,32787964788798,32787964821566,32787964854334,32787964887102]},"available":true,"name":"InstaCurve Workband Waist Cincher 2024 [Tall] - S-34 \/ Black","public_title":"S-34 \/ Black","options":["S-34","Black"],"price":7999,"weight":45,"compare_at_price":null,"inventory_quantity":-14,"inventory_management":null,"inventory_policy":"continue","barcode":"","featured_media":{"alt":null,"id":9292859670590,"position":1,"preview_image":{"aspect_ratio":1.0,"height":1080,"width":1080,"src":"\/\/instacurve.com\/cdn\/shop\/products\/image_83e01c51-fa2c-449c-9203-4187a8b5e943.jpg?v=1614349991"}}},{"id":32787964690494,"title":"M-36 \/ Black","option1":"M-36","option2":"Black","option3":null,"sku":"","requires_shipping":true,"taxable":true,"featured_image":{"id":17058195406910,"product_id":4818921750590,"position":1,"created_at":"2021-02-20T19:23:28-05:00","updated_at":"2021-02-26T09:33:11-05:00","alt":null,"width":1080,"height":1080,"src":"\/\/instacurve.com\/cdn\/shop\/products\/image_83e01c51-fa2c-449c-9203-4187a8b5e943.jpg?v=1614349991","variant_ids":[32787964624958,32787964657726,32787964690494,32787964723262,32787964756030,32787964788798,32787964821566,32787964854334,32787964887102]},"available":true,"name":"InstaCurve Workband Waist Cincher 2024 [Tall] - M-36 \/ Black","public_title":"M-36 \/ Black","options":["M-36","Black"],"price":7999,"weight":45,"compare_at_price":null,"inventory_quantity":-21,"inventory_management":null,"inventory_policy":"continue","barcode":"","featured_media":{"alt":null,"id":9292859670590,"position":1,"preview_image":{"aspect_ratio":1.0,"height":1080,"width":1080,"src":"\/\/instacurve.com\/cdn\/shop\/products\/image_83e01c51-fa2c-449c-9203-4187a8b5e943.jpg?v=1614349991"}}},{"id":32787964723262,"title":"L-38 \/ Black","option1":"L-38","option2":"Black","option3":null,"sku":"","requires_shipping":true,"taxable":true,"featured_image":{"id":17058195406910,"product_id":4818921750590,"position":1,"created_at":"2021-02-20T19:23:28-05:00","updated_at":"2021-02-26T09:33:11-05:00","alt":null,"width":1080,"height":1080,"src":"\/\/instacurve.com\/cdn\/shop\/products\/image_83e01c51-fa2c-449c-9203-4187a8b5e943.jpg?v=1614349991","variant_ids":[32787964624958,32787964657726,32787964690494,32787964723262,32787964756030,32787964788798,32787964821566,32787964854334,32787964887102]},"available":true,"name":"InstaCurve Workband Waist Cincher 2024 [Tall] - L-38 \/ Black","public_title":"L-38 \/ Black","options":["L-38","Black"],"price":7999,"weight":45,"compare_at_price":null,"inventory_quantity":-22,"inventory_management":null,"inventory_policy":"continue","barcode":"","featured_media":{"alt":null,"id":9292859670590,"position":1,"preview_image":{"aspect_ratio":1.0,"height":1080,"width":1080,"src":"\/\/instacurve.com\/cdn\/shop\/products\/image_83e01c51-fa2c-449c-9203-4187a8b5e943.jpg?v=1614349991"}}},{"id":32787964756030,"title":"XL-40 \/ Black","option1":"XL-40","option2":"Black","option3":null,"sku":"","requires_shipping":true,"taxable":true,"featured_image":{"id":17058195406910,"product_id":4818921750590,"position":1,"created_at":"2021-02-20T19:23:28-05:00","updated_at":"2021-02-26T09:33:11-05:00","alt":null,"width":1080,"height":1080,"src":"\/\/instacurve.com\/cdn\/shop\/products\/image_83e01c51-fa2c-449c-9203-4187a8b5e943.jpg?v=1614349991","variant_ids":[32787964624958,32787964657726,32787964690494,32787964723262,32787964756030,32787964788798,32787964821566,32787964854334,32787964887102]},"available":true,"name":"InstaCurve Workband Waist Cincher 2024 [Tall] - XL-40 \/ Black","public_title":"XL-40 \/ Black","options":["XL-40","Black"],"price":7999,"weight":45,"compare_at_price":null,"inventory_quantity":-19,"inventory_management":null,"inventory_policy":"continue","barcode":"","featured_media":{"alt":null,"id":9292859670590,"position":1,"preview_image":{"aspect_ratio":1.0,"height":1080,"width":1080,"src":"\/\/instacurve.com\/cdn\/shop\/products\/image_83e01c51-fa2c-449c-9203-4187a8b5e943.jpg?v=1614349991"}}},{"id":32787964788798,"title":"2X-42 \/ Black","option1":"2X-42","option2":"Black","option3":null,"sku":"","requires_shipping":true,"taxable":true,"featured_image":{"id":17058195406910,"product_id":4818921750590,"position":1,"created_at":"2021-02-20T19:23:28-05:00","updated_at":"2021-02-26T09:33:11-05:00","alt":null,"width":1080,"height":1080,"src":"\/\/instacurve.com\/cdn\/shop\/products\/image_83e01c51-fa2c-449c-9203-4187a8b5e943.jpg?v=1614349991","variant_ids":[32787964624958,32787964657726,32787964690494,32787964723262,32787964756030,32787964788798,32787964821566,32787964854334,32787964887102]},"available":true,"name":"InstaCurve Workband Waist Cincher 2024 [Tall] - 2X-42 \/ Black","public_title":"2X-42 \/ Black","options":["2X-42","Black"],"price":7999,"weight":45,"compare_at_price":null,"inventory_quantity":-11,"inventory_management":null,"inventory_policy":"continue","barcode":"","featured_media":{"alt":null,"id":9292859670590,"position":1,"preview_image":{"aspect_ratio":1.0,"height":1080,"width":1080,"src":"\/\/instacurve.com\/cdn\/shop\/products\/image_83e01c51-fa2c-449c-9203-4187a8b5e943.jpg?v=1614349991"}}},{"id":32787964821566,"title":"3X-44 \/ Black","option1":"3X-44","option2":"Black","option3":null,"sku":"","requires_shipping":true,"taxable":true,"featured_image":{"id":17058195406910,"product_id":4818921750590,"position":1,"created_at":"2021-02-20T19:23:28-05:00","updated_at":"2021-02-26T09:33:11-05:00","alt":null,"width":1080,"height":1080,"src":"\/\/instacurve.com\/cdn\/shop\/products\/image_83e01c51-fa2c-449c-9203-4187a8b5e943.jpg?v=1614349991","variant_ids":[32787964624958,32787964657726,32787964690494,32787964723262,32787964756030,32787964788798,32787964821566,32787964854334,32787964887102]},"available":true,"name":"InstaCurve Workband Waist Cincher 2024 [Tall] - 3X-44 \/ Black","public_title":"3X-44 \/ Black","options":["3X-44","Black"],"price":7999,"weight":45,"compare_at_price":null,"inventory_quantity":-5,"inventory_management":null,"inventory_policy":"continue","barcode":"","featured_media":{"alt":null,"id":9292859670590,"position":1,"preview_image":{"aspect_ratio":1.0,"height":1080,"width":1080,"src":"\/\/instacurve.com\/cdn\/shop\/products\/image_83e01c51-fa2c-449c-9203-4187a8b5e943.jpg?v=1614349991"}}},{"id":32787964854334,"title":"4X-46 \/ Black","option1":"4X-46","option2":"Black","option3":null,"sku":"","requires_shipping":true,"taxable":true,"featured_image":{"id":17058195406910,"product_id":4818921750590,"position":1,"created_at":"2021-02-20T19:23:28-05:00","updated_at":"2021-02-26T09:33:11-05:00","alt":null,"width":1080,"height":1080,"src":"\/\/instacurve.com\/cdn\/shop\/products\/image_83e01c51-fa2c-449c-9203-4187a8b5e943.jpg?v=1614349991","variant_ids":[32787964624958,32787964657726,32787964690494,32787964723262,32787964756030,32787964788798,32787964821566,32787964854334,32787964887102]},"available":true,"name":"InstaCurve Workband Waist Cincher 2024 [Tall] - 4X-46 \/ Black","public_title":"4X-46 \/ Black","options":["4X-46","Black"],"price":8500,"weight":45,"compare_at_price":null,"inventory_quantity":-3,"inventory_management":null,"inventory_policy":"continue","barcode":"","featured_media":{"alt":null,"id":9292859670590,"position":1,"preview_image":{"aspect_ratio":1.0,"height":1080,"width":1080,"src":"\/\/instacurve.com\/cdn\/shop\/products\/image_83e01c51-fa2c-449c-9203-4187a8b5e943.jpg?v=1614349991"}}},{"id":32787964887102,"title":"5X-48 \/ Black","option1":"5X-48","option2":"Black","option3":null,"sku":"","requires_shipping":true,"taxable":true,"featured_image":{"id":17058195406910,"product_id":4818921750590,"position":1,"created_at":"2021-02-20T19:23:28-05:00","updated_at":"2021-02-26T09:33:11-05:00","alt":null,"width":1080,"height":1080,"src":"\/\/instacurve.com\/cdn\/shop\/products\/image_83e01c51-fa2c-449c-9203-4187a8b5e943.jpg?v=1614349991","variant_ids":[32787964624958,32787964657726,32787964690494,32787964723262,32787964756030,32787964788798,32787964821566,32787964854334,32787964887102]},"available":true,"name":"InstaCurve Workband Waist Cincher 2024 [Tall] - 5X-48 \/ Black","public_title":"5X-48 \/ Black","options":["5X-48","Black"],"price":8500,"weight":45,"compare_at_price":null,"inventory_quantity":-5,"inventory_management":null,"inventory_policy":"continue","barcode":"","featured_media":{"alt":null,"id":9292859670590,"position":1,"preview_image":{"aspect_ratio":1.0,"height":1080,"width":1080,"src":"\/\/instacurve.com\/cdn\/shop\/products\/image_83e01c51-fa2c-449c-9203-4187a8b5e943.jpg?v=1614349991"}}}],"images":["\/\/instacurve.com\/cdn\/shop\/products\/image_83e01c51-fa2c-449c-9203-4187a8b5e943.jpg?v=1614349991","\/\/instacurve.com\/cdn\/shop\/products\/Pinkworkband.jpg?v=1614350008"],"featured_image":"\/\/instacurve.com\/cdn\/shop\/products\/image_83e01c51-fa2c-449c-9203-4187a8b5e943.jpg?v=1614349991","options":["Size","Color"],"media":[{"alt":null,"id":9292859670590,"position":1,"preview_image":{"aspect_ratio":1.0,"height":1080,"width":1080,"src":"\/\/instacurve.com\/cdn\/shop\/products\/image_83e01c51-fa2c-449c-9203-4187a8b5e943.jpg?v=1614349991"},"aspect_ratio":1.0,"height":1080,"media_type":"image","src":"\/\/instacurve.com\/cdn\/shop\/products\/image_83e01c51-fa2c-449c-9203-4187a8b5e943.jpg?v=1614349991","width":1080},{"alt":null,"id":20224211714110,"position":2,"preview_image":{"aspect_ratio":0.666,"height":1202,"width":800,"src":"\/\/instacurve.com\/cdn\/shop\/products\/Pinkworkband.jpg?v=1614350008"},"aspect_ratio":0.666,"height":1202,"media_type":"image","src":"\/\/instacurve.com\/cdn\/shop\/products\/Pinkworkband.jpg?v=1614350008","width":800}],"content":"\u003cmeta charset=\"utf-8\"\u003e\n\u003cp data-mce-fragment=\"1\"\u003eThe InstaCurve Workband Waist Cincher consists of 3 rows of hooks that have a longer fit with the most aggressive compression that will help you burn more calories, lose more body fat and reshape your midsection faster.\u003cbr data-mce-fragment=\"1\"\u003e\u003c\/p\u003e\n\u003cp data-mce-fragment=\"1\"\u003eWe made our hottest waist trainer even sportier! It's got the same compression you crave, but with a curvy hourglass design that makes your figure look even slimmer. Drop up to 3 inches from your waistline as soon as you put it on. It instantly sculpts your figure, dramatically slims your midsection and enhances your natural curves.\u003cbr\u003e\u003c\/p\u003e\n\u003cp data-mce-fragment=\"1\"\u003eBrightly-colored panels are arranged in an hourglass design, creating a sporty look that makes you look even slimmer. The core is made from high-compression latex, lined with soft cotton-spandex. Nine columns of flexible steel boning keep your hourglass shape in check, while also resulting in a straighter, more confident posture.\u003c\/p\u003e\n\u003cp class=\"p1\" data-mce-fragment=\"1\"\u003eYou can wear this waist trainer under your everyday clothes, or keep it exposed at the gym. It will maximize your workouts by increasing your body's natural heat. That means you'll sweat more with less effort during walks, runs, exercise and other physical activity. Want serious results? The more you use your waist trainer, the more you'll know your exercise is working. And the best part is, it's made by the same experts you trust for all your waist training needs: Hourglass Angel.\u003c\/p\u003e\n\u003cp\u003e\u003cspan data-mce-fragment=\"1\"\u003e\u003cmeta charset=\"utf-8\"\u003e \u003cmeta charset=\"utf-8\"\u003eDesigned to be comfortable and easy to wear.\u003c\/span\u003e\u003c\/p\u003e\n\u003cp\u003e\u003cspan data-mce-fragment=\"1\"\u003e\u003cbr\u003e\u003c\/span\u003e\u003c\/p\u003e\n\u003cp\u003e\u003cstrong\u003e\u003cspan data-mce-fragment=\"1\" style=\"color: #ff2a00;\"\u003eRun one size small\u003c\/span\u003e\u003c\/strong\u003e\u003c\/p\u003e\n\u003cstrong\u003e\u003cspan style=\"color: #ff2a00;\"\u003e \u003cmeta content=\"width=device-width, initial-scale=1\" name=\"viewport\"\u003e \u003c\/span\u003e\u003c\/strong\u003e\n\u003cstyle\u003e\u003c!--\n.accordion {\nbackground-color: #9bddff;\ncolor: #fff;\ncursor: pointer;\npadding: 18px;\nwidth: 100%;\nborder: none;\ntext-align: left;\noutline: none;\nfont-size: 15px;\ntransition: 0.7s;\n}\n\n.active, .accordion:hover {\nbackground-color: #96ded1;\n}\n\n.accordion:after {\ncontent: '\\002B';\ncolor: #000000;\nfont-weight: bold;\nfloat: right;\nmargin-left: 5px;\n}\n\n.active:after {\ncontent: \"\\2212\";\n}\n\n.panel {\npadding: 0 18px;\nbackground-color: white;\nmax-height: 0;\noverflow: hidden;\ntransition: max-height 0.8s ease-out;\nborder-bottom: 3px solid transparent;\n}\n--\u003e\u003c\/style\u003e\n\u003ch2\u003e\u003c\/h2\u003e\n\u003cbutton class=\"accordion\"\u003eFeatures \u0026amp; Results\u003c\/button\u003e\n\u003cdiv class=\"panel\"\u003e\n\u003cp\u003e\u003cbr\u003eResults:\u003cbr\u003e • Stimulates thermal activity in your core • Sculpts 1-3 inches from your waistline • Flattens tummy and creates an hourglass shape • Supports back for a corrected, more confident posture\u003cbr\u003e\u003cbr\u003e Features:\u003cbr\u003e • Sporty Curve design makes your midsection look smaller • 3 rows of large hook-and-eye closures • Cotton-spandex lining absorbs moisture and feels soft against your skin\u003cbr\u003e\u003c\/p\u003e\n\u003cbr\u003e\n\u003c\/div\u003e\n\u003cbutton class=\"accordion\"\u003eMaterial \u0026amp; Product Info\u003c\/button\u003e\n\u003cdiv class=\"panel\"\u003e\n\u003cp\u003e\u003cbr\u003e• Cotton interior lining\u003cbr\u003e • Latex\u003cbr\u003e\u003cbr\u003eHere's how it works. You wrap the band around your midsection. This action creates compression in your core, stimulating thermal activity and ramping up perspiration. This process allows toxins and impurities to exit the skin while mobilizing fat cells. Put simply, the band helps ensure that your workout is working for you. The band itself is constructed from a latex core with a soft cotton exterior and interior lining. It sits at your waist, extending to the upper abdominals. Two columns of hook-and-eye closures allow you to size the garment down with you.\u003cbr\u003eRuns one size smaller. We recommend ordering one size larger depending on body size.\u003c\/p\u003e\n\u003c\/div\u003e\n\u003cscript\u003e\nvar acc = document.getElementsByClassName(\"accordion\");\nvar i;\n\nfor (i = 0; i \u003c acc.length; i++) {\nacc[i].addEventListener(\"click\", function() {\nthis.classList.toggle(\"active\");\nvar panel = this.nextElementSibling;\nif (panel.style.maxHeight){\npanel.style.maxHeight = null;\n} else {\npanel.style.maxHeight = panel.scrollHeight + \"px\";\n}\n});\n}\n\u003c\/script\u003e \u003cmeta charset=\"utf-8\"\u003e\n\u003cp\u003e \u003c\/p\u003e\n\u003cdiv class=\"panel\"\u003e\n\u003cp\u003eFeatured \u003cbr\u003e• Comfortable compression\u003cbr\u003e • Midsection compression\u003cbr\u003e • Firm\u003cbr\u003e • Flexible boning\u003cbr\u003e • Back support\u003cbr\u003e • Creates shape\u003cbr\u003e • Sportswear for daily use\u003cbr\u003e • Maximizes your workout\u003cbr\u003e • Corrects posture\u003cbr\u003e • Stimulates fat loss\u003cbr\u003e • Increased thermal activity\u003cbr\u003e • Core resistance\u003c\/p\u003e\n\u003cp\u003e \u003c\/p\u003e\n\u003cp\u003eMaterial \u0026amp; Product Info\u003c\/p\u003e\n\u003cp\u003eCotton 96%, Spandex 4%, 100% latex core, flexible steel boning (9) \u003cbr\u003e\u003cbr\u003e Size Chart: Compare your measurements (by current height and weight) on the size chart below to find the best size for you.\u003c\/p\u003e\n\u003c\/div\u003e\n\u003cscript\u003e\nvar acc = document.getElementsByClassName(\"accordion\");\nvar i;\n\nfor (i = 0; i \u003c acc.length; i++) {\nacc[i].addEventListener(\"click\", function() {\nthis.classList.toggle(\"active\");\nvar panel = this.nextElementSibling;\nif (panel.style.maxHeight){\npanel.style.maxHeight = null;\n} else {\npanel.style.maxHeight = panel.scrollHeight + \"px\";\n}\n});\n}\n\u003c\/script\u003e"}