SELECTED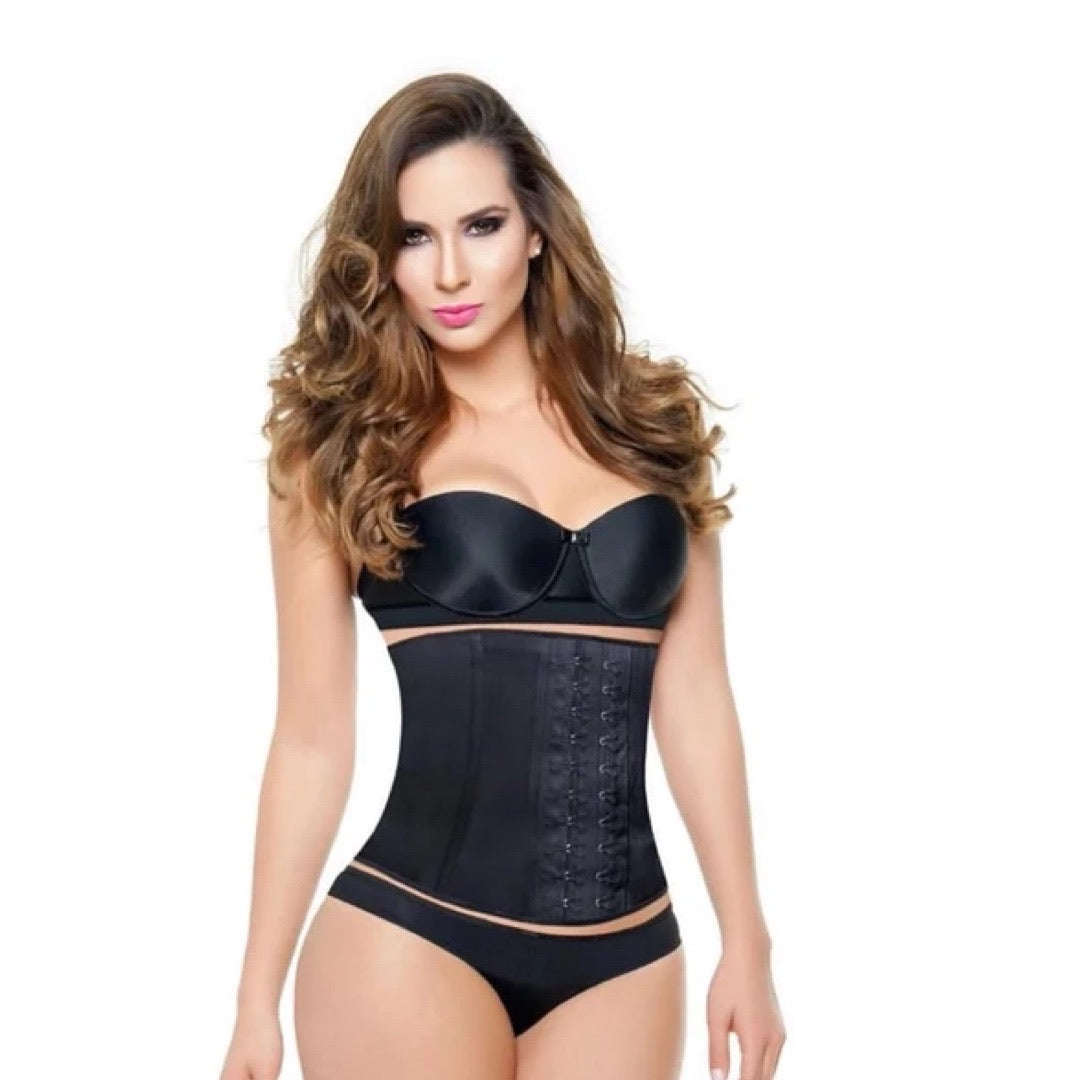 SELECTED
InstaCurve Workband Waist Cincher [Short]
The InstaCurve Workband Waist Cincher consists of 3 rows of hooks.
Women with shorter torsos will love this corset for its comfortable cotton, sporty, construction and waist-slimming power. Best of all, it's made by the same experts you trust for all your waist training needs: InstaCurve!
Who says Waist Training can't be super comfortable? This Shorter Workband Waist Trainer is made with cotton fabrication that feels as soft against the skin as your other undergarments. You'll love how the flexible boning inside the garment slims your figure into a beautiful InstaCurve shape -- without pinching, pulling or feeling unnatural. And since it's lightweight, you can hide it easily underneath almost any outfit.
Crafted by the shape-wear experts at InstaCurve, this under-bust waist trainer is cut short for women with shorter torsos. The under-bust design gently lifts and enhances your bust, while allowing you to pair the waist trainer with your favorite bra. The garment is fastened easily with durable 3 Rows of hooks closures in front, creating a secure, comfortable.
Designed to be comfortable and easy to wear.

• Comfortable compression
• Midsection compression
• Firm
• Flexible boning
• Back support
• Creates shape
• Sportswear for daily use
• Maximizes your workout
• Corrects posture
• Stimulates fat loss
• Increased thermal activity
• Core resistance


• Cotton interior lining
• Latex

Here's how it works. You wrap the band around your midsection. This action creates compression in your core, stimulating thermal activity and ramping up perspiration. This process allows toxins and impurities to exit the skin while mobilizing fat cells. Put simply, the band helps ensure that your workout is working for you. The band itself is constructed from a latex core with a soft cotton exterior and interior lining. It sits at your waist, extending to the upper abdominals. Two columns of hook-and-eye closures allow you to size the garment down with you.
Runs one size smaller. We recommend ordering one size larger depending on body size.
{"id":4818922307646,"title":"InstaCurve Workband Waist Cincher [Short]","handle":"instacurve-workband-waist-cincher-short","description":"\u003cmeta charset=\"utf-8\"\u003e\u003cmeta charset=\"utf-8\"\u003e\n\u003cp data-mce-fragment=\"1\"\u003e\u003cspan data-mce-fragment=\"1\"\u003eThe InstaCurve Workband Waist Cincher consists of 3 rows of hooks.\u003c\/span\u003e\u003c\/p\u003e\n\u003cp data-mce-fragment=\"1\"\u003eWomen with shorter torsos will love this corset for its comfortable cotton, sporty, construction and waist-slimming power. Best of all, it's made by the same experts you trust for all your waist training needs: InstaCurve!\u003c\/p\u003e\n\u003cp data-mce-fragment=\"1\"\u003eWho says Waist Training can't be super comfortable? This Shorter Workband Waist Trainer is made with cotton fabrication that feels as soft against the skin as your other undergarments. You'll love how the flexible boning inside the garment slims your figure into a beautiful InstaCurve shape -- without pinching, pulling or feeling unnatural. And since it's lightweight, you can hide it easily underneath almost any outfit.\u003c\/p\u003e\n\u003cp data-mce-fragment=\"1\"\u003eCrafted by the shape-wear experts at InstaCurve, this under-bust waist trainer is cut short for women with shorter torsos. The under-bust design gently lifts and enhances your bust, while allowing you to pair the waist trainer with your favorite bra. The garment is fastened easily with durable 3 Rows of hooks closures in front, creating a secure, comfortable.\u003c\/p\u003e\n\u003cbr\u003e\n\u003cp\u003e\u003cspan data-mce-fragment=\"1\"\u003e\u003cmeta charset=\"utf-8\"\u003e \u003cmeta charset=\"utf-8\"\u003eDesigned to be comfortable and easy to wear.\u003c\/span\u003e\u003c\/p\u003e\n\u003cmeta content=\"width=device-width, initial-scale=1\" name=\"viewport\"\u003e\n\u003cstyle\u003e\u003c!--\n.accordion {\nbackground-color: #9bddff;\ncolor: #fff;\ncursor: pointer;\npadding: 18px;\nwidth: 100%;\nborder: none;\ntext-align: left;\noutline: none;\nfont-size: 15px;\ntransition: 0.7s;\n}\n\n.active, .accordion:hover {\nbackground-color: #96ded1;\n}\n\n.accordion:after {\ncontent: '\\002B';\ncolor: #000000;\nfont-weight: bold;\nfloat: right;\nmargin-left: 5px;\n}\n\n.active:after {\ncontent: \"\\2212\";\n}\n\n.panel {\npadding: 0 18px;\nbackground-color: white;\nmax-height: 0;\noverflow: hidden;\ntransition: max-height 0.8s ease-out;\nborder-bottom: 3px solid transparent;\n}\n--\u003e\u003c\/style\u003e\n\u003ch2\u003e\u003c\/h2\u003e\n\u003cbutton class=\"accordion\"\u003eFeatures \u0026amp; Benefits\u003c\/button\u003e\n\u003cdiv class=\"panel\"\u003e\n\u003cp\u003e\u003cbr\u003e• Comfortable compression\u003cbr\u003e • Midsection compression\u003cbr\u003e • Firm\u003cbr\u003e • Flexible boning\u003cbr\u003e • Back support\u003cbr\u003e • Creates shape\u003cbr\u003e • Sportswear for daily use\u003cbr\u003e • Maximizes your workout\u003cbr\u003e • Corrects posture\u003cbr\u003e • Stimulates fat loss\u003cbr\u003e • Increased thermal activity\u003cbr\u003e • Core resistance\u003cbr\u003e\u003c\/p\u003e\n\u003cbr\u003e\n\u003c\/div\u003e\n\u003cbutton class=\"accordion\"\u003eMaterial \u0026amp; Product Info\u003c\/button\u003e\n\u003cdiv class=\"panel\"\u003e\n\u003cp\u003e\u003cbr\u003e• Cotton interior lining\u003cbr\u003e • Latex\u003cbr\u003e\u003cbr\u003eHere's how it works. You wrap the band around your midsection. This action creates compression in your core, stimulating thermal activity and ramping up perspiration. This process allows toxins and impurities to exit the skin while mobilizing fat cells. Put simply, the band helps ensure that your workout is working for you. The band itself is constructed from a latex core with a soft cotton exterior and interior lining. It sits at your waist, extending to the upper abdominals. Two columns of hook-and-eye closures allow you to size the garment down with you.\u003cbr\u003eRuns one size smaller. We recommend ordering one size larger depending on body size.\u003c\/p\u003e\n\u003c\/div\u003e\n\u003cscript\u003e\nvar acc = document.getElementsByClassName(\"accordion\");\nvar i;\n\nfor (i = 0; i \u003c acc.length; i++) {\nacc[i].addEventListener(\"click\", function() {\nthis.classList.toggle(\"active\");\nvar panel = this.nextElementSibling;\nif (panel.style.maxHeight){\npanel.style.maxHeight = null;\n} else {\npanel.style.maxHeight = panel.scrollHeight + \"px\";\n}\n});\n}\n\u003c\/script\u003e","published_at":"2021-02-20T19:01:21-05:00","created_at":"2021-02-20T19:00:55-05:00","vendor":"Insta Curve","type":"Waist Trainers","tags":["short","waist cincher","Waist Trainer"],"price":6500,"price_min":6500,"price_max":6500,"available":true,"price_varies":false,"compare_at_price":null,"compare_at_price_min":0,"compare_at_price_max":0,"compare_at_price_varies":false,"variants":[{"id":32787946274878,"title":"XS-32 \/ Black","option1":"XS-32","option2":"Black","option3":null,"sku":"","requires_shipping":true,"taxable":true,"featured_image":{"id":17058223292478,"product_id":4818922307646,"position":1,"created_at":"2021-02-20T19:39:30-05:00","updated_at":"2021-02-21T11:47:12-05:00","alt":null,"width":1080,"height":1080,"src":"\/\/instacurve.com\/cdn\/shop\/products\/image_3670b3c9-ada1-4717-bd55-b493b9088a3f.jpg?v=1613926032","variant_ids":[32787946274878,32787946307646,32787946340414,32787946373182,32787946405950,32787946438718,39545111052350]},"available":true,"name":"InstaCurve Workband Waist Cincher [Short] - XS-32 \/ Black","public_title":"XS-32 \/ Black","options":["XS-32","Black"],"price":6500,"weight":45,"compare_at_price":null,"inventory_quantity":-10,"inventory_management":null,"inventory_policy":"continue","barcode":"","featured_media":{"alt":null,"id":9292887752766,"position":1,"preview_image":{"aspect_ratio":1.0,"height":1080,"width":1080,"src":"\/\/instacurve.com\/cdn\/shop\/products\/image_3670b3c9-ada1-4717-bd55-b493b9088a3f.jpg?v=1613926032"}}},{"id":39545111052350,"title":"S-34 \/ Black","option1":"S-34","option2":"Black","option3":null,"sku":"","requires_shipping":true,"taxable":true,"featured_image":{"id":17058223292478,"product_id":4818922307646,"position":1,"created_at":"2021-02-20T19:39:30-05:00","updated_at":"2021-02-21T11:47:12-05:00","alt":null,"width":1080,"height":1080,"src":"\/\/instacurve.com\/cdn\/shop\/products\/image_3670b3c9-ada1-4717-bd55-b493b9088a3f.jpg?v=1613926032","variant_ids":[32787946274878,32787946307646,32787946340414,32787946373182,32787946405950,32787946438718,39545111052350]},"available":true,"name":"InstaCurve Workband Waist Cincher [Short] - S-34 \/ Black","public_title":"S-34 \/ Black","options":["S-34","Black"],"price":6500,"weight":50,"compare_at_price":null,"inventory_quantity":-9,"inventory_management":null,"inventory_policy":"continue","barcode":"","featured_media":{"alt":null,"id":9292887752766,"position":1,"preview_image":{"aspect_ratio":1.0,"height":1080,"width":1080,"src":"\/\/instacurve.com\/cdn\/shop\/products\/image_3670b3c9-ada1-4717-bd55-b493b9088a3f.jpg?v=1613926032"}}},{"id":32787946307646,"title":"M-36 \/ Black","option1":"M-36","option2":"Black","option3":null,"sku":"","requires_shipping":true,"taxable":true,"featured_image":{"id":17058223292478,"product_id":4818922307646,"position":1,"created_at":"2021-02-20T19:39:30-05:00","updated_at":"2021-02-21T11:47:12-05:00","alt":null,"width":1080,"height":1080,"src":"\/\/instacurve.com\/cdn\/shop\/products\/image_3670b3c9-ada1-4717-bd55-b493b9088a3f.jpg?v=1613926032","variant_ids":[32787946274878,32787946307646,32787946340414,32787946373182,32787946405950,32787946438718,39545111052350]},"available":true,"name":"InstaCurve Workband Waist Cincher [Short] - M-36 \/ Black","public_title":"M-36 \/ Black","options":["M-36","Black"],"price":6500,"weight":45,"compare_at_price":null,"inventory_quantity":-14,"inventory_management":null,"inventory_policy":"continue","barcode":"","featured_media":{"alt":null,"id":9292887752766,"position":1,"preview_image":{"aspect_ratio":1.0,"height":1080,"width":1080,"src":"\/\/instacurve.com\/cdn\/shop\/products\/image_3670b3c9-ada1-4717-bd55-b493b9088a3f.jpg?v=1613926032"}}},{"id":32787946340414,"title":"L-38 \/ Black","option1":"L-38","option2":"Black","option3":null,"sku":"","requires_shipping":true,"taxable":true,"featured_image":{"id":17058223292478,"product_id":4818922307646,"position":1,"created_at":"2021-02-20T19:39:30-05:00","updated_at":"2021-02-21T11:47:12-05:00","alt":null,"width":1080,"height":1080,"src":"\/\/instacurve.com\/cdn\/shop\/products\/image_3670b3c9-ada1-4717-bd55-b493b9088a3f.jpg?v=1613926032","variant_ids":[32787946274878,32787946307646,32787946340414,32787946373182,32787946405950,32787946438718,39545111052350]},"available":true,"name":"InstaCurve Workband Waist Cincher [Short] - L-38 \/ Black","public_title":"L-38 \/ Black","options":["L-38","Black"],"price":6500,"weight":45,"compare_at_price":null,"inventory_quantity":-8,"inventory_management":null,"inventory_policy":"continue","barcode":"","featured_media":{"alt":null,"id":9292887752766,"position":1,"preview_image":{"aspect_ratio":1.0,"height":1080,"width":1080,"src":"\/\/instacurve.com\/cdn\/shop\/products\/image_3670b3c9-ada1-4717-bd55-b493b9088a3f.jpg?v=1613926032"}}},{"id":32787946373182,"title":"XL-40 \/ Black","option1":"XL-40","option2":"Black","option3":null,"sku":"","requires_shipping":true,"taxable":true,"featured_image":{"id":17058223292478,"product_id":4818922307646,"position":1,"created_at":"2021-02-20T19:39:30-05:00","updated_at":"2021-02-21T11:47:12-05:00","alt":null,"width":1080,"height":1080,"src":"\/\/instacurve.com\/cdn\/shop\/products\/image_3670b3c9-ada1-4717-bd55-b493b9088a3f.jpg?v=1613926032","variant_ids":[32787946274878,32787946307646,32787946340414,32787946373182,32787946405950,32787946438718,39545111052350]},"available":true,"name":"InstaCurve Workband Waist Cincher [Short] - XL-40 \/ Black","public_title":"XL-40 \/ Black","options":["XL-40","Black"],"price":6500,"weight":45,"compare_at_price":null,"inventory_quantity":-17,"inventory_management":null,"inventory_policy":"continue","barcode":"","featured_media":{"alt":null,"id":9292887752766,"position":1,"preview_image":{"aspect_ratio":1.0,"height":1080,"width":1080,"src":"\/\/instacurve.com\/cdn\/shop\/products\/image_3670b3c9-ada1-4717-bd55-b493b9088a3f.jpg?v=1613926032"}}},{"id":32787946405950,"title":"2X-42 \/ Black","option1":"2X-42","option2":"Black","option3":null,"sku":"","requires_shipping":true,"taxable":true,"featured_image":{"id":17058223292478,"product_id":4818922307646,"position":1,"created_at":"2021-02-20T19:39:30-05:00","updated_at":"2021-02-21T11:47:12-05:00","alt":null,"width":1080,"height":1080,"src":"\/\/instacurve.com\/cdn\/shop\/products\/image_3670b3c9-ada1-4717-bd55-b493b9088a3f.jpg?v=1613926032","variant_ids":[32787946274878,32787946307646,32787946340414,32787946373182,32787946405950,32787946438718,39545111052350]},"available":true,"name":"InstaCurve Workband Waist Cincher [Short] - 2X-42 \/ Black","public_title":"2X-42 \/ Black","options":["2X-42","Black"],"price":6500,"weight":45,"compare_at_price":null,"inventory_quantity":-4,"inventory_management":null,"inventory_policy":"continue","barcode":"","featured_media":{"alt":null,"id":9292887752766,"position":1,"preview_image":{"aspect_ratio":1.0,"height":1080,"width":1080,"src":"\/\/instacurve.com\/cdn\/shop\/products\/image_3670b3c9-ada1-4717-bd55-b493b9088a3f.jpg?v=1613926032"}}},{"id":32787946438718,"title":"3X-44 \/ Black","option1":"3X-44","option2":"Black","option3":null,"sku":"","requires_shipping":true,"taxable":true,"featured_image":{"id":17058223292478,"product_id":4818922307646,"position":1,"created_at":"2021-02-20T19:39:30-05:00","updated_at":"2021-02-21T11:47:12-05:00","alt":null,"width":1080,"height":1080,"src":"\/\/instacurve.com\/cdn\/shop\/products\/image_3670b3c9-ada1-4717-bd55-b493b9088a3f.jpg?v=1613926032","variant_ids":[32787946274878,32787946307646,32787946340414,32787946373182,32787946405950,32787946438718,39545111052350]},"available":true,"name":"InstaCurve Workband Waist Cincher [Short] - 3X-44 \/ Black","public_title":"3X-44 \/ Black","options":["3X-44","Black"],"price":6500,"weight":45,"compare_at_price":null,"inventory_quantity":0,"inventory_management":null,"inventory_policy":"continue","barcode":"","featured_media":{"alt":null,"id":9292887752766,"position":1,"preview_image":{"aspect_ratio":1.0,"height":1080,"width":1080,"src":"\/\/instacurve.com\/cdn\/shop\/products\/image_3670b3c9-ada1-4717-bd55-b493b9088a3f.jpg?v=1613926032"}}}],"images":["\/\/instacurve.com\/cdn\/shop\/products\/image_3670b3c9-ada1-4717-bd55-b493b9088a3f.jpg?v=1613926032","\/\/instacurve.com\/cdn\/shop\/products\/image_36a601c2-327d-4862-9dd1-df322e9af09a.jpg?v=1613926032"],"featured_image":"\/\/instacurve.com\/cdn\/shop\/products\/image_3670b3c9-ada1-4717-bd55-b493b9088a3f.jpg?v=1613926032","options":["Size","Color"],"media":[{"alt":null,"id":9292887752766,"position":1,"preview_image":{"aspect_ratio":1.0,"height":1080,"width":1080,"src":"\/\/instacurve.com\/cdn\/shop\/products\/image_3670b3c9-ada1-4717-bd55-b493b9088a3f.jpg?v=1613926032"},"aspect_ratio":1.0,"height":1080,"media_type":"image","src":"\/\/instacurve.com\/cdn\/shop\/products\/image_3670b3c9-ada1-4717-bd55-b493b9088a3f.jpg?v=1613926032","width":1080},{"alt":null,"id":9292888211518,"position":2,"preview_image":{"aspect_ratio":1.0,"height":1080,"width":1080,"src":"\/\/instacurve.com\/cdn\/shop\/products\/image_36a601c2-327d-4862-9dd1-df322e9af09a.jpg?v=1613926032"},"aspect_ratio":1.0,"height":1080,"media_type":"image","src":"\/\/instacurve.com\/cdn\/shop\/products\/image_36a601c2-327d-4862-9dd1-df322e9af09a.jpg?v=1613926032","width":1080}],"content":"\u003cmeta charset=\"utf-8\"\u003e\u003cmeta charset=\"utf-8\"\u003e\n\u003cp data-mce-fragment=\"1\"\u003e\u003cspan data-mce-fragment=\"1\"\u003eThe InstaCurve Workband Waist Cincher consists of 3 rows of hooks.\u003c\/span\u003e\u003c\/p\u003e\n\u003cp data-mce-fragment=\"1\"\u003eWomen with shorter torsos will love this corset for its comfortable cotton, sporty, construction and waist-slimming power. Best of all, it's made by the same experts you trust for all your waist training needs: InstaCurve!\u003c\/p\u003e\n\u003cp data-mce-fragment=\"1\"\u003eWho says Waist Training can't be super comfortable? This Shorter Workband Waist Trainer is made with cotton fabrication that feels as soft against the skin as your other undergarments. You'll love how the flexible boning inside the garment slims your figure into a beautiful InstaCurve shape -- without pinching, pulling or feeling unnatural. And since it's lightweight, you can hide it easily underneath almost any outfit.\u003c\/p\u003e\n\u003cp data-mce-fragment=\"1\"\u003eCrafted by the shape-wear experts at InstaCurve, this under-bust waist trainer is cut short for women with shorter torsos. The under-bust design gently lifts and enhances your bust, while allowing you to pair the waist trainer with your favorite bra. The garment is fastened easily with durable 3 Rows of hooks closures in front, creating a secure, comfortable.\u003c\/p\u003e\n\u003cbr\u003e\n\u003cp\u003e\u003cspan data-mce-fragment=\"1\"\u003e\u003cmeta charset=\"utf-8\"\u003e \u003cmeta charset=\"utf-8\"\u003eDesigned to be comfortable and easy to wear.\u003c\/span\u003e\u003c\/p\u003e\n\u003cmeta content=\"width=device-width, initial-scale=1\" name=\"viewport\"\u003e\n\u003cstyle\u003e\u003c!--\n.accordion {\nbackground-color: #9bddff;\ncolor: #fff;\ncursor: pointer;\npadding: 18px;\nwidth: 100%;\nborder: none;\ntext-align: left;\noutline: none;\nfont-size: 15px;\ntransition: 0.7s;\n}\n\n.active, .accordion:hover {\nbackground-color: #96ded1;\n}\n\n.accordion:after {\ncontent: '\\002B';\ncolor: #000000;\nfont-weight: bold;\nfloat: right;\nmargin-left: 5px;\n}\n\n.active:after {\ncontent: \"\\2212\";\n}\n\n.panel {\npadding: 0 18px;\nbackground-color: white;\nmax-height: 0;\noverflow: hidden;\ntransition: max-height 0.8s ease-out;\nborder-bottom: 3px solid transparent;\n}\n--\u003e\u003c\/style\u003e\n\u003ch2\u003e\u003c\/h2\u003e\n\u003cbutton class=\"accordion\"\u003eFeatures \u0026amp; Benefits\u003c\/button\u003e\n\u003cdiv class=\"panel\"\u003e\n\u003cp\u003e\u003cbr\u003e• Comfortable compression\u003cbr\u003e • Midsection compression\u003cbr\u003e • Firm\u003cbr\u003e • Flexible boning\u003cbr\u003e • Back support\u003cbr\u003e • Creates shape\u003cbr\u003e • Sportswear for daily use\u003cbr\u003e • Maximizes your workout\u003cbr\u003e • Corrects posture\u003cbr\u003e • Stimulates fat loss\u003cbr\u003e • Increased thermal activity\u003cbr\u003e • Core resistance\u003cbr\u003e\u003c\/p\u003e\n\u003cbr\u003e\n\u003c\/div\u003e\n\u003cbutton class=\"accordion\"\u003eMaterial \u0026amp; Product Info\u003c\/button\u003e\n\u003cdiv class=\"panel\"\u003e\n\u003cp\u003e\u003cbr\u003e• Cotton interior lining\u003cbr\u003e • Latex\u003cbr\u003e\u003cbr\u003eHere's how it works. You wrap the band around your midsection. This action creates compression in your core, stimulating thermal activity and ramping up perspiration. This process allows toxins and impurities to exit the skin while mobilizing fat cells. Put simply, the band helps ensure that your workout is working for you. The band itself is constructed from a latex core with a soft cotton exterior and interior lining. It sits at your waist, extending to the upper abdominals. Two columns of hook-and-eye closures allow you to size the garment down with you.\u003cbr\u003eRuns one size smaller. We recommend ordering one size larger depending on body size.\u003c\/p\u003e\n\u003c\/div\u003e\n\u003cscript\u003e\nvar acc = document.getElementsByClassName(\"accordion\");\nvar i;\n\nfor (i = 0; i \u003c acc.length; i++) {\nacc[i].addEventListener(\"click\", function() {\nthis.classList.toggle(\"active\");\nvar panel = this.nextElementSibling;\nif (panel.style.maxHeight){\npanel.style.maxHeight = null;\n} else {\npanel.style.maxHeight = panel.scrollHeight + \"px\";\n}\n});\n}\n\u003c\/script\u003e"}