SELECTED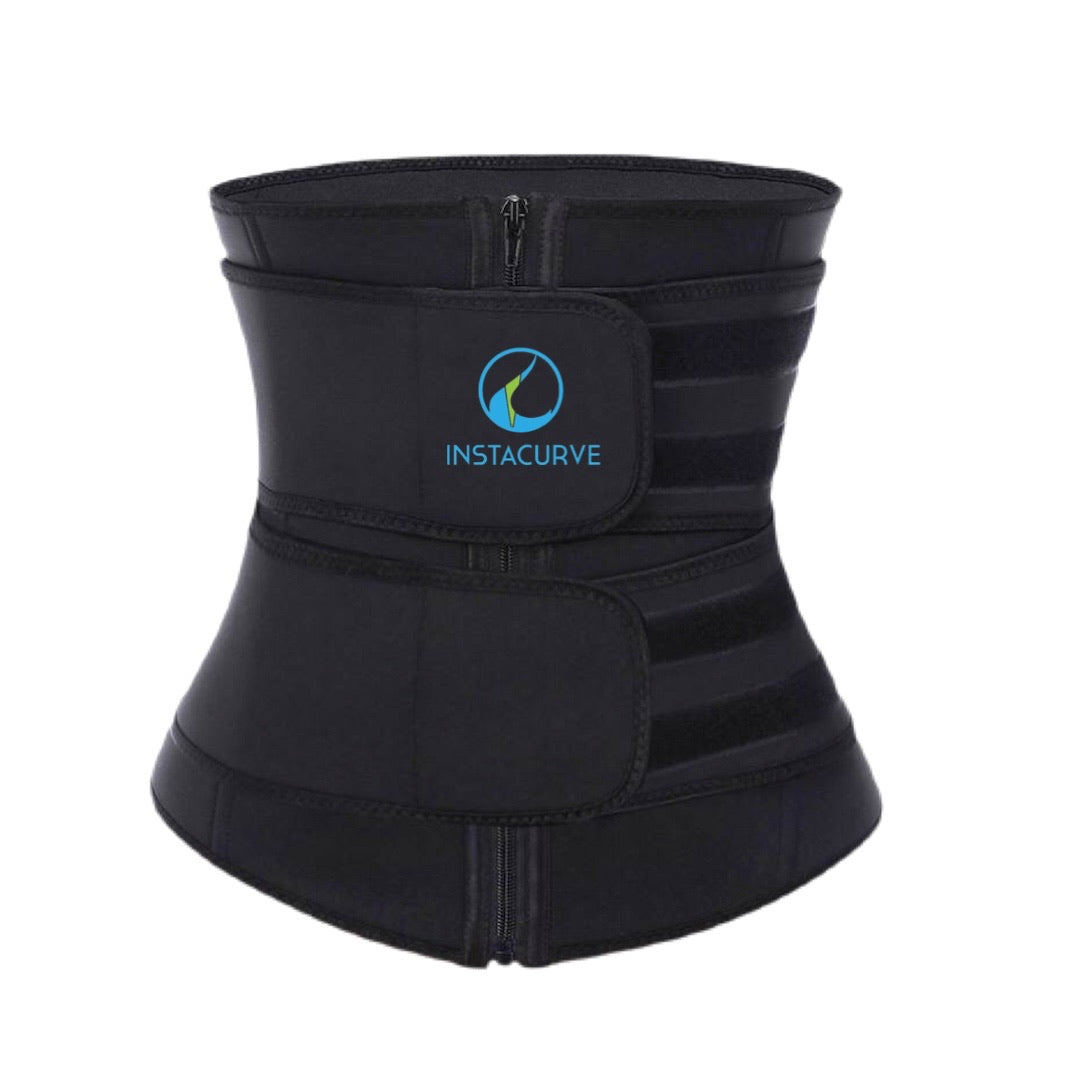 SELECTED
SELECTED
SELECTED
InstaCurve Waist Slimmer Belt 1018
The InstaCurve Waist Slimmer Belt #1018 will assist in posture correction, provide support for your spine and aid with the compression of your abdominal muscles during a workout.  
Designed to be comfortable and easy to wear.
This belt run one size small

• Boneless
• Comfortable
• Roll Free
• Two Broad Ab Straps
• Covers entire midsection
• Allows for custom clinching
• Sits comfortably past the hips



The Waist Slimmer Belt 1018 creates a thermogenic heat like effect that enhances sweat to help you target fat in stubborn areas.
For maximum results use our Caffeine Cream with this Waist Slimmer Belt.
{"id":4818905858110,"title":"InstaCurve Waist Slimmer Belt 1018","handle":"waist-slimmer-belt-1018","description":"\u003cmeta charset=\"utf-8\"\u003e\u003cmeta charset=\"utf-8\"\u003e\n\u003cp data-mce-fragment=\"1\"\u003e\u003cspan data-mce-fragment=\"1\"\u003eThe InstaCurve \u003c\/span\u003e\u003cspan data-mce-fragment=\"1\"\u003eWaist Slimmer Belt #1018 will assist in posture correction, provide support for your spine and aid with the compression of your abdominal muscles during a workout.  \u003c\/span\u003e\u003c\/p\u003e\n\u003cmeta charset=\"utf-8\"\u003e\u003cmeta charset=\"utf-8\"\u003e\n\u003cp\u003e\u003cspan data-mce-fragment=\"1\"\u003eDesigned to be comfortable and easy to wear.\u003c\/span\u003e\u003c\/p\u003e\n\u003cp\u003e\u003cspan data-mce-fragment=\"1\" style=\"color: #ff2a00;\"\u003eThis belt run one size small\u003c\/span\u003e\u003c\/p\u003e\n\u003cspan style=\"color: #ff2a00;\"\u003e \u003cmeta name=\"viewport\" content=\"width=device-width, initial-scale=1\"\u003e \u003c\/span\u003e\n\u003ch2\u003e\u003c\/h2\u003e\n\u003cp\u003e\u003cbutton class=\"accordion\"\u003eFeatures \u0026amp; Benefits\u003c\/button\u003e\u003c\/p\u003e\n\u003cdiv class=\"panel\"\u003e\n\u003cp\u003e\u003cbr\u003e• Boneless\u003cbr\u003e • Comfortable\u003cbr\u003e • Roll Free\u003cbr\u003e • Two Broad Ab Straps\u003cbr\u003e • Covers entire midsection\u003cbr\u003e • Allows for custom clinching\u003cbr\u003e • Sits comfortably past the hips\u003cbr\u003e\u003cbr\u003e\u003c\/p\u003e\n\u003c\/div\u003e\n\u003cp\u003e\u003cbutton class=\"accordion\"\u003eMaterial \u0026amp; Product Info\u003c\/button\u003e\u003c\/p\u003e\n\u003cdiv class=\"panel\"\u003e\n\u003cp\u003e\u003cbr\u003eThe Waist Slimmer Belt 1018 creates a thermogenic heat like effect that enhances sweat to help you target fat in stubborn areas. \u003cbr\u003e For maximum results use our Caffeine Cream with this Waist Slimmer Belt.\u003c\/p\u003e\n\u003c\/div\u003e\n\u003cscript\u003e\/\/ \u003c![CDATA[\nvar acc = document.getElementsByClassName(\"accordion\");\nvar i;\n\nfor (i = 0; i \u003c acc.length; i++) {\nacc[i].addEventListener(\"click\", function() {\nthis.classList.toggle(\"active\");\nvar panel = this.nextElementSibling;\nif (panel.style.maxHeight){\npanel.style.maxHeight = null;\n} else {\npanel.style.maxHeight = panel.scrollHeight + \"px\";\n}\n});\n}\n\/\/ ]]\u003e\u003c\/script\u003e\n\u003cp\u003e \u003c\/p\u003e\n\u003cdiv style=\"text-align: center;\"\u003e\u003ca href=\"https:\/\/instacurve.com\/pages\/covid-19\" target=\"_blank\"\u003e Our Covid-19 Response\u003c\/a\u003e\u003c\/div\u003e","published_at":"2021-02-20T17:15:30-05:00","created_at":"2021-02-20T17:11:12-05:00","vendor":"Insta Curve","type":"Waist Trainer","tags":["Waist Trainer"],"price":7999,"price_min":7999,"price_max":8500,"available":true,"price_varies":true,"compare_at_price":null,"compare_at_price_min":0,"compare_at_price_max":0,"compare_at_price_varies":false,"variants":[{"id":32786776227902,"title":"S","option1":"S","option2":null,"option3":null,"sku":null,"requires_shipping":true,"taxable":true,"featured_image":{"id":17058029961278,"product_id":4818905858110,"position":2,"created_at":"2021-02-20T17:15:14-05:00","updated_at":"2021-02-22T13:04:33-05:00","alt":null,"width":600,"height":600,"src":"\/\/instacurve.com\/cdn\/shop\/products\/2021-01-27_grande_1463d9a4-4656-4aea-bd28-165b46f7fa1b.gif?v=1614017073","variant_ids":[32786776227902,32786776293438,32786776358974,32786776424510,32788096811070,32788097138750,32788098252862,32788098416702]},"available":true,"name":"InstaCurve Waist Slimmer Belt 1018 - S","public_title":"S","options":["S"],"price":7999,"weight":45,"compare_at_price":null,"inventory_quantity":-22,"inventory_management":null,"inventory_policy":"continue","barcode":null,"featured_media":{"alt":null,"id":9292693110846,"position":2,"preview_image":{"aspect_ratio":1.0,"height":600,"width":600,"src":"\/\/instacurve.com\/cdn\/shop\/products\/2021-01-27_grande_1463d9a4-4656-4aea-bd28-165b46f7fa1b.gif?v=1614017073"}}},{"id":32786776293438,"title":"M","option1":"M","option2":null,"option3":null,"sku":null,"requires_shipping":true,"taxable":true,"featured_image":{"id":17058029961278,"product_id":4818905858110,"position":2,"created_at":"2021-02-20T17:15:14-05:00","updated_at":"2021-02-22T13:04:33-05:00","alt":null,"width":600,"height":600,"src":"\/\/instacurve.com\/cdn\/shop\/products\/2021-01-27_grande_1463d9a4-4656-4aea-bd28-165b46f7fa1b.gif?v=1614017073","variant_ids":[32786776227902,32786776293438,32786776358974,32786776424510,32788096811070,32788097138750,32788098252862,32788098416702]},"available":true,"name":"InstaCurve Waist Slimmer Belt 1018 - M","public_title":"M","options":["M"],"price":7999,"weight":45,"compare_at_price":null,"inventory_quantity":-24,"inventory_management":null,"inventory_policy":"continue","barcode":null,"featured_media":{"alt":null,"id":9292693110846,"position":2,"preview_image":{"aspect_ratio":1.0,"height":600,"width":600,"src":"\/\/instacurve.com\/cdn\/shop\/products\/2021-01-27_grande_1463d9a4-4656-4aea-bd28-165b46f7fa1b.gif?v=1614017073"}}},{"id":32786776358974,"title":"L","option1":"L","option2":null,"option3":null,"sku":"","requires_shipping":true,"taxable":true,"featured_image":{"id":17058029961278,"product_id":4818905858110,"position":2,"created_at":"2021-02-20T17:15:14-05:00","updated_at":"2021-02-22T13:04:33-05:00","alt":null,"width":600,"height":600,"src":"\/\/instacurve.com\/cdn\/shop\/products\/2021-01-27_grande_1463d9a4-4656-4aea-bd28-165b46f7fa1b.gif?v=1614017073","variant_ids":[32786776227902,32786776293438,32786776358974,32786776424510,32788096811070,32788097138750,32788098252862,32788098416702]},"available":false,"name":"InstaCurve Waist Slimmer Belt 1018 - L","public_title":"L","options":["L"],"price":7999,"weight":45,"compare_at_price":null,"inventory_quantity":0,"inventory_management":"shopify","inventory_policy":"deny","barcode":"","featured_media":{"alt":null,"id":9292693110846,"position":2,"preview_image":{"aspect_ratio":1.0,"height":600,"width":600,"src":"\/\/instacurve.com\/cdn\/shop\/products\/2021-01-27_grande_1463d9a4-4656-4aea-bd28-165b46f7fa1b.gif?v=1614017073"}}},{"id":32786776424510,"title":"XL","option1":"XL","option2":null,"option3":null,"sku":null,"requires_shipping":true,"taxable":true,"featured_image":{"id":17058029961278,"product_id":4818905858110,"position":2,"created_at":"2021-02-20T17:15:14-05:00","updated_at":"2021-02-22T13:04:33-05:00","alt":null,"width":600,"height":600,"src":"\/\/instacurve.com\/cdn\/shop\/products\/2021-01-27_grande_1463d9a4-4656-4aea-bd28-165b46f7fa1b.gif?v=1614017073","variant_ids":[32786776227902,32786776293438,32786776358974,32786776424510,32788096811070,32788097138750,32788098252862,32788098416702]},"available":true,"name":"InstaCurve Waist Slimmer Belt 1018 - XL","public_title":"XL","options":["XL"],"price":7999,"weight":45,"compare_at_price":null,"inventory_quantity":-35,"inventory_management":null,"inventory_policy":"continue","barcode":null,"featured_media":{"alt":null,"id":9292693110846,"position":2,"preview_image":{"aspect_ratio":1.0,"height":600,"width":600,"src":"\/\/instacurve.com\/cdn\/shop\/products\/2021-01-27_grande_1463d9a4-4656-4aea-bd28-165b46f7fa1b.gif?v=1614017073"}}},{"id":32788096811070,"title":"2X","option1":"2X","option2":null,"option3":null,"sku":"","requires_shipping":true,"taxable":true,"featured_image":{"id":17058029961278,"product_id":4818905858110,"position":2,"created_at":"2021-02-20T17:15:14-05:00","updated_at":"2021-02-22T13:04:33-05:00","alt":null,"width":600,"height":600,"src":"\/\/instacurve.com\/cdn\/shop\/products\/2021-01-27_grande_1463d9a4-4656-4aea-bd28-165b46f7fa1b.gif?v=1614017073","variant_ids":[32786776227902,32786776293438,32786776358974,32786776424510,32788096811070,32788097138750,32788098252862,32788098416702]},"available":true,"name":"InstaCurve Waist Slimmer Belt 1018 - 2X","public_title":"2X","options":["2X"],"price":7999,"weight":45,"compare_at_price":null,"inventory_quantity":-24,"inventory_management":null,"inventory_policy":"continue","barcode":"","featured_media":{"alt":null,"id":9292693110846,"position":2,"preview_image":{"aspect_ratio":1.0,"height":600,"width":600,"src":"\/\/instacurve.com\/cdn\/shop\/products\/2021-01-27_grande_1463d9a4-4656-4aea-bd28-165b46f7fa1b.gif?v=1614017073"}}},{"id":32788097138750,"title":"3X","option1":"3X","option2":null,"option3":null,"sku":"","requires_shipping":true,"taxable":true,"featured_image":{"id":17058029961278,"product_id":4818905858110,"position":2,"created_at":"2021-02-20T17:15:14-05:00","updated_at":"2021-02-22T13:04:33-05:00","alt":null,"width":600,"height":600,"src":"\/\/instacurve.com\/cdn\/shop\/products\/2021-01-27_grande_1463d9a4-4656-4aea-bd28-165b46f7fa1b.gif?v=1614017073","variant_ids":[32786776227902,32786776293438,32786776358974,32786776424510,32788096811070,32788097138750,32788098252862,32788098416702]},"available":true,"name":"InstaCurve Waist Slimmer Belt 1018 - 3X","public_title":"3X","options":["3X"],"price":7999,"weight":45,"compare_at_price":null,"inventory_quantity":-7,"inventory_management":null,"inventory_policy":"continue","barcode":"","featured_media":{"alt":null,"id":9292693110846,"position":2,"preview_image":{"aspect_ratio":1.0,"height":600,"width":600,"src":"\/\/instacurve.com\/cdn\/shop\/products\/2021-01-27_grande_1463d9a4-4656-4aea-bd28-165b46f7fa1b.gif?v=1614017073"}}},{"id":32788098252862,"title":"4X","option1":"4X","option2":null,"option3":null,"sku":"","requires_shipping":true,"taxable":true,"featured_image":{"id":17058029961278,"product_id":4818905858110,"position":2,"created_at":"2021-02-20T17:15:14-05:00","updated_at":"2021-02-22T13:04:33-05:00","alt":null,"width":600,"height":600,"src":"\/\/instacurve.com\/cdn\/shop\/products\/2021-01-27_grande_1463d9a4-4656-4aea-bd28-165b46f7fa1b.gif?v=1614017073","variant_ids":[32786776227902,32786776293438,32786776358974,32786776424510,32788096811070,32788097138750,32788098252862,32788098416702]},"available":true,"name":"InstaCurve Waist Slimmer Belt 1018 - 4X","public_title":"4X","options":["4X"],"price":8500,"weight":45,"compare_at_price":null,"inventory_quantity":-5,"inventory_management":null,"inventory_policy":"continue","barcode":"","featured_media":{"alt":null,"id":9292693110846,"position":2,"preview_image":{"aspect_ratio":1.0,"height":600,"width":600,"src":"\/\/instacurve.com\/cdn\/shop\/products\/2021-01-27_grande_1463d9a4-4656-4aea-bd28-165b46f7fa1b.gif?v=1614017073"}}},{"id":32788098416702,"title":"5X","option1":"5X","option2":null,"option3":null,"sku":"","requires_shipping":true,"taxable":true,"featured_image":{"id":17058029961278,"product_id":4818905858110,"position":2,"created_at":"2021-02-20T17:15:14-05:00","updated_at":"2021-02-22T13:04:33-05:00","alt":null,"width":600,"height":600,"src":"\/\/instacurve.com\/cdn\/shop\/products\/2021-01-27_grande_1463d9a4-4656-4aea-bd28-165b46f7fa1b.gif?v=1614017073","variant_ids":[32786776227902,32786776293438,32786776358974,32786776424510,32788096811070,32788097138750,32788098252862,32788098416702]},"available":true,"name":"InstaCurve Waist Slimmer Belt 1018 - 5X","public_title":"5X","options":["5X"],"price":8500,"weight":45,"compare_at_price":null,"inventory_quantity":-4,"inventory_management":null,"inventory_policy":"continue","barcode":"","featured_media":{"alt":null,"id":9292693110846,"position":2,"preview_image":{"aspect_ratio":1.0,"height":600,"width":600,"src":"\/\/instacurve.com\/cdn\/shop\/products\/2021-01-27_grande_1463d9a4-4656-4aea-bd28-165b46f7fa1b.gif?v=1614017073"}}}],"images":["\/\/instacurve.com\/cdn\/shop\/products\/image_d5d1b0ae-f5b7-4447-b754-f1f033122c6b.jpg?v=1614017073","\/\/instacurve.com\/cdn\/shop\/products\/2021-01-27_grande_1463d9a4-4656-4aea-bd28-165b46f7fa1b.gif?v=1614017073","\/\/instacurve.com\/cdn\/shop\/products\/image_57d00156-8d85-4c78-b054-4d849f290c6e.jpg?v=1614015107","\/\/instacurve.com\/cdn\/shop\/products\/118693734_646649706254113_734987797099845446_n.jpg?v=1613923119"],"featured_image":"\/\/instacurve.com\/cdn\/shop\/products\/image_d5d1b0ae-f5b7-4447-b754-f1f033122c6b.jpg?v=1614017073","options":["Size"],"media":[{"alt":null,"id":9292866322494,"position":1,"preview_image":{"aspect_ratio":1.0,"height":1080,"width":1080,"src":"\/\/instacurve.com\/cdn\/shop\/products\/image_d5d1b0ae-f5b7-4447-b754-f1f033122c6b.jpg?v=1614017073"},"aspect_ratio":1.0,"height":1080,"media_type":"image","src":"\/\/instacurve.com\/cdn\/shop\/products\/image_d5d1b0ae-f5b7-4447-b754-f1f033122c6b.jpg?v=1614017073","width":1080},{"alt":null,"id":9292693110846,"position":2,"preview_image":{"aspect_ratio":1.0,"height":600,"width":600,"src":"\/\/instacurve.com\/cdn\/shop\/products\/2021-01-27_grande_1463d9a4-4656-4aea-bd28-165b46f7fa1b.gif?v=1614017073"},"aspect_ratio":1.0,"height":600,"media_type":"image","src":"\/\/instacurve.com\/cdn\/shop\/products\/2021-01-27_grande_1463d9a4-4656-4aea-bd28-165b46f7fa1b.gif?v=1614017073","width":600},{"alt":null,"id":9295001223230,"position":3,"preview_image":{"aspect_ratio":0.783,"height":762,"width":597,"src":"\/\/instacurve.com\/cdn\/shop\/products\/image_57d00156-8d85-4c78-b054-4d849f290c6e.jpg?v=1614015107"},"aspect_ratio":0.783,"height":762,"media_type":"image","src":"\/\/instacurve.com\/cdn\/shop\/products\/image_57d00156-8d85-4c78-b054-4d849f290c6e.jpg?v=1614015107","width":597},{"alt":null,"id":9292746063934,"position":4,"preview_image":{"aspect_ratio":0.799,"height":1351,"width":1080,"src":"\/\/instacurve.com\/cdn\/shop\/products\/118693734_646649706254113_734987797099845446_n.jpg?v=1613923119"},"aspect_ratio":0.799,"height":1351,"media_type":"image","src":"\/\/instacurve.com\/cdn\/shop\/products\/118693734_646649706254113_734987797099845446_n.jpg?v=1613923119","width":1080}],"content":"\u003cmeta charset=\"utf-8\"\u003e\u003cmeta charset=\"utf-8\"\u003e\n\u003cp data-mce-fragment=\"1\"\u003e\u003cspan data-mce-fragment=\"1\"\u003eThe InstaCurve \u003c\/span\u003e\u003cspan data-mce-fragment=\"1\"\u003eWaist Slimmer Belt #1018 will assist in posture correction, provide support for your spine and aid with the compression of your abdominal muscles during a workout.  \u003c\/span\u003e\u003c\/p\u003e\n\u003cmeta charset=\"utf-8\"\u003e\u003cmeta charset=\"utf-8\"\u003e\n\u003cp\u003e\u003cspan data-mce-fragment=\"1\"\u003eDesigned to be comfortable and easy to wear.\u003c\/span\u003e\u003c\/p\u003e\n\u003cp\u003e\u003cspan data-mce-fragment=\"1\" style=\"color: #ff2a00;\"\u003eThis belt run one size small\u003c\/span\u003e\u003c\/p\u003e\n\u003cspan style=\"color: #ff2a00;\"\u003e \u003cmeta name=\"viewport\" content=\"width=device-width, initial-scale=1\"\u003e \u003c\/span\u003e\n\u003ch2\u003e\u003c\/h2\u003e\n\u003cp\u003e\u003cbutton class=\"accordion\"\u003eFeatures \u0026amp; Benefits\u003c\/button\u003e\u003c\/p\u003e\n\u003cdiv class=\"panel\"\u003e\n\u003cp\u003e\u003cbr\u003e• Boneless\u003cbr\u003e • Comfortable\u003cbr\u003e • Roll Free\u003cbr\u003e • Two Broad Ab Straps\u003cbr\u003e • Covers entire midsection\u003cbr\u003e • Allows for custom clinching\u003cbr\u003e • Sits comfortably past the hips\u003cbr\u003e\u003cbr\u003e\u003c\/p\u003e\n\u003c\/div\u003e\n\u003cp\u003e\u003cbutton class=\"accordion\"\u003eMaterial \u0026amp; Product Info\u003c\/button\u003e\u003c\/p\u003e\n\u003cdiv class=\"panel\"\u003e\n\u003cp\u003e\u003cbr\u003eThe Waist Slimmer Belt 1018 creates a thermogenic heat like effect that enhances sweat to help you target fat in stubborn areas. \u003cbr\u003e For maximum results use our Caffeine Cream with this Waist Slimmer Belt.\u003c\/p\u003e\n\u003c\/div\u003e\n\u003cscript\u003e\/\/ \u003c![CDATA[\nvar acc = document.getElementsByClassName(\"accordion\");\nvar i;\n\nfor (i = 0; i \u003c acc.length; i++) {\nacc[i].addEventListener(\"click\", function() {\nthis.classList.toggle(\"active\");\nvar panel = this.nextElementSibling;\nif (panel.style.maxHeight){\npanel.style.maxHeight = null;\n} else {\npanel.style.maxHeight = panel.scrollHeight + \"px\";\n}\n});\n}\n\/\/ ]]\u003e\u003c\/script\u003e\n\u003cp\u003e \u003c\/p\u003e\n\u003cdiv style=\"text-align: center;\"\u003e\u003ca href=\"https:\/\/instacurve.com\/pages\/covid-19\" target=\"_blank\"\u003e Our Covid-19 Response\u003c\/a\u003e\u003c\/div\u003e"}