SELECTED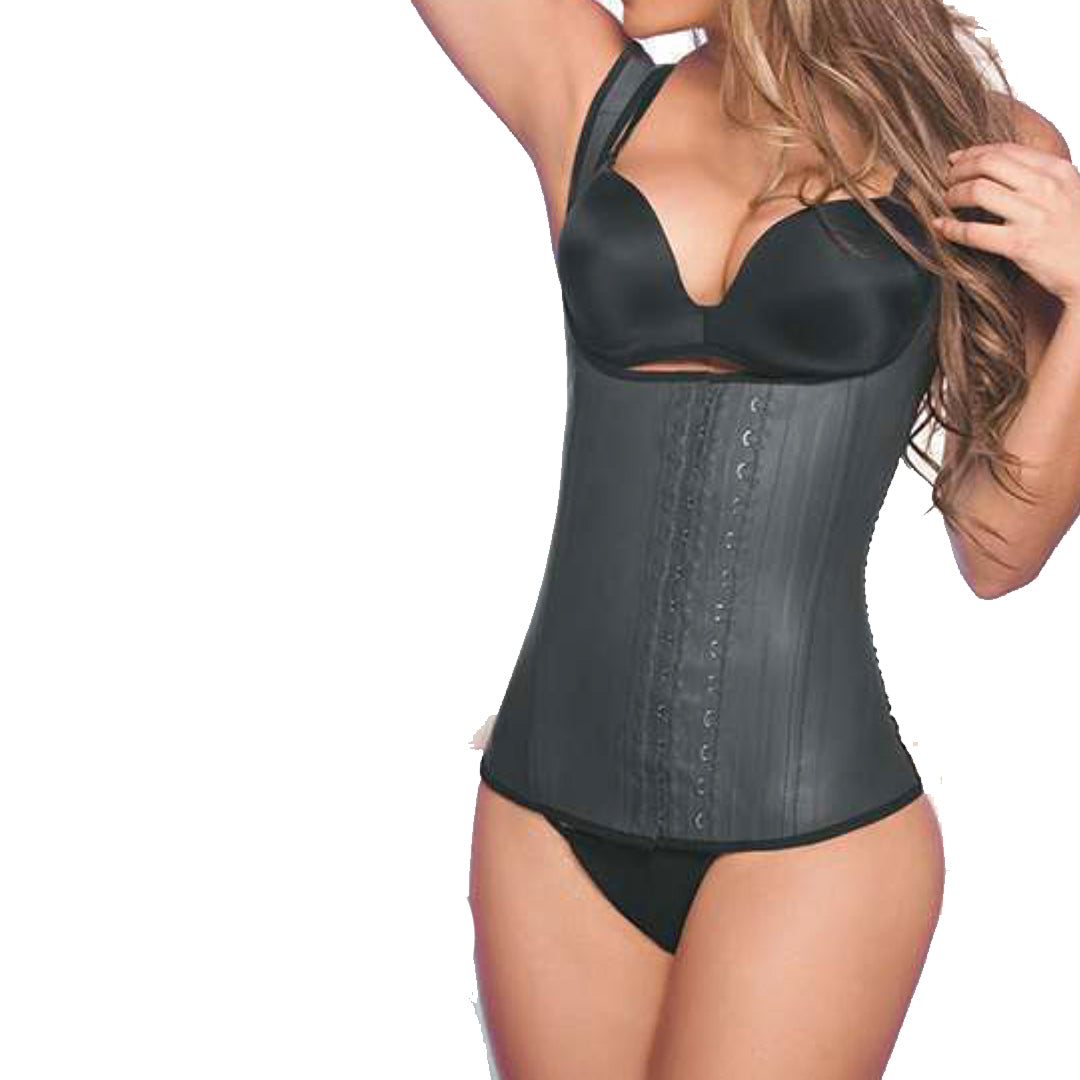 Classic Latex Vest Waist Cincher [Thick Straps]
The InstaCurve Classic Latex Vest Waist Cincher (Thick Straps) will help you lose weight and reduce your midriff measurements by firmly compressing your waist and back.  The cinching power is supported by the thin straps and reinforced seams that aid in decreasing back fat while providing midsection control.
Designed to be comfortable and easy to wear.
Runs True to size

• Firm compression
• Flexi boning supports
• Durable
• Breathable
• 100% latex band
• Ultra soft cotton lining
• Dual column hook-and-eye closures
• Strengthens core and correct posture
• Midsection control
• Reduces waistline up to 3 sizes
• Great coverage
• Post-pregnancy figure restoration

Wear this cincher discreetly under your clothes for 6-8 hours per day or more for a month to reduce your waistline up to 3 sizes and accelerate your weight loss up to 4 inches. You will witness a waistline reduction on a weekly basis.

You can also waist train with this waist cincher while you sleep for maximum results.

The InstaCurve Classic Latex Vest Waist Trainer (Thin Straps) 0274 runs one size smaller. We recommend going one size up.

*Panty & Bra not included.
{"id":6579982565438,"title":"Classic Latex Vest Waist Cincher [Thick Straps]","handle":"classic-latex-vest-waist-trainer-0274-thick-straps","description":"The InstaCurve Classic Latex Vest Waist Cincher (Thick Straps) will help you lose weight and reduce your midriff measurements by firmly compressing your waist and back.  The cinching power is supported by the thin straps and reinforced seams that aid in decreasing back fat while providing midsection control.\u003cbr\u003e\u003cbr\u003e\n\u003cp\u003e\u003cspan data-mce-fragment=\"1\"\u003e\u003cmeta charset=\"utf-8\"\u003e \u003cmeta charset=\"utf-8\"\u003eDesigned to be comfortable and easy to wear.\u003c\/span\u003e\u003c\/p\u003e\n\u003cp\u003e\u003cspan style=\"color: #ff2a00;\" data-mce-fragment=\"1\"\u003eRuns True to size\u003c\/span\u003e\u003c\/p\u003e\n\u003cspan style=\"color: #ff2a00;\"\u003e \u003cmeta content=\"width=device-width, initial-scale=1\" name=\"viewport\"\u003e \u003c\/span\u003e\n\u003cstyle\u003e\u003c!--\n.accordion {\nbackground-color: #9bddff;\ncolor: #fff;\ncursor: pointer;\npadding: 18px;\nwidth: 100%;\nborder: none;\ntext-align: left;\noutline: none;\nfont-size: 15px;\ntransition: 0.7s;\n}\n\n.active, .accordion:hover {\nbackground-color: #96ded1;\n}\n\n.accordion:after {\ncontent: '\\002B';\ncolor: #000000;\nfont-weight: bold;\nfloat: right;\nmargin-left: 5px;\n}\n\n.active:after {\ncontent: \"\\2212\";\n}\n\n.panel {\npadding: 0 18px;\nbackground-color: white;\nmax-height: 0;\noverflow: hidden;\ntransition: max-height 0.8s ease-out;\nborder-bottom: 3px solid transparent;\n}\n--\u003e\u003c\/style\u003e\n\u003ch2\u003e\u003c\/h2\u003e\n\u003cbutton class=\"accordion\"\u003eFeatures \u0026amp; Benefits\u003c\/button\u003e\n\u003cdiv class=\"panel\"\u003e\n\u003cp\u003e\u003cbr\u003e• Firm compression\u003cbr\u003e • Flexi boning supports\u003cbr\u003e • Durable\u003cbr\u003e • Breathable \u003cbr\u003e • 100% latex band\u003cbr\u003e • Ultra soft cotton lining\u003cbr\u003e • Dual column hook-and-eye closures\u003cbr\u003e • Strengthens core and correct posture\u003cbr\u003e • Midsection control\u003cbr\u003e • Reduces waistline up to 3 sizes\u003cbr\u003e • Great coverage\u003cbr\u003e • Post-pregnancy figure restoration\u003c\/p\u003e\n\u003cbr\u003e\n\u003c\/div\u003e\n\u003cbutton class=\"accordion\"\u003eMaterial \u0026amp; Product Info\u003c\/button\u003e\n\u003cdiv class=\"panel\"\u003e\n\u003cp\u003e\u003cbr\u003eWear this cincher discreetly under your clothes for 6-8 hours per day or more for a month to reduce your waistline up to 3 sizes and accelerate your weight loss up to 4 inches. You will witness a waistline reduction on a weekly basis.\u003cbr\u003e\u003cbr\u003e You can also waist train with this waist cincher while you sleep for maximum results.\u003cbr\u003e\u003cbr\u003e The InstaCurve Classic Latex Vest Waist Trainer (Thin Straps) 0274 runs one size smaller. We recommend going one size up. \u003cbr\u003e\u003cbr\u003e *Panty \u0026amp; Bra not included.\u003c\/p\u003e\n\u003c\/div\u003e\n\u003cscript\u003e\nvar acc = document.getElementsByClassName(\"accordion\");\nvar i;\n\nfor (i = 0; i \u003c acc.length; i++) {\nacc[i].addEventListener(\"click\", function() {\nthis.classList.toggle(\"active\");\nvar panel = this.nextElementSibling;\nif (panel.style.maxHeight){\npanel.style.maxHeight = null;\n} else {\npanel.style.maxHeight = panel.scrollHeight + \"px\";\n}\n});\n}\n\u003c\/script\u003e \u003cbr\u003e\n\u003cdiv style=\"text-align: center;\"\u003e\u003ca href=\"https:\/\/instacurve.com\/pages\/covid-19\" target=\"_blank\"\u003e Our Covid-19 Response\u003c\/a\u003e\u003c\/div\u003e","published_at":"2021-05-05T14:02:38-04:00","created_at":"2021-05-05T14:00:21-04:00","vendor":"Insta Curve","type":"Waist Trainers","tags":["Waist Trainer"],"price":8999,"price_min":8999,"price_max":9999,"available":true,"price_varies":true,"compare_at_price":null,"compare_at_price_min":0,"compare_at_price_max":0,"compare_at_price_varies":false,"variants":[{"id":39417743212606,"title":"XS-32 \/ Black","option1":"XS-32","option2":"Black","option3":null,"sku":null,"requires_shipping":true,"taxable":true,"featured_image":{"id":28234043785278,"product_id":6579982565438,"position":1,"created_at":"2021-05-05T14:02:30-04:00","updated_at":"2021-05-05T14:02:30-04:00","alt":null,"width":1080,"height":1080,"src":"\/\/instacurve.com\/cdn\/shop\/products\/thick.jpg?v=1620237750","variant_ids":[39417743212606,39417743245374,39417743278142,39417743310910,39417743343678,39417743376446,39417743409214,39417743441982,39417743474750]},"available":true,"name":"Classic Latex Vest Waist Cincher [Thick Straps] - XS-32 \/ Black","public_title":"XS-32 \/ Black","options":["XS-32","Black"],"price":8999,"weight":45,"compare_at_price":null,"inventory_quantity":-2,"inventory_management":null,"inventory_policy":"continue","barcode":null,"featured_media":{"alt":null,"id":20529085382718,"position":1,"preview_image":{"aspect_ratio":1.0,"height":1080,"width":1080,"src":"\/\/instacurve.com\/cdn\/shop\/products\/thick.jpg?v=1620237750"}}},{"id":39417743245374,"title":"S-34 \/ Black","option1":"S-34","option2":"Black","option3":null,"sku":null,"requires_shipping":true,"taxable":true,"featured_image":{"id":28234043785278,"product_id":6579982565438,"position":1,"created_at":"2021-05-05T14:02:30-04:00","updated_at":"2021-05-05T14:02:30-04:00","alt":null,"width":1080,"height":1080,"src":"\/\/instacurve.com\/cdn\/shop\/products\/thick.jpg?v=1620237750","variant_ids":[39417743212606,39417743245374,39417743278142,39417743310910,39417743343678,39417743376446,39417743409214,39417743441982,39417743474750]},"available":true,"name":"Classic Latex Vest Waist Cincher [Thick Straps] - S-34 \/ Black","public_title":"S-34 \/ Black","options":["S-34","Black"],"price":8999,"weight":45,"compare_at_price":null,"inventory_quantity":-2,"inventory_management":null,"inventory_policy":"continue","barcode":null,"featured_media":{"alt":null,"id":20529085382718,"position":1,"preview_image":{"aspect_ratio":1.0,"height":1080,"width":1080,"src":"\/\/instacurve.com\/cdn\/shop\/products\/thick.jpg?v=1620237750"}}},{"id":39417743278142,"title":"M-36 \/ Black","option1":"M-36","option2":"Black","option3":null,"sku":null,"requires_shipping":true,"taxable":true,"featured_image":{"id":28234043785278,"product_id":6579982565438,"position":1,"created_at":"2021-05-05T14:02:30-04:00","updated_at":"2021-05-05T14:02:30-04:00","alt":null,"width":1080,"height":1080,"src":"\/\/instacurve.com\/cdn\/shop\/products\/thick.jpg?v=1620237750","variant_ids":[39417743212606,39417743245374,39417743278142,39417743310910,39417743343678,39417743376446,39417743409214,39417743441982,39417743474750]},"available":true,"name":"Classic Latex Vest Waist Cincher [Thick Straps] - M-36 \/ Black","public_title":"M-36 \/ Black","options":["M-36","Black"],"price":8999,"weight":45,"compare_at_price":null,"inventory_quantity":-6,"inventory_management":null,"inventory_policy":"continue","barcode":null,"featured_media":{"alt":null,"id":20529085382718,"position":1,"preview_image":{"aspect_ratio":1.0,"height":1080,"width":1080,"src":"\/\/instacurve.com\/cdn\/shop\/products\/thick.jpg?v=1620237750"}}},{"id":39417743310910,"title":"L-38 \/ Black","option1":"L-38","option2":"Black","option3":null,"sku":null,"requires_shipping":true,"taxable":true,"featured_image":{"id":28234043785278,"product_id":6579982565438,"position":1,"created_at":"2021-05-05T14:02:30-04:00","updated_at":"2021-05-05T14:02:30-04:00","alt":null,"width":1080,"height":1080,"src":"\/\/instacurve.com\/cdn\/shop\/products\/thick.jpg?v=1620237750","variant_ids":[39417743212606,39417743245374,39417743278142,39417743310910,39417743343678,39417743376446,39417743409214,39417743441982,39417743474750]},"available":true,"name":"Classic Latex Vest Waist Cincher [Thick Straps] - L-38 \/ Black","public_title":"L-38 \/ Black","options":["L-38","Black"],"price":8999,"weight":45,"compare_at_price":null,"inventory_quantity":-4,"inventory_management":null,"inventory_policy":"continue","barcode":null,"featured_media":{"alt":null,"id":20529085382718,"position":1,"preview_image":{"aspect_ratio":1.0,"height":1080,"width":1080,"src":"\/\/instacurve.com\/cdn\/shop\/products\/thick.jpg?v=1620237750"}}},{"id":39417743343678,"title":"XL-40 \/ Black","option1":"XL-40","option2":"Black","option3":null,"sku":null,"requires_shipping":true,"taxable":true,"featured_image":{"id":28234043785278,"product_id":6579982565438,"position":1,"created_at":"2021-05-05T14:02:30-04:00","updated_at":"2021-05-05T14:02:30-04:00","alt":null,"width":1080,"height":1080,"src":"\/\/instacurve.com\/cdn\/shop\/products\/thick.jpg?v=1620237750","variant_ids":[39417743212606,39417743245374,39417743278142,39417743310910,39417743343678,39417743376446,39417743409214,39417743441982,39417743474750]},"available":true,"name":"Classic Latex Vest Waist Cincher [Thick Straps] - XL-40 \/ Black","public_title":"XL-40 \/ Black","options":["XL-40","Black"],"price":8999,"weight":45,"compare_at_price":null,"inventory_quantity":-2,"inventory_management":null,"inventory_policy":"continue","barcode":null,"featured_media":{"alt":null,"id":20529085382718,"position":1,"preview_image":{"aspect_ratio":1.0,"height":1080,"width":1080,"src":"\/\/instacurve.com\/cdn\/shop\/products\/thick.jpg?v=1620237750"}}},{"id":39417743376446,"title":"2X-42 \/ Black","option1":"2X-42","option2":"Black","option3":null,"sku":null,"requires_shipping":true,"taxable":true,"featured_image":{"id":28234043785278,"product_id":6579982565438,"position":1,"created_at":"2021-05-05T14:02:30-04:00","updated_at":"2021-05-05T14:02:30-04:00","alt":null,"width":1080,"height":1080,"src":"\/\/instacurve.com\/cdn\/shop\/products\/thick.jpg?v=1620237750","variant_ids":[39417743212606,39417743245374,39417743278142,39417743310910,39417743343678,39417743376446,39417743409214,39417743441982,39417743474750]},"available":true,"name":"Classic Latex Vest Waist Cincher [Thick Straps] - 2X-42 \/ Black","public_title":"2X-42 \/ Black","options":["2X-42","Black"],"price":8999,"weight":45,"compare_at_price":null,"inventory_quantity":-6,"inventory_management":null,"inventory_policy":"continue","barcode":null,"featured_media":{"alt":null,"id":20529085382718,"position":1,"preview_image":{"aspect_ratio":1.0,"height":1080,"width":1080,"src":"\/\/instacurve.com\/cdn\/shop\/products\/thick.jpg?v=1620237750"}}},{"id":39417743409214,"title":"3X-44 \/ Black","option1":"3X-44","option2":"Black","option3":null,"sku":null,"requires_shipping":true,"taxable":true,"featured_image":{"id":28234043785278,"product_id":6579982565438,"position":1,"created_at":"2021-05-05T14:02:30-04:00","updated_at":"2021-05-05T14:02:30-04:00","alt":null,"width":1080,"height":1080,"src":"\/\/instacurve.com\/cdn\/shop\/products\/thick.jpg?v=1620237750","variant_ids":[39417743212606,39417743245374,39417743278142,39417743310910,39417743343678,39417743376446,39417743409214,39417743441982,39417743474750]},"available":true,"name":"Classic Latex Vest Waist Cincher [Thick Straps] - 3X-44 \/ Black","public_title":"3X-44 \/ Black","options":["3X-44","Black"],"price":9999,"weight":45,"compare_at_price":null,"inventory_quantity":-3,"inventory_management":null,"inventory_policy":"continue","barcode":null,"featured_media":{"alt":null,"id":20529085382718,"position":1,"preview_image":{"aspect_ratio":1.0,"height":1080,"width":1080,"src":"\/\/instacurve.com\/cdn\/shop\/products\/thick.jpg?v=1620237750"}}},{"id":39417743441982,"title":"4X-46 \/ Black","option1":"4X-46","option2":"Black","option3":null,"sku":null,"requires_shipping":true,"taxable":true,"featured_image":{"id":28234043785278,"product_id":6579982565438,"position":1,"created_at":"2021-05-05T14:02:30-04:00","updated_at":"2021-05-05T14:02:30-04:00","alt":null,"width":1080,"height":1080,"src":"\/\/instacurve.com\/cdn\/shop\/products\/thick.jpg?v=1620237750","variant_ids":[39417743212606,39417743245374,39417743278142,39417743310910,39417743343678,39417743376446,39417743409214,39417743441982,39417743474750]},"available":true,"name":"Classic Latex Vest Waist Cincher [Thick Straps] - 4X-46 \/ Black","public_title":"4X-46 \/ Black","options":["4X-46","Black"],"price":9999,"weight":45,"compare_at_price":null,"inventory_quantity":-3,"inventory_management":null,"inventory_policy":"continue","barcode":null,"featured_media":{"alt":null,"id":20529085382718,"position":1,"preview_image":{"aspect_ratio":1.0,"height":1080,"width":1080,"src":"\/\/instacurve.com\/cdn\/shop\/products\/thick.jpg?v=1620237750"}}},{"id":39417743474750,"title":"5X-48 \/ Black","option1":"5X-48","option2":"Black","option3":null,"sku":null,"requires_shipping":true,"taxable":true,"featured_image":{"id":28234043785278,"product_id":6579982565438,"position":1,"created_at":"2021-05-05T14:02:30-04:00","updated_at":"2021-05-05T14:02:30-04:00","alt":null,"width":1080,"height":1080,"src":"\/\/instacurve.com\/cdn\/shop\/products\/thick.jpg?v=1620237750","variant_ids":[39417743212606,39417743245374,39417743278142,39417743310910,39417743343678,39417743376446,39417743409214,39417743441982,39417743474750]},"available":true,"name":"Classic Latex Vest Waist Cincher [Thick Straps] - 5X-48 \/ Black","public_title":"5X-48 \/ Black","options":["5X-48","Black"],"price":9999,"weight":45,"compare_at_price":null,"inventory_quantity":0,"inventory_management":null,"inventory_policy":"continue","barcode":null,"featured_media":{"alt":null,"id":20529085382718,"position":1,"preview_image":{"aspect_ratio":1.0,"height":1080,"width":1080,"src":"\/\/instacurve.com\/cdn\/shop\/products\/thick.jpg?v=1620237750"}}}],"images":["\/\/instacurve.com\/cdn\/shop\/products\/thick.jpg?v=1620237750"],"featured_image":"\/\/instacurve.com\/cdn\/shop\/products\/thick.jpg?v=1620237750","options":["Size","Color"],"media":[{"alt":null,"id":20529085382718,"position":1,"preview_image":{"aspect_ratio":1.0,"height":1080,"width":1080,"src":"\/\/instacurve.com\/cdn\/shop\/products\/thick.jpg?v=1620237750"},"aspect_ratio":1.0,"height":1080,"media_type":"image","src":"\/\/instacurve.com\/cdn\/shop\/products\/thick.jpg?v=1620237750","width":1080}],"content":"The InstaCurve Classic Latex Vest Waist Cincher (Thick Straps) will help you lose weight and reduce your midriff measurements by firmly compressing your waist and back.  The cinching power is supported by the thin straps and reinforced seams that aid in decreasing back fat while providing midsection control.\u003cbr\u003e\u003cbr\u003e\n\u003cp\u003e\u003cspan data-mce-fragment=\"1\"\u003e\u003cmeta charset=\"utf-8\"\u003e \u003cmeta charset=\"utf-8\"\u003eDesigned to be comfortable and easy to wear.\u003c\/span\u003e\u003c\/p\u003e\n\u003cp\u003e\u003cspan style=\"color: #ff2a00;\" data-mce-fragment=\"1\"\u003eRuns True to size\u003c\/span\u003e\u003c\/p\u003e\n\u003cspan style=\"color: #ff2a00;\"\u003e \u003cmeta content=\"width=device-width, initial-scale=1\" name=\"viewport\"\u003e \u003c\/span\u003e\n\u003cstyle\u003e\u003c!--\n.accordion {\nbackground-color: #9bddff;\ncolor: #fff;\ncursor: pointer;\npadding: 18px;\nwidth: 100%;\nborder: none;\ntext-align: left;\noutline: none;\nfont-size: 15px;\ntransition: 0.7s;\n}\n\n.active, .accordion:hover {\nbackground-color: #96ded1;\n}\n\n.accordion:after {\ncontent: '\\002B';\ncolor: #000000;\nfont-weight: bold;\nfloat: right;\nmargin-left: 5px;\n}\n\n.active:after {\ncontent: \"\\2212\";\n}\n\n.panel {\npadding: 0 18px;\nbackground-color: white;\nmax-height: 0;\noverflow: hidden;\ntransition: max-height 0.8s ease-out;\nborder-bottom: 3px solid transparent;\n}\n--\u003e\u003c\/style\u003e\n\u003ch2\u003e\u003c\/h2\u003e\n\u003cbutton class=\"accordion\"\u003eFeatures \u0026amp; Benefits\u003c\/button\u003e\n\u003cdiv class=\"panel\"\u003e\n\u003cp\u003e\u003cbr\u003e• Firm compression\u003cbr\u003e • Flexi boning supports\u003cbr\u003e • Durable\u003cbr\u003e • Breathable \u003cbr\u003e • 100% latex band\u003cbr\u003e • Ultra soft cotton lining\u003cbr\u003e • Dual column hook-and-eye closures\u003cbr\u003e • Strengthens core and correct posture\u003cbr\u003e • Midsection control\u003cbr\u003e • Reduces waistline up to 3 sizes\u003cbr\u003e • Great coverage\u003cbr\u003e • Post-pregnancy figure restoration\u003c\/p\u003e\n\u003cbr\u003e\n\u003c\/div\u003e\n\u003cbutton class=\"accordion\"\u003eMaterial \u0026amp; Product Info\u003c\/button\u003e\n\u003cdiv class=\"panel\"\u003e\n\u003cp\u003e\u003cbr\u003eWear this cincher discreetly under your clothes for 6-8 hours per day or more for a month to reduce your waistline up to 3 sizes and accelerate your weight loss up to 4 inches. You will witness a waistline reduction on a weekly basis.\u003cbr\u003e\u003cbr\u003e You can also waist train with this waist cincher while you sleep for maximum results.\u003cbr\u003e\u003cbr\u003e The InstaCurve Classic Latex Vest Waist Trainer (Thin Straps) 0274 runs one size smaller. We recommend going one size up. \u003cbr\u003e\u003cbr\u003e *Panty \u0026amp; Bra not included.\u003c\/p\u003e\n\u003c\/div\u003e\n\u003cscript\u003e\nvar acc = document.getElementsByClassName(\"accordion\");\nvar i;\n\nfor (i = 0; i \u003c acc.length; i++) {\nacc[i].addEventListener(\"click\", function() {\nthis.classList.toggle(\"active\");\nvar panel = this.nextElementSibling;\nif (panel.style.maxHeight){\npanel.style.maxHeight = null;\n} else {\npanel.style.maxHeight = panel.scrollHeight + \"px\";\n}\n});\n}\n\u003c\/script\u003e \u003cbr\u003e\n\u003cdiv style=\"text-align: center;\"\u003e\u003ca href=\"https:\/\/instacurve.com\/pages\/covid-19\" target=\"_blank\"\u003e Our Covid-19 Response\u003c\/a\u003e\u003c\/div\u003e"}