SELECTED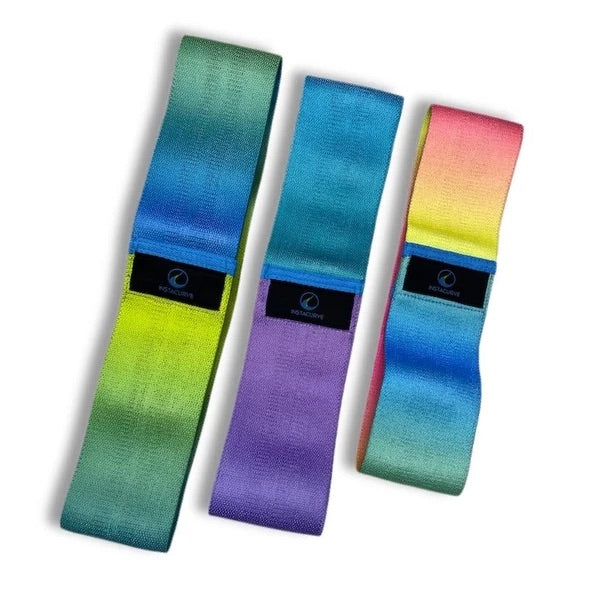 SELECTED
SELECTED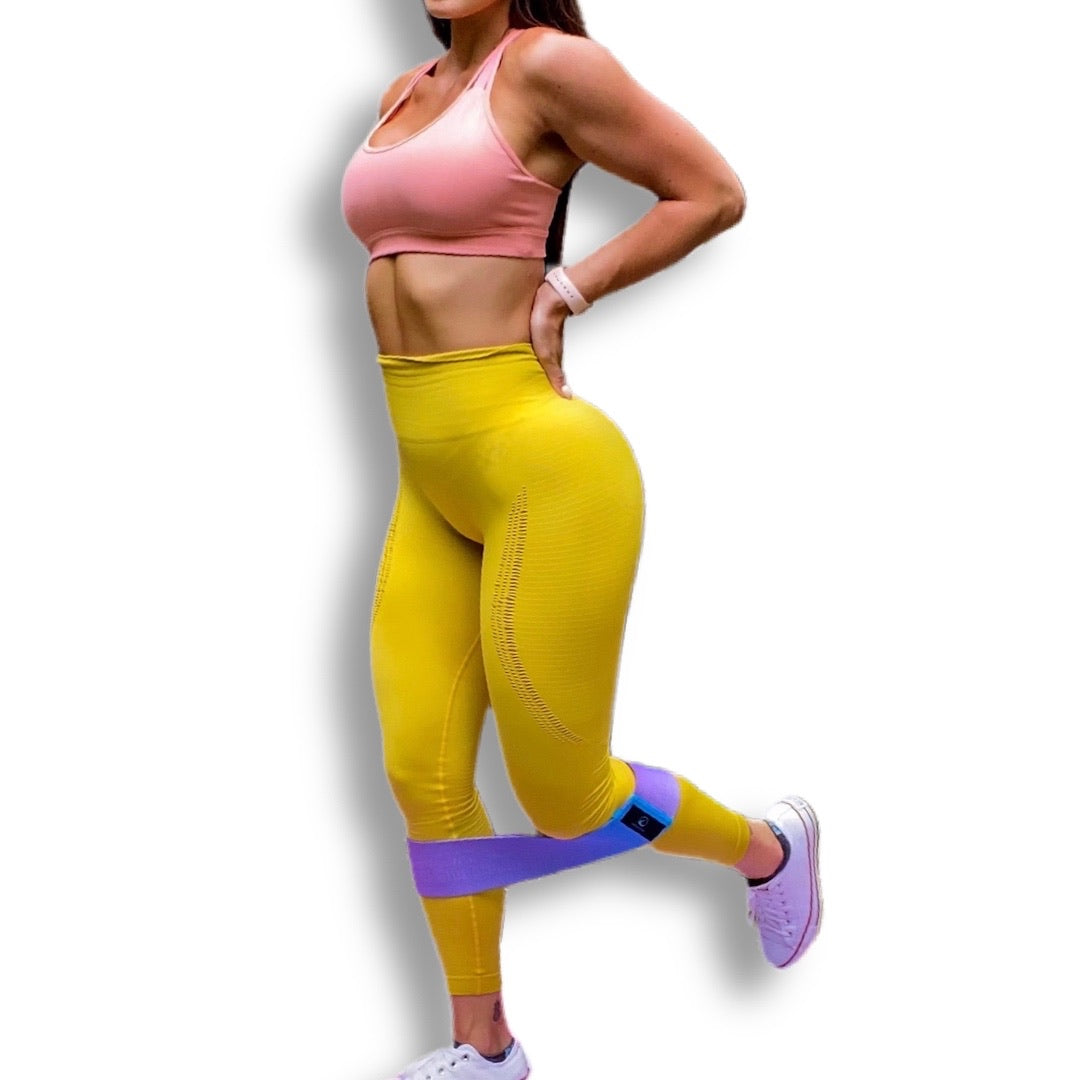 SELECTED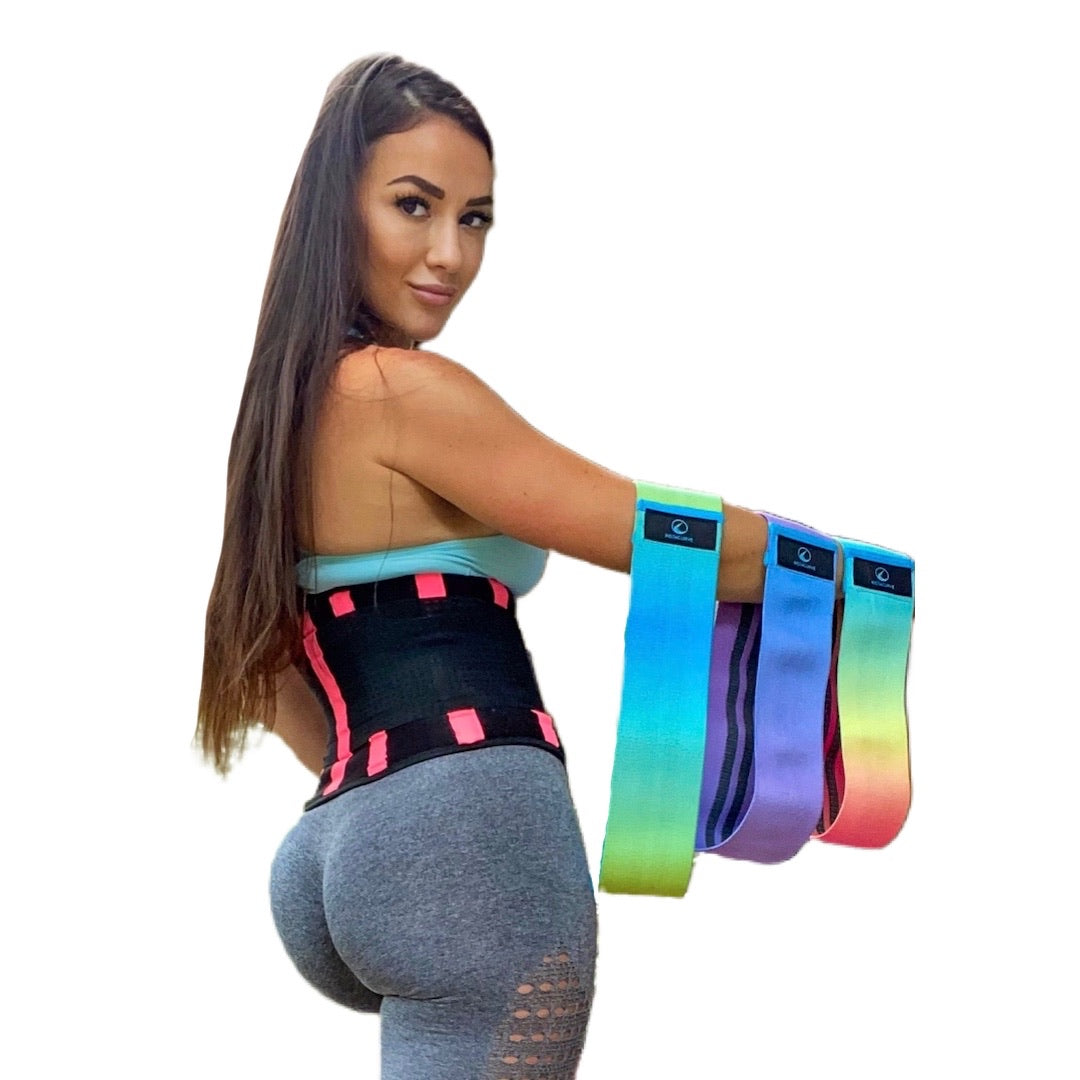 Glute Bands
Our Instacurve Fitness Ombre Band Set adds an extra level of intensity to all of your glute and leg exercises. Shown are the set of woven loop glute bands featuring unique grips on the interior side of the band to prevent slipping and rolling. This set is a premium product perfect for travel, and any kind of home or gym workout!
These bands are layered; and are very durable and powerful. For being durable, they can be used for years and pose no risk of snapping.


• Easy to carry: Travel kit comes along with the booty bands so that each can carry them while traveling or anywhere. Also, Booty bands can be used by any fitness level from beginner to advance.

• Comes with multiple levels of fitness
Regardless to what type of fitness lover you are — a beginner or an advanced fitness enthusiast, these bands offer multiple fitness levels that suit all types of users. Also, they are customizable as per the ability and strength of a person.


Booty bands are used by a number of people today and after having great results, many people have shared their experiences online. So, its positive effects are proven and that makes more people to connect with them. Fitness lovers have accepted them as the best equipment to shape and tone the glutes and have a rounded butt.
{"id":4818922537022,"title":"Glute Bands","handle":"glute-bands","description":"\u003cp\u003e\u003cmeta charset=\"utf-8\"\u003eOur Instacurve Fitness Ombre Band Set adds an extra level of intensity to all of your glute and leg exercises. Shown are the set of woven loop glute bands featuring unique grips on the interior side of the band to prevent slipping and rolling. This set is a premium product perfect for travel, and any kind of home or gym workout!\u003c\/p\u003e\n\u003cp\u003eThese bands are layered; and are very durable and powerful. For being durable, they can be used for years and pose no risk of snapping.\u003cbr\u003e \u003cmeta content=\"width=device-width, initial-scale=1\" name=\"viewport\"\u003e\u003c\/p\u003e\n\u003cstyle\u003e\u003c!--\n.accordion {\nbackground-color: #9bddff;\ncolor: #fff;\ncursor: pointer;\npadding: 18px;\nwidth: 100%;\nborder: none;\ntext-align: left;\noutline: none;\nfont-size: 15px;\ntransition: 0.7s;\n}\n\n.active, .accordion:hover {\nbackground-color: #96ded1;\n}\n\n.accordion:after {\ncontent: '\\002B';\ncolor: #000000;\nfont-weight: bold;\nfloat: right;\nmargin-left: 5px;\n}\n\n.active:after {\ncontent: \"\\2212\";\n}\n\n.panel {\npadding: 0 18px;\nbackground-color: white;\nmax-height: 0;\noverflow: hidden;\ntransition: max-height 0.8s ease-out;\nborder-bottom: 3px solid transparent;\n}\n--\u003e\u003c\/style\u003e\n\u003ch2\u003e\u003c\/h2\u003e\n\u003cbutton class=\"accordion\"\u003eFeatures \u0026amp; Benefits\u003c\/button\u003e\n\u003cdiv class=\"panel\"\u003e\n\u003cp\u003e\u003cbr\u003e• Easy to carry: Travel kit comes along with the booty bands so that each can carry them while traveling or anywhere. Also, Booty bands can be used by any fitness level from beginner to advance. \u003cbr\u003e\u003cbr\u003e • Comes with multiple levels of fitness \u003cbr\u003e Regardless to what type of fitness lover you are — a beginner or an advanced fitness enthusiast, these bands offer multiple fitness levels that suit all types of users. Also, they are customizable as per the ability and strength of a person.\u003cbr\u003e\u003c\/p\u003e\n\u003cbr\u003e\n\u003c\/div\u003e\n\u003cbutton class=\"accordion\"\u003eMaterial \u0026amp; Product Info\u003c\/button\u003e\n\u003cdiv class=\"panel\"\u003e\n\u003cp\u003e\u003cbr\u003eBooty bands are used by a number of people today and after having great results, many people have shared their experiences online. So, its positive effects are proven and that makes more people to connect with them. Fitness lovers have accepted them as the best equipment to shape and tone the glutes and have a rounded butt.\u003c\/p\u003e\n\u003c\/div\u003e\n\u003cscript\u003e\nvar acc = document.getElementsByClassName(\"accordion\");\nvar i;\n\nfor (i = 0; i \u003c acc.length; i++) {\nacc[i].addEventListener(\"click\", function() {\nthis.classList.toggle(\"active\");\nvar panel = this.nextElementSibling;\nif (panel.style.maxHeight){\npanel.style.maxHeight = null;\n} else {\npanel.style.maxHeight = panel.scrollHeight + \"px\";\n}\n});\n}\n\u003c\/script\u003e \u003cbr\u003e\n\u003cdiv style=\"text-align: center;\"\u003e\u003ca href=\"https:\/\/instacurve.com\/pages\/covid-19\" target=\"_blank\"\u003e Our Covid-19 Response\u003c\/a\u003e\u003c\/div\u003e","published_at":"2021-02-20T19:08:35-05:00","created_at":"2021-02-20T19:02:25-05:00","vendor":"Insta Curve","type":"Glute Bands","tags":["Glute Bands"],"price":7000,"price_min":7000,"price_max":7000,"available":true,"price_varies":false,"compare_at_price":null,"compare_at_price_min":0,"compare_at_price_max":0,"compare_at_price_varies":false,"variants":[{"id":32786797101118,"title":"Default Title","option1":"Default Title","option2":null,"option3":null,"sku":"","requires_shipping":true,"taxable":true,"featured_image":null,"available":true,"name":"Glute Bands","public_title":null,"options":["Default Title"],"price":7000,"weight":45,"compare_at_price":null,"inventory_quantity":71,"inventory_management":"shopify","inventory_policy":"continue","barcode":""}],"images":["\/\/instacurve.com\/cdn\/shop\/products\/image_a5af6d37-016e-47de-b715-3e616fb18d86.jpg?v=1613867474","\/\/instacurve.com\/cdn\/shop\/products\/image_2483b4da-7aed-4d03-9aa3-33e5fd5ec34a.jpg?v=1613867474","\/\/instacurve.com\/cdn\/shop\/products\/image_fb7cb7b3-d747-4833-9160-9eef165a716d.jpg?v=1613867477","\/\/instacurve.com\/cdn\/shop\/products\/image_a63e4152-c4ac-4e6d-b98c-aacc50b55d06.jpg?v=1613867479"],"featured_image":"\/\/instacurve.com\/cdn\/shop\/products\/image_a5af6d37-016e-47de-b715-3e616fb18d86.jpg?v=1613867474","options":["Title"],"media":[{"alt":null,"id":9292852002878,"position":1,"preview_image":{"aspect_ratio":1.0,"height":600,"width":600,"src":"\/\/instacurve.com\/cdn\/shop\/products\/image_a5af6d37-016e-47de-b715-3e616fb18d86.jpg?v=1613867474"},"aspect_ratio":1.0,"height":600,"media_type":"image","src":"\/\/instacurve.com\/cdn\/shop\/products\/image_a5af6d37-016e-47de-b715-3e616fb18d86.jpg?v=1613867474","width":600},{"alt":null,"id":9292853051454,"position":2,"preview_image":{"aspect_ratio":0.983,"height":749,"width":736,"src":"\/\/instacurve.com\/cdn\/shop\/products\/image_2483b4da-7aed-4d03-9aa3-33e5fd5ec34a.jpg?v=1613867474"},"aspect_ratio":0.983,"height":749,"media_type":"image","src":"\/\/instacurve.com\/cdn\/shop\/products\/image_2483b4da-7aed-4d03-9aa3-33e5fd5ec34a.jpg?v=1613867474","width":736},{"alt":null,"id":9292873531454,"position":3,"preview_image":{"aspect_ratio":1.0,"height":1080,"width":1080,"src":"\/\/instacurve.com\/cdn\/shop\/products\/image_fb7cb7b3-d747-4833-9160-9eef165a716d.jpg?v=1613867477"},"aspect_ratio":1.0,"height":1080,"media_type":"image","src":"\/\/instacurve.com\/cdn\/shop\/products\/image_fb7cb7b3-d747-4833-9160-9eef165a716d.jpg?v=1613867477","width":1080},{"alt":null,"id":9292873596990,"position":4,"preview_image":{"aspect_ratio":1.0,"height":1080,"width":1080,"src":"\/\/instacurve.com\/cdn\/shop\/products\/image_a63e4152-c4ac-4e6d-b98c-aacc50b55d06.jpg?v=1613867479"},"aspect_ratio":1.0,"height":1080,"media_type":"image","src":"\/\/instacurve.com\/cdn\/shop\/products\/image_a63e4152-c4ac-4e6d-b98c-aacc50b55d06.jpg?v=1613867479","width":1080}],"content":"\u003cp\u003e\u003cmeta charset=\"utf-8\"\u003eOur Instacurve Fitness Ombre Band Set adds an extra level of intensity to all of your glute and leg exercises. Shown are the set of woven loop glute bands featuring unique grips on the interior side of the band to prevent slipping and rolling. This set is a premium product perfect for travel, and any kind of home or gym workout!\u003c\/p\u003e\n\u003cp\u003eThese bands are layered; and are very durable and powerful. For being durable, they can be used for years and pose no risk of snapping.\u003cbr\u003e \u003cmeta content=\"width=device-width, initial-scale=1\" name=\"viewport\"\u003e\u003c\/p\u003e\n\u003cstyle\u003e\u003c!--\n.accordion {\nbackground-color: #9bddff;\ncolor: #fff;\ncursor: pointer;\npadding: 18px;\nwidth: 100%;\nborder: none;\ntext-align: left;\noutline: none;\nfont-size: 15px;\ntransition: 0.7s;\n}\n\n.active, .accordion:hover {\nbackground-color: #96ded1;\n}\n\n.accordion:after {\ncontent: '\\002B';\ncolor: #000000;\nfont-weight: bold;\nfloat: right;\nmargin-left: 5px;\n}\n\n.active:after {\ncontent: \"\\2212\";\n}\n\n.panel {\npadding: 0 18px;\nbackground-color: white;\nmax-height: 0;\noverflow: hidden;\ntransition: max-height 0.8s ease-out;\nborder-bottom: 3px solid transparent;\n}\n--\u003e\u003c\/style\u003e\n\u003ch2\u003e\u003c\/h2\u003e\n\u003cbutton class=\"accordion\"\u003eFeatures \u0026amp; Benefits\u003c\/button\u003e\n\u003cdiv class=\"panel\"\u003e\n\u003cp\u003e\u003cbr\u003e• Easy to carry: Travel kit comes along with the booty bands so that each can carry them while traveling or anywhere. Also, Booty bands can be used by any fitness level from beginner to advance. \u003cbr\u003e\u003cbr\u003e • Comes with multiple levels of fitness \u003cbr\u003e Regardless to what type of fitness lover you are — a beginner or an advanced fitness enthusiast, these bands offer multiple fitness levels that suit all types of users. Also, they are customizable as per the ability and strength of a person.\u003cbr\u003e\u003c\/p\u003e\n\u003cbr\u003e\n\u003c\/div\u003e\n\u003cbutton class=\"accordion\"\u003eMaterial \u0026amp; Product Info\u003c\/button\u003e\n\u003cdiv class=\"panel\"\u003e\n\u003cp\u003e\u003cbr\u003eBooty bands are used by a number of people today and after having great results, many people have shared their experiences online. So, its positive effects are proven and that makes more people to connect with them. Fitness lovers have accepted them as the best equipment to shape and tone the glutes and have a rounded butt.\u003c\/p\u003e\n\u003c\/div\u003e\n\u003cscript\u003e\nvar acc = document.getElementsByClassName(\"accordion\");\nvar i;\n\nfor (i = 0; i \u003c acc.length; i++) {\nacc[i].addEventListener(\"click\", function() {\nthis.classList.toggle(\"active\");\nvar panel = this.nextElementSibling;\nif (panel.style.maxHeight){\npanel.style.maxHeight = null;\n} else {\npanel.style.maxHeight = panel.scrollHeight + \"px\";\n}\n});\n}\n\u003c\/script\u003e \u003cbr\u003e\n\u003cdiv style=\"text-align: center;\"\u003e\u003ca href=\"https:\/\/instacurve.com\/pages\/covid-19\" target=\"_blank\"\u003e Our Covid-19 Response\u003c\/a\u003e\u003c\/div\u003e"}