SELECTED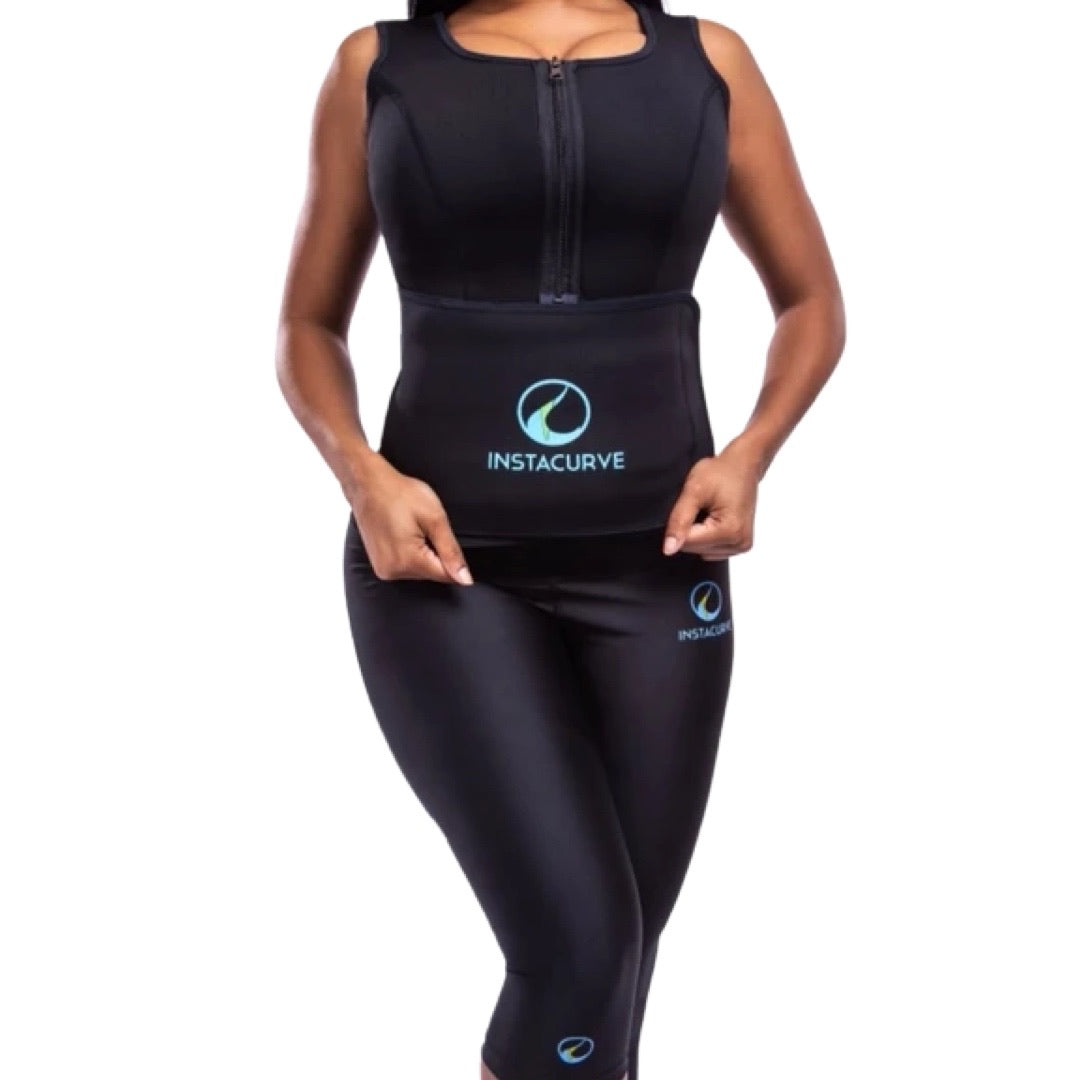 SELECTED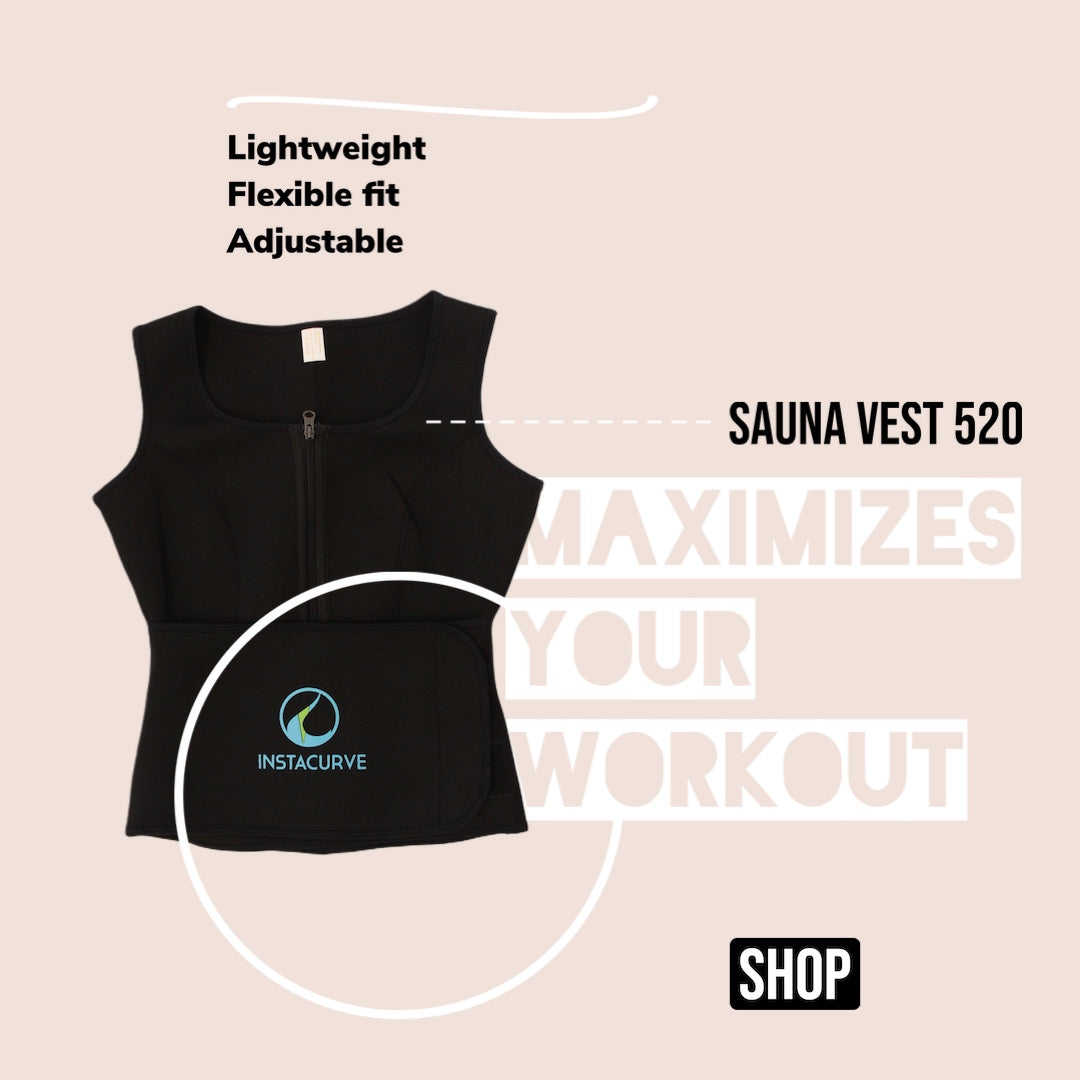 Sauna Vest 520
The InstaCurve Sauna Vest 520 is a fan favorite made to help you sweat and aid in the calorie burning process during a workout.
Designed to be comfortable and easy to wear.
Run 2 size small

• Comfortable compression
• Lightweight
• Flexible fit
• Adjustable
• Back support
• Creates shape
• Sportswear for daily use
• Maximizes your workout
• Increases perspiration
• Helps prevent post-workout fatigue and injury


• Neoprene

The InstaCurve Waist Trimmer Sweat Belt 512 runs true to size.

When you're working out, simply slip and wrap the InstaCurve Waist Trimmer Sweat Belt around your midsection, then pull the sides together for a firm fit and go! No hook-and-eye closures, no hassle. Since the velcro sides are adjustable, the waist trimming belt offers a perfect fit every time.
{"id":4818916671550,"title":"Sauna Vest 520","handle":"sauna-vest-520","description":"\u003cmeta charset=\"utf-8\"\u003e\u003cmeta charset=\"utf-8\"\u003e\n\u003cp data-mce-fragment=\"1\"\u003eThe InstaCurve Sauna Vest 520 is a fan favorite made to help you sweat and aid in the calorie burning process during a workout.\u003c\/p\u003e\n\u003cp\u003e\u003cspan data-mce-fragment=\"1\"\u003e\u003cmeta charset=\"utf-8\"\u003e \u003cmeta charset=\"utf-8\"\u003eDesigned to be comfortable and easy to wear.\u003c\/span\u003e\u003c\/p\u003e\n\u003cp\u003e\u003cspan data-mce-fragment=\"1\"\u003eRun 2 size small\u003c\/span\u003e\u003c\/p\u003e\n\u003cmeta content=\"width=device-width, initial-scale=1\" name=\"viewport\"\u003e\n\u003cstyle\u003e\u003c!--\n.accordion {\nbackground-color: #9bddff;\ncolor: #fff;\ncursor: pointer;\npadding: 18px;\nwidth: 100%;\nborder: none;\ntext-align: left;\noutline: none;\nfont-size: 15px;\ntransition: 0.7s;\n}\n\n.active, .accordion:hover {\nbackground-color: #96ded1;\n}\n\n.accordion:after {\ncontent: '\\002B';\ncolor: #000000;\nfont-weight: bold;\nfloat: right;\nmargin-left: 5px;\n}\n\n.active:after {\ncontent: \"\\2212\";\n}\n\n.panel {\npadding: 0 18px;\nbackground-color: white;\nmax-height: 0;\noverflow: hidden;\ntransition: max-height 0.8s ease-out;\nborder-bottom: 3px solid transparent;\n}\n--\u003e\u003c\/style\u003e\n\u003ch2\u003e\u003c\/h2\u003e\n\u003cbutton class=\"accordion\"\u003eFeatures \u0026amp; Benefits\u003c\/button\u003e\n\u003cdiv class=\"panel\"\u003e\n\u003cp\u003e\u003cbr\u003e• Comfortable compression\u003cbr\u003e • Lightweight\u003cbr\u003e • Flexible fit\u003cbr\u003e • Adjustable\u003cbr\u003e• Back support\u003cbr\u003e • Creates shape\u003cbr\u003e • Sportswear for daily use\u003cbr\u003e • Maximizes your workout\u003cbr\u003e • Increases perspiration\u003cbr\u003e • Helps prevent post-workout fatigue and injury\u003cbr\u003e\u003c\/p\u003e\n\u003cbr\u003e\n\u003c\/div\u003e\n\u003cbutton class=\"accordion\"\u003eMaterial \u0026amp; Product Info\u003c\/button\u003e\n\u003cdiv class=\"panel\"\u003e\n\u003cp\u003e\u003cbr\u003e• Neoprene\u003cbr\u003e\u003cbr\u003eThe InstaCurve Waist Trimmer Sweat Belt 512 runs true to size. \u003cbr\u003e\u003cbr\u003e When you're working out, simply slip and wrap the InstaCurve Waist Trimmer Sweat Belt around your midsection, then pull the sides together for a firm fit and go! No hook-and-eye closures, no hassle. Since the velcro sides are adjustable, the waist trimming belt offers a perfect fit every time.\u003c\/p\u003e\n\u003c\/div\u003e\n\u003cscript\u003e\nvar acc = document.getElementsByClassName(\"accordion\");\nvar i;\n\nfor (i = 0; i \u003c acc.length; i++) {\nacc[i].addEventListener(\"click\", function() {\nthis.classList.toggle(\"active\");\nvar panel = this.nextElementSibling;\nif (panel.style.maxHeight){\npanel.style.maxHeight = null;\n} else {\npanel.style.maxHeight = panel.scrollHeight + \"px\";\n}\n});\n}\n\u003c\/script\u003e \u003cbr\u003e\n\u003cdiv style=\"text-align: center;\"\u003e\u003ca href=\"https:\/\/instacurve.com\/pages\/covid-19\" target=\"_blank\"\u003e Our Covid-19 Response\u003c\/a\u003e\u003c\/div\u003e","published_at":"2021-02-20T18:09:07-05:00","created_at":"2021-02-20T18:03:38-05:00","vendor":"Insta Curve","type":"Waist Trainer","tags":["Sauna Fitness Collection"],"price":5400,"price_min":5400,"price_max":5400,"available":false,"price_varies":false,"compare_at_price":null,"compare_at_price_min":0,"compare_at_price_max":0,"compare_at_price_varies":false,"variants":[{"id":39303378927678,"title":"S \/ Black","option1":"S","option2":"Black","option3":null,"sku":"","requires_shipping":true,"taxable":true,"featured_image":null,"available":false,"name":"Sauna Vest 520 - S \/ Black","public_title":"S \/ Black","options":["S","Black"],"price":5400,"weight":45,"compare_at_price":null,"inventory_quantity":0,"inventory_management":"shopify","inventory_policy":"deny","barcode":""},{"id":39303378960446,"title":"M \/ Black","option1":"M","option2":"Black","option3":null,"sku":"","requires_shipping":true,"taxable":true,"featured_image":null,"available":false,"name":"Sauna Vest 520 - M \/ Black","public_title":"M \/ Black","options":["M","Black"],"price":5400,"weight":45,"compare_at_price":null,"inventory_quantity":0,"inventory_management":"shopify","inventory_policy":"deny","barcode":""},{"id":39303378993214,"title":"L \/ Black","option1":"L","option2":"Black","option3":null,"sku":"","requires_shipping":true,"taxable":true,"featured_image":null,"available":false,"name":"Sauna Vest 520 - L \/ Black","public_title":"L \/ Black","options":["L","Black"],"price":5400,"weight":45,"compare_at_price":null,"inventory_quantity":0,"inventory_management":"shopify","inventory_policy":"deny","barcode":""},{"id":39303379025982,"title":"XL \/ Black","option1":"XL","option2":"Black","option3":null,"sku":"","requires_shipping":true,"taxable":true,"featured_image":null,"available":false,"name":"Sauna Vest 520 - XL \/ Black","public_title":"XL \/ Black","options":["XL","Black"],"price":5400,"weight":45,"compare_at_price":null,"inventory_quantity":0,"inventory_management":"shopify","inventory_policy":"deny","barcode":""},{"id":39303379058750,"title":"2X \/ Black","option1":"2X","option2":"Black","option3":null,"sku":"","requires_shipping":true,"taxable":true,"featured_image":null,"available":false,"name":"Sauna Vest 520 - 2X \/ Black","public_title":"2X \/ Black","options":["2X","Black"],"price":5400,"weight":45,"compare_at_price":null,"inventory_quantity":0,"inventory_management":"shopify","inventory_policy":"deny","barcode":""},{"id":39303379091518,"title":"3X \/ Black","option1":"3X","option2":"Black","option3":null,"sku":"","requires_shipping":true,"taxable":true,"featured_image":null,"available":false,"name":"Sauna Vest 520 - 3X \/ Black","public_title":"3X \/ Black","options":["3X","Black"],"price":5400,"weight":45,"compare_at_price":null,"inventory_quantity":0,"inventory_management":"shopify","inventory_policy":"deny","barcode":""},{"id":39303379124286,"title":"4X \/ Black","option1":"4X","option2":"Black","option3":null,"sku":"","requires_shipping":true,"taxable":true,"featured_image":null,"available":false,"name":"Sauna Vest 520 - 4X \/ Black","public_title":"4X \/ Black","options":["4X","Black"],"price":5400,"weight":45,"compare_at_price":null,"inventory_quantity":0,"inventory_management":"shopify","inventory_policy":"deny","barcode":""},{"id":39303379157054,"title":"5X \/ Black","option1":"5X","option2":"Black","option3":null,"sku":"","requires_shipping":true,"taxable":true,"featured_image":null,"available":false,"name":"Sauna Vest 520 - 5X \/ Black","public_title":"5X \/ Black","options":["5X","Black"],"price":5400,"weight":45,"compare_at_price":null,"inventory_quantity":0,"inventory_management":"shopify","inventory_policy":"deny","barcode":""}],"images":["\/\/instacurve.com\/cdn\/shop\/products\/image_fbf38723-9d25-4814-be48-d337de7faecd.jpg?v=1613867712","\/\/instacurve.com\/cdn\/shop\/products\/IMG_9464.jpg?v=1613867712"],"featured_image":"\/\/instacurve.com\/cdn\/shop\/products\/image_fbf38723-9d25-4814-be48-d337de7faecd.jpg?v=1613867712","options":["Size","Color"],"media":[{"alt":null,"id":9292881756222,"position":1,"preview_image":{"aspect_ratio":1.0,"height":1080,"width":1080,"src":"\/\/instacurve.com\/cdn\/shop\/products\/image_fbf38723-9d25-4814-be48-d337de7faecd.jpg?v=1613867712"},"aspect_ratio":1.0,"height":1080,"media_type":"image","src":"\/\/instacurve.com\/cdn\/shop\/products\/image_fbf38723-9d25-4814-be48-d337de7faecd.jpg?v=1613867712","width":1080},{"alt":null,"id":9292764381246,"position":2,"preview_image":{"aspect_ratio":1.0,"height":1080,"width":1080,"src":"\/\/instacurve.com\/cdn\/shop\/products\/IMG_9464.jpg?v=1613867712"},"aspect_ratio":1.0,"height":1080,"media_type":"image","src":"\/\/instacurve.com\/cdn\/shop\/products\/IMG_9464.jpg?v=1613867712","width":1080}],"content":"\u003cmeta charset=\"utf-8\"\u003e\u003cmeta charset=\"utf-8\"\u003e\n\u003cp data-mce-fragment=\"1\"\u003eThe InstaCurve Sauna Vest 520 is a fan favorite made to help you sweat and aid in the calorie burning process during a workout.\u003c\/p\u003e\n\u003cp\u003e\u003cspan data-mce-fragment=\"1\"\u003e\u003cmeta charset=\"utf-8\"\u003e \u003cmeta charset=\"utf-8\"\u003eDesigned to be comfortable and easy to wear.\u003c\/span\u003e\u003c\/p\u003e\n\u003cp\u003e\u003cspan data-mce-fragment=\"1\"\u003eRun 2 size small\u003c\/span\u003e\u003c\/p\u003e\n\u003cmeta content=\"width=device-width, initial-scale=1\" name=\"viewport\"\u003e\n\u003cstyle\u003e\u003c!--\n.accordion {\nbackground-color: #9bddff;\ncolor: #fff;\ncursor: pointer;\npadding: 18px;\nwidth: 100%;\nborder: none;\ntext-align: left;\noutline: none;\nfont-size: 15px;\ntransition: 0.7s;\n}\n\n.active, .accordion:hover {\nbackground-color: #96ded1;\n}\n\n.accordion:after {\ncontent: '\\002B';\ncolor: #000000;\nfont-weight: bold;\nfloat: right;\nmargin-left: 5px;\n}\n\n.active:after {\ncontent: \"\\2212\";\n}\n\n.panel {\npadding: 0 18px;\nbackground-color: white;\nmax-height: 0;\noverflow: hidden;\ntransition: max-height 0.8s ease-out;\nborder-bottom: 3px solid transparent;\n}\n--\u003e\u003c\/style\u003e\n\u003ch2\u003e\u003c\/h2\u003e\n\u003cbutton class=\"accordion\"\u003eFeatures \u0026amp; Benefits\u003c\/button\u003e\n\u003cdiv class=\"panel\"\u003e\n\u003cp\u003e\u003cbr\u003e• Comfortable compression\u003cbr\u003e • Lightweight\u003cbr\u003e • Flexible fit\u003cbr\u003e • Adjustable\u003cbr\u003e• Back support\u003cbr\u003e • Creates shape\u003cbr\u003e • Sportswear for daily use\u003cbr\u003e • Maximizes your workout\u003cbr\u003e • Increases perspiration\u003cbr\u003e • Helps prevent post-workout fatigue and injury\u003cbr\u003e\u003c\/p\u003e\n\u003cbr\u003e\n\u003c\/div\u003e\n\u003cbutton class=\"accordion\"\u003eMaterial \u0026amp; Product Info\u003c\/button\u003e\n\u003cdiv class=\"panel\"\u003e\n\u003cp\u003e\u003cbr\u003e• Neoprene\u003cbr\u003e\u003cbr\u003eThe InstaCurve Waist Trimmer Sweat Belt 512 runs true to size. \u003cbr\u003e\u003cbr\u003e When you're working out, simply slip and wrap the InstaCurve Waist Trimmer Sweat Belt around your midsection, then pull the sides together for a firm fit and go! No hook-and-eye closures, no hassle. Since the velcro sides are adjustable, the waist trimming belt offers a perfect fit every time.\u003c\/p\u003e\n\u003c\/div\u003e\n\u003cscript\u003e\nvar acc = document.getElementsByClassName(\"accordion\");\nvar i;\n\nfor (i = 0; i \u003c acc.length; i++) {\nacc[i].addEventListener(\"click\", function() {\nthis.classList.toggle(\"active\");\nvar panel = this.nextElementSibling;\nif (panel.style.maxHeight){\npanel.style.maxHeight = null;\n} else {\npanel.style.maxHeight = panel.scrollHeight + \"px\";\n}\n});\n}\n\u003c\/script\u003e \u003cbr\u003e\n\u003cdiv style=\"text-align: center;\"\u003e\u003ca href=\"https:\/\/instacurve.com\/pages\/covid-19\" target=\"_blank\"\u003e Our Covid-19 Response\u003c\/a\u003e\u003c\/div\u003e"}